Exclusive: Pep Guardiola insists he won't sacrifice style at Manchester City
Last Updated: 20/08/16 12:58pm
In an exclusive interview with Sky Sports' Geoff Shreeves, Pep Guardiola says he wants Manchester City on the ball for "90 minutes", and insists he won't win games ugly.
Guardiola took over from Manuel Pellegrini in the summer following his three-year stint at Bayern Munich, and won his first Premier League game in charge 2-1 over Sunderland last weekend.
Ahead of the Saturday lunchtime trip to Stoke City, live on Sky Sports, the Spaniard told Shreeves that he will not sacrifice build-up play for results, and wants to build a City side that is attractive, but has purpose.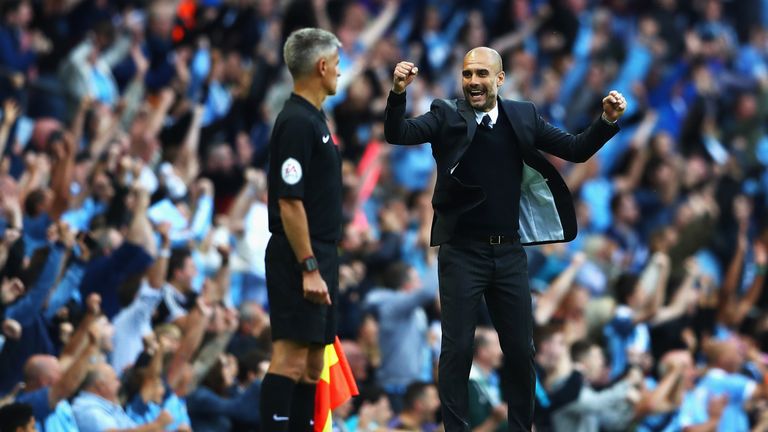 "I want the ball, for 90 minutes" Guardiola said. "When I don't have the ball I go high pressing because I want the ball."
Asked if he would sacrifice his style for results, he said: "Impossible, impossible. It's a sacrifice for what reason? If you lose a game, and you believe in it, you keep going.
"I want to win, I want to play serious, I want to be effective. If I believed in it and it wasn't productive for the team, I wouldn't do it.
"But I won [with this style] as a football player and manager, and when we did that we scored a lot of goals and conceded few."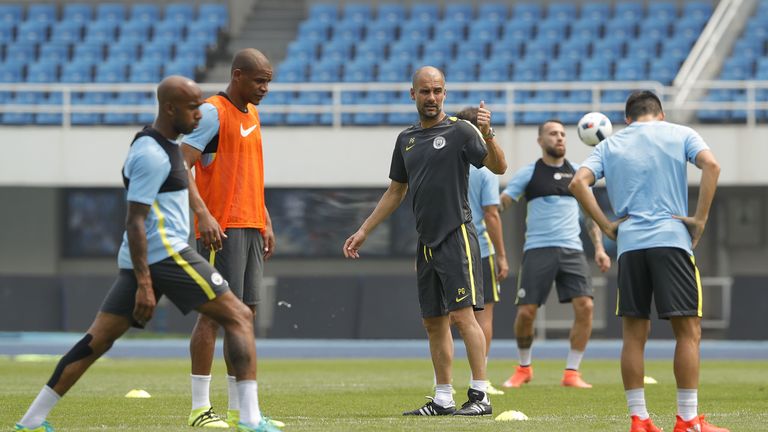 Leicester City won the Premier League title with a different style last season, soaking up pressure and hitting sides on the counter attack, and Guardiola says the contrast is what makes football "amazing".
"That's why football is amazing, a big congratulations, their manager [Claudio Ranieri] grew up in Italy.
"I know him, and I suffered from him at Valencia, he beat me when he was at Valencia and I was at Barcelona with Louis van Gaal, he beat us every game. He does what he believes, but I do what I believe and I like my team to play like that."
Guardiola, a two-time Champions League winner with Barcelona, is acutely aware of the pressure he faces as Manchester City manager, having won the Premier League only twice since being taken over in 2008.
The 45-year-old accepts that the pressure in England may be even higher than in Germany and Spain, but insists he will ignore all criticism and focus on building a winning side at City.
"I have to handle that [pressure], and I will try and do my best. At the end of the season the chairman decides if I have done a good job, and decide if they trust me or not trust me anymore.
"I know the people expect the best, good. The people expect we'll play fantastic football and win games, good. I can't control that, I accept that and I just focus on my players in the games.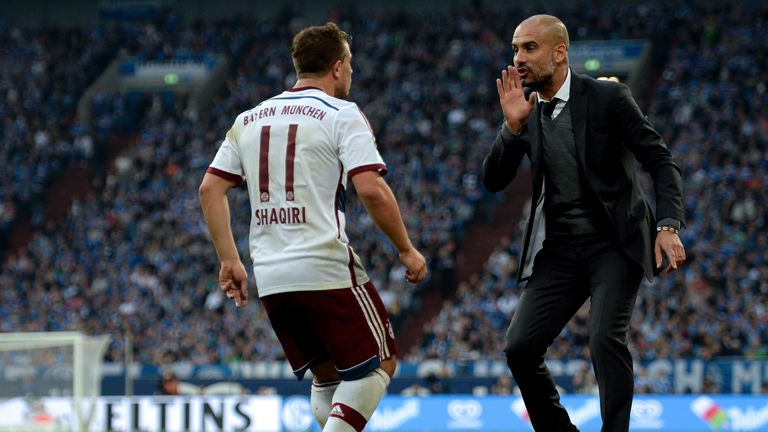 "After the games we analyse. I am not thinking: 'Oh no it's going bad, the people are going to criticise me'. 
"I know people are going to criticise me, the big analysts, the media are going to say bad things when we don't win games. That's here, Timbuktu, Africa, Australia, Spain, Italy, Germany, everywhere it's the same.
"Maybe here it's bigger, more media, more problems, more old players who know the game. I accept that, it is part of the business."
As for the differences between his previous jobs at Barcelona and Bayern Munich, Guardiola simply says that while he is still learning about the Premier League, the foundations are the same.
"Most of the people have spoken about that, but it's just one game so give me a bit more time.
"The pitch is the pitch, the size is the same, just one ball. When you have a team and you use all of the pitch, and all 11 players want the ball, it's the same."