With Claudio Bravo preparing for his Manchester City debut, Adam Bate gets the thoughts of his former club and international coach Juanma Lillo as well as Julio Rodriguez, the Chilean's first goalkeeper coach, to find out why he's the man for Pep Guardiola. It's a story 50 years in the making…
On the face of it, Pep Guardiola's decision to bring in Claudio Bravo to replace Joe Hart isn't particularly remarkable. The former has won back-to-back La Liga titles with Guardiola's beloved Barcelona and consecutive Copa America triumphs with his national team Chile. In stark contrast, the latter recently endured a miserable Euro 2016 campaign with England.


However, the motivations that have shaped the reasoning behind Guardiola's desire to court controversy by axing England's No 1 are more complex. It's a tale that takes in three continents, half a century and perhaps even the battle for goalkeeping's soul. It's a tale that begins, as so many ideas in football do, with Guardiola's inspiration, Johan Cruyff.
"I knew nothing about football until I met Cruyff," Guardiola once said. A midfield playmaker in the Dutchman's Dream Team at Barcelona, his view of the game was naturally shaped by the experience. He wasn't alone either. Cruyff's ideas about space, the distribution of both the ball and the players on the pitch, are widely regarded as having revolutionised football.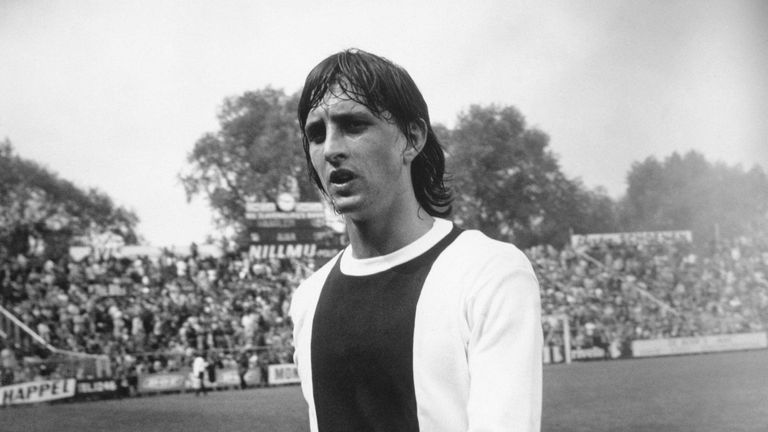 What can be trickier to trace are the tentacles of his influence. In respect of goalkeeping, the consequences of totaalvoetbal have certainly been far reaching. When Cruyff pushed for Netherlands coach Rinus Michels to select Jan Jongbloed ahead of the ostensibly superior Jan van Beveren at the 1974 World Cup, it was just an early example of the phenomenon.
Cruyff believed that a goalkeeper's ability to distribute the ball quickly could be even more significant than his shot stopping. When his own coaching career began at Ajax, Cruyff showed his commitment to this philosophy by promoting Stanley Menzo due to his skill in this area. The goalkeeper coach that he chose to work with Menzo was one Frans Hoek.
Hoek has since gone on to enjoy a distinguished career as a goalkeeper coach with clubs as grand as Barcelona and Manchester United, working regularly with Louis van Gaal. But he is more than a coach. To many, Hoek is a goalkeeping guru - the man who literally wrote the book on how to be a goalkeeper. The Hoek method is rooted in his relationship with Cruyff.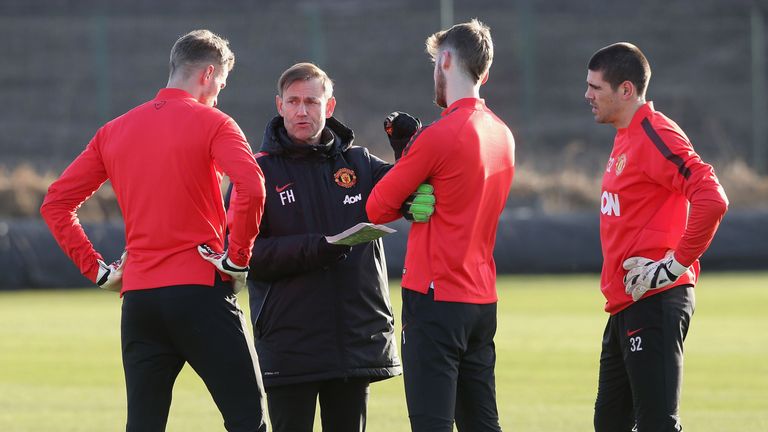 Hoek identified that there are two different types of goalkeeper, the R-type and the A-type. One reacts to situations and the other anticipates them, with all keepers coming in somewhere along this spectrum. Even while acknowledging that reaction goalkeepers "usually receive better comments" Hoek's own sympathies on the issue remain clear.
Edwin van der Sar credits him as "one of the first guys who connected goalkeepers with defenders and midfielders" and, from Jongbloed to Menzo, Hoek has favoured anticipators - those who could behave like outfield players. At Barca, Vitor Baia was replaced by Ruud Hesp because he was uncomfortable if "forced to become part of the build-up".
Among those struck by Hoek's approach to goalkeeping was a coach living and working 12,000 kilometres away in Santiago, Chile. In his day, Julio Rodriguez had been a fine goalkeeper in his own right with a charismatic personality and a penchant for dramatic penalty saves. A resemblance to Lou Ferrigno even saw him nicknamed the Incredible Hulk.
By the mid-1990s he was working as a goalkeeper coach at one of his former clubs, Colo-Colo, and going to considerable lengths to further his education. "I met Frans Hoek in 1996," Rodriguez tells Sky Sports. "He was working at Ajax with Louis van Gaal and I was working with the youth goalkeepers of Colo-Colo at the time.
"I knew about Frans because he did a series of three videos about goalkeeping. They are still very good, by the way." Good enough for Rodriguez to travel to the United States to seek out Hoek when he found out Ajax were in the Americas. "I went to Los Angeles to meet him from Chile," says Rodriguez.
"When I met him in that clinic he told me that if I liked his ideas I had to go to Holland to take my courses, and that is exactly what I did. For him the goalkeepers have to be just like outfield players. They need good technique, great control, to be able to pass the ball with precision, kick the ball like a master, play as a sweeper and, as well as all that, stop shots."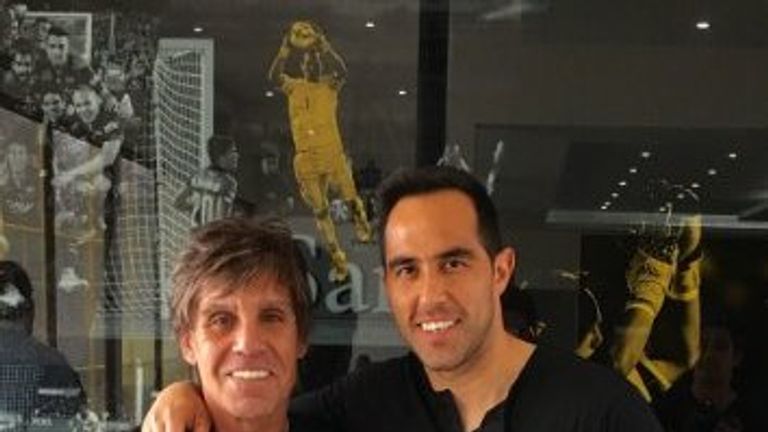 I always say that without the help of Frans (Hoek) it wouldn't be possible to have this version of Claudio Bravo.
The ideas they shared had a tangible influence on countless young goalkeepers at Chile's most popular club, but Rodriguez's trip proved particularly significant for one hopeful. "I learnt from him how to create the modern goalkeeper," he adds. "I always say that without the help of Frans it wouldn't be possible to have this version of Claudio Bravo."
In that summer of 1996, Bravo was just 13 and some at Colo-Colo were already doubting whether he'd ever have the physical attributes required to be a top goalkeeper. Rodriguez was not among them. "He was very skinny and short but always laughing," he says. "He was a very good kid with a lot of personality. He would persevere and he loved to learn."
Bravo, the boy from the outskirts of Santiago in Maipa Province, was brought up to be a very specific sort of goalkeeper - the definitive A-type under Hoek's rating system. Claudio Herrera is a football correspondent at El Mercurio, Chile's paper of record based in the capital, and recalls that Bravo seized his chance when it arrived.


"Bravo was a serious character when he first broke into the senior side at Colo-Colo as a young man," Herrera tells Sky Sports. "That opportunity accelerated his maturation process. It was clear he was very good with the ball at his feet because he was developed under the Dutch goalkeeping method taught by Julio Rodriguez."
At the age of 21, Bravo made his international debut at the Copa America in Peru and two summers later came the move to Europe. Colo-Colo were playing friendlies in Ireland and Real Sociedad dispatched two scouts to watch Bravo in action, having been alerted to his capabilities by a video sent to the club by his agent.
The man who made the call to sign him for $800,000 was La Real's sporting director Jose Mari Bakero. Once again, the global game of football was shown to be a small world. Bakero had been a key figure in Cruyff's Dream Team at Barcelona, starting in midfield alongside Guardiola in the club's historic 1992 European Cup final victory at Wembley.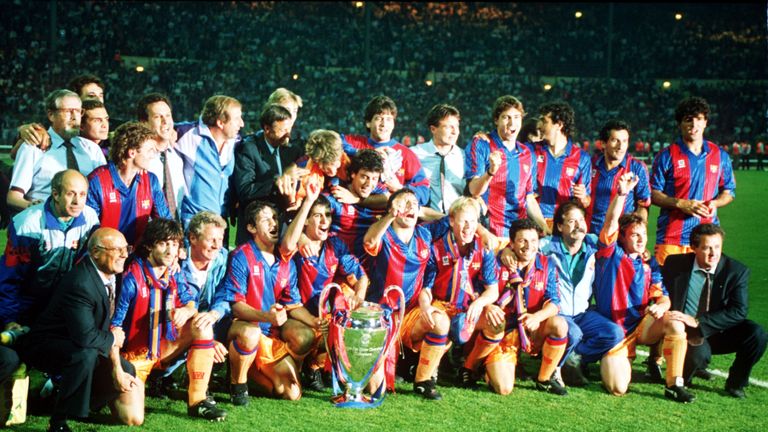 Bakero expected certain qualities in a goalkeeper and it was Bravo's footwork that got his attention. He later described the Chilean as "spectacular" with the ball at his feet and even compared this elegance in possession to that of his former Barcelona team-mate Ronald Koeman, arguably the greatest ball-playing defender of his generation.
However, Bravo's first season in Spain was not a success. Bakero was sacked seven games into a campaign that culminated in the Basque club being relegated out of La Liga for the first time in 40 years. When Chris Coleman was appointed as coach for the following season, Asier Riesgo was preferred in goal and Bravo found himself on the bench in the second tier.
That decision is a reminder that not everyone within football is wedded to the notion that the anticipatory goalkeeper is de facto superior. When Hoek lists the archetypal R-type goalkeepers, he includes such celebrated names such as Gordon Banks, Dino Zoff and Oliver Kahn. His prototype for the A-type goalkeeper is Fabien Barthez.
Some would scoff at the idea of the Frenchman being preferred to that trio. For those unconvinced by the particular style of play instituted by Cruyff, his quality was perhaps not so obvious. But Hoek and others judge him differently. The bad news for Joe Hart is that the difference in approach is so fundamental that there can be no compromise.
Asked whether he'd ever change his view of what's expected, Guardiola told Sky Sports: "It's impossible. When you lose a game if you believe in that you have to keep going. It's going to happen when you use the goalkeeper that he makes a wrong pass and you receive a goal. People will say, 'Why don't you hit the ball [long]?" but we have to insist on that."
Guardiola's beliefs about the game date back to those teenage years when he was plucked from the Barcelona youth team by Cruyff, but there have been other influences too. Notably, there is Juan Manuel Lillo, the coach whose philosophy he was so enamoured with that he pursued a friendship with him immediately after a game against his Oviedo side in 1996.
Indeed, Guardiola even saw out his playing career in Mexico because he didn't want to retire without having played under Lillo. Former Chile coach Jorge Sampaoli refers to him as a "genius at the conceptual level" - someone who makes others see the game differently. Sampaoli appointed Lillo as his assistant with Chile in 2014.
It proved an inspired move. The Spaniard played his part in taking the team to those two Copa America successes, but this wasn't the first time that Bravo had benefited from Lillo's presence. He was the coach who restored the goalkeeper to the Real Sociedad team for the 2008/09 season. Lillo still talks of his "great affection" for the player. He's his type of keeper.
"We worked together on the importance of starting attacks from the back," Lillo tells Sky Sports. "A team can only play well if they start well and Claudio, as well as making saves, is very, very, very important for playing out from the back. He already had great distribution but we tried to teach him to choose the right passes and make the right decisions."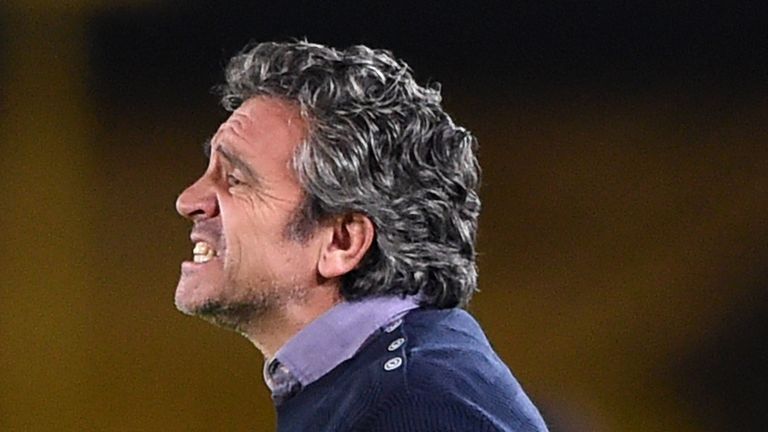 A team can only play well if they start well and Claudio, as well as making saves, is very, very, very important for playing out from the back.
Lillo spent only one full season in San Sebastian, missing out on promotion. But with Bravo playing the Lillo way, his reputation soared and another season in the second tier was seen as "unlikely" by his coach. Real Madrid sporting director Jorge Valdano was interested. So was Guardiola at Barcelona. It was obvious who'd been talking him up.
"I am intimate with Valdano and Guardiola, and always talk football," said Lillo at the time. "They know what I think of Bravo." The transfer didn't happen but Bravo continued to thrive for Chile under the guidance of Marcelo Bielsa, another coach much admired by Guardiola, and eventually secured his Barca move in 2014. By that point it felt a natural progression.
"Whether it is with Chile under Bielsa and Sampaoli or with Barca, they look for goalkeepers who are good with their feet," says Herrera. "Bravo understands the need to make good decisions and join in with the possession phase. He's impeccable whether the ball is still or in motion. Rather than kick long, he'll construct the attacks by building from the back."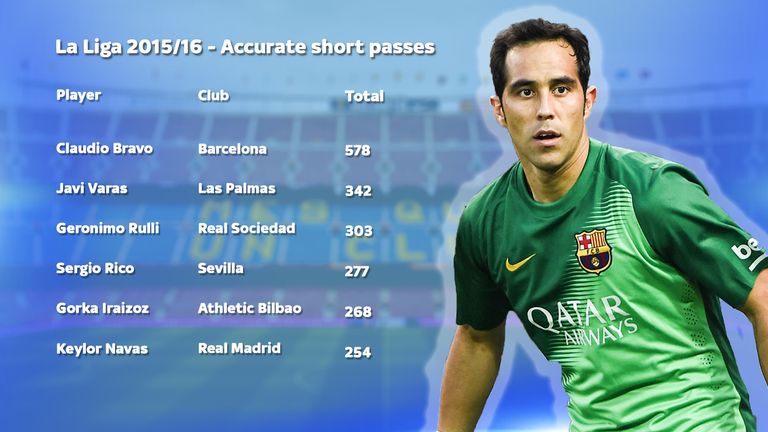 Luis Enrique, yet another former team-mate of Guardiola's, was quickly praising Bravo upon his arrival at the Nou Camp. "He's an experienced player, reassuring and calm as well as being good with his feet," said the Barcelona coach. "He is a very complete player in all respects who gives us the ideal solutions for what's required of a goalkeeper at Barca."
The numbers support the argument. Bravo attempted the fewest long passes of any regular La Liga goalkeeper last season and was also the only one to find a colleague with them more often than not. He made 236 more accurate short passes than anyone else and completed 100 per cent of his passes five times. According to Opta, Hart has done that twice in his career.
"Sampaoli always appreciated that and one imagines he would have talked to Guardiola about Bravo when he went to see him in Munich in March 2015," says Herrera. With so many good references, perhaps the only surprise is that Bravo, now 33 after all, hasn't worked with Guardiola already. Even so, yet another old friend is there waiting for him.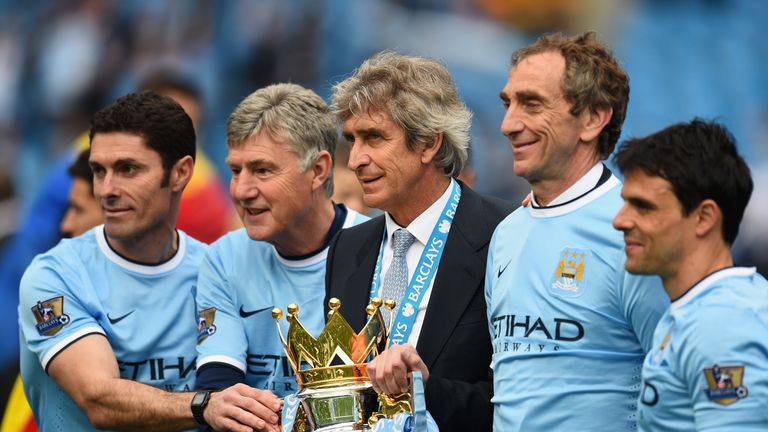 Xabier Mancisidor was brought to City as a goalkeeper coach by Guardiola's predecessor Manuel Pellegrini but has stayed on under the new man. He knows Bravo well from their time together in San Sebastian. "Now, he's going be lucky again," says Lillo, "because he's going to work with the same goalkeeper coach I signed at Real Sociedad.
"He is the best goalkeeping coach in the world, I have never seen anyone like him. That's going to be a very important factor for Claudio to go there and continue his growth as a goalkeeper. He can work every day with somebody like Xabier Mancisidor. It's perfect for him." Perhaps more pertinently, Bravo is perfect for Manchester City's head coach too.
From the hours with Rodriguez, learning the Hoek method to those fledgling days in Europe under the tutelage of Bakero and Lillo. From the national team experiences with Bielsa and Sampaoli to the club successes with Luis Enrique. It's all led to this. Bravo hasn't worked with Guardiola before. But Claudio Bravo is surely the definitive Pep Guardiola goalkeeper.
Watch Sky Sports' derby day extravaganza on Sep 10 - Man Utd v Man City and Celtic v Rangers - as part of our three months half-price offer.