Manchester United still in Premier League title race, says Man City boss Pep Guardiola
By Lyall Thomas
Last Updated: 27/11/16 11:59pm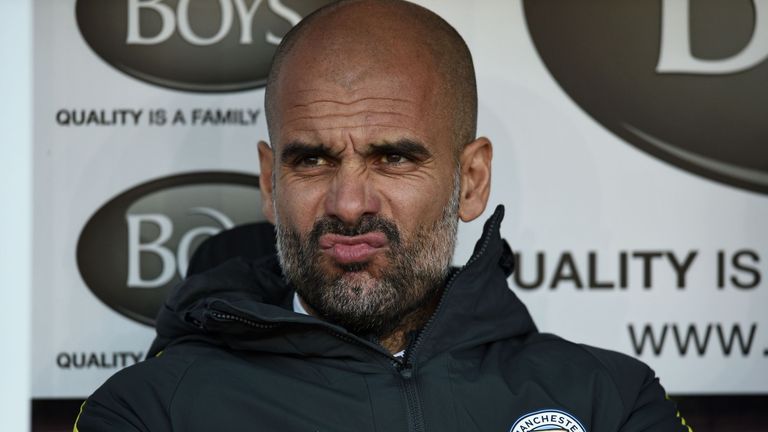 Pep Guardiola believes Manchester United are still in the Premier League title race, along with his Manchester City side, Chelsea, Liverpool, Arsenal and Spurs.
City temporarily went top of the Premier League on Saturday after winning at Burnley but were knocked back off by Liverpool, who beat Sunderland, and then Chelsea, who won at home to Tottenham.
Jose Mourinho was sent off as Manchester United drew again to West Ham on Sunday, leaving them 11 points short of the league leaders and eight points adrift of the Champions League places.
And Guardiola says he is very satisfied that City are still with the leaders after the rigorous demands of the Champions League.
"To be honest [the title race] is Chelsea, Liverpool, Arsenal, Tottenham, Manchester United," he said. "The league this year is unpredictable and it's going to be decided in the last two or three months.
"We'll have played eight more games - terrible games - in the Champions League than Chelsea and Liverpool and we are there. That's why the first part of the season is so satisfying.
"Playing seven, eight more games in the Champions League, after going to Stoke and West Brom, and to still be with Liverpool and Chelsea, when they don't play in Europe, is good for us.
"This Chelsea side play one time a week. It is easier to prepare well, to recover well, to take full advantage of recovery. This week we played Wednesday and, after that, straight away on Saturday.
"Sometimes it is tough to be focused again, it is tough on us in these kind of games. You have to be mentally and physically prepared to compete."
Manchester City's 2-1 win at Burnley was the lunchtime kick-off on Saturday but, although Guardiola admits it is difficult to play at the time after a Champions League trip, he will not complain.
"I'm not a guy who complains so much, believe me," he said. "It's happened. What can I do? Call the federation? No. They are going to change? No.
"Okay, they put 12.30 so we have to be here and play at 12.30, and if you lose congratulations Burnley and keep going."