Pep Guardiola wants more from Manchester City despite big win
By James Walker-Roberts
Last Updated: 24/09/17 11:20am
Pep Guardiola called for improvements even after seeing Manchester City sweep aside Crystal Palace 5-0 at the Etihad on Saturday.
Raheem Sterling scored twice while Leroy Sane, Sergio Aguero and Fabian Delph also netted as City took their tally to 16 goals in their last three Premier League matches.
However, City had been frustrated until Sane broke the deadlock late in the first half, and Guardiola told Sky Sports he was not entirely satisfied.
"We started good, in the first five or 10 minutes we created two or three clear chances, but after that we were not good," he said. "The ball should be moved and we didn't move it.
"The last 10 minutes of the first half we started to play good again and it helped a lot to score the first goal before half-time. The second half we were at the level of the last few weeks."
Asked how important the goal was before half-time, Guardiola said: "So important. My feeling is the last five to 10 minutes of the first half we were regaining our tempo.
"I think it was eight players who didn't play in midweek [in the Carabao Cup] and when this happens and you change competition we were not sharp like sometimes when we play [the same side] every three days. Sometimes you need more minutes and that's what's happening."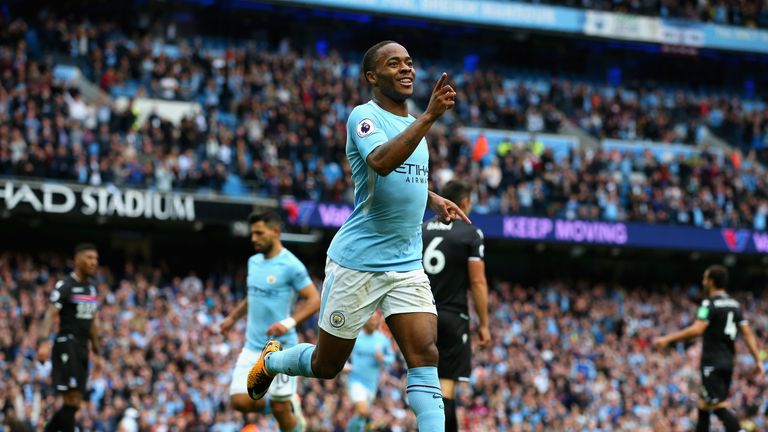 City have now won six games in a row in all competitions and sit atop the Premier League with a goal difference of plus 19.
"Last season we had a lot of problems at home winning games," said Guardiola. "That's why we dropped our competition in the Premier League. That's why the last two games are so important - winning 5-0 against Liverpool and Crystal Palace - for our confidence and for the other games when we come back from the international break."
City did lose full-back Benjamin Mendy to injury in the first half, but Guardiola is hopeful the injury is not too serious.
"Tomorrow we are going to make a real test," he said. "Hopefully, it is just a kick. We will see the situation tomorrow."