Fabian Delph says the team spirit under Manchester City manager Pep Guardiola is the best since the midfielder joined the club.
Delph was brought to the Etihad by previous City boss Manuel Pellegrini, signing from Aston Villa for £8m in July 2015.
City head into Saturday's Premier League clash at home to Stoke City sitting joint top of the Premier League, with Delph putting that fast start to the season down to the team's comradeship.
"The togetherness is there, it is definitely the strongest since I've been at the club," he told Soccer Saturday.
"It is a young bunch of players, so everybody interacts perfectly, everybody gets on well on and off the pitch.
"So I think with me scoring the goal, it was clear for everybody to see the togetherness that is there.
"From pre-season it seemed to go that way, the new additions that came in obviously freshen up the squad, people have to adapt to each other. That happened really easy and everybody just seems to be getting on really well and gelling and you can definitely see that in the performances."
With City having won their last eight games in a row, the players all seem to now be taking in the Guardiola gospel, with Delph even filling in at left-back for the injured Benjamin Mendy.
"It is 14 months into it, we had the concepts from when the manager first came, they have stayed the same, the players have taken to it easily from pre-season until now," says Delph.
"The players that have come in have got their own individual qualities and I have been surprised at how well they have taken to the ways that the manager wants us to play.
"He has got a lot of systems of ways in which he wants us to play and he makes a signal from the side of the pitch or at half-time he will tell us how we can do better in the second half.
"And we know straight away what he wants us to do and we know how to do it.
"It is brilliant for me, I am a guy who wants to learn and keep learning, that is one of the biggest reasons I came here. I have had a lot of managers over the years, so this was interesting and one that I am thoroughly enjoying.
"It is different me playing at left-back, I have done it a few times in my career."
Delph may have only played seven times in the Premier League last season, with speculation rife over the summer about his future at the club.
However, the England international was always determined to stay and fight for his place in the team under Guardiola.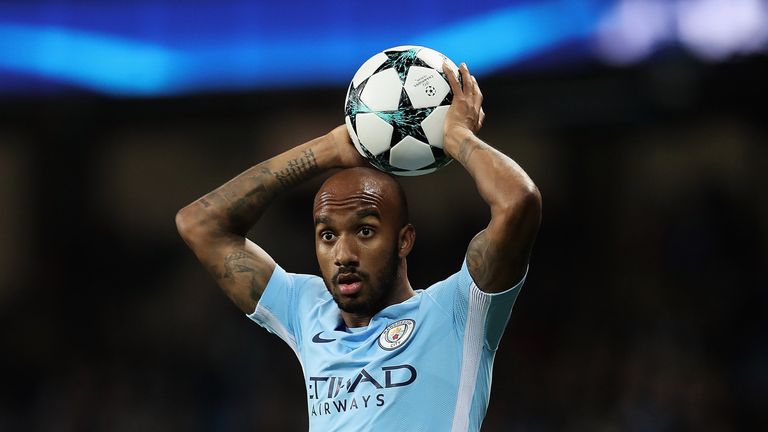 "I was linked with quite a few teams, which was probably expected with the season that I had last season," he said. "I did not play [many] games and was injured a lot, so it would not have been surprising if I did move on to play games at another club.
"But I have always wanted to stay here. I have worked so, so hard since [I was] a young kid to get to the top and I am not looking to run away from it. I'm here and willing to put every single bit of me on the line to try and get in the team and help my team-mates.
"And luckily I am still here and scoring more."
Watch the full Fabian Delph interview on Soccer Saturday from noon on Saturday on Sky Sports News