Manchester City's Kyle Walker still longing to 'get one over' on Arsenal
By Ron Walker
Last Updated: 22/02/18 11:31am
Manchester City defender Kyle Walker says he would love to "get one over" on Arsenal in the Carabao Cup final on Sunday, live on Sky Sports, with his Spurs allegiances still as strong as ever when it comes to their north London rivals.
Walker is looking to lift major silverware for the first time in his professional career and put right a miserable personal run of results at Wembley, but thinks victory would be all the sweeter against the club he considered a bitter nemesis for eight years while at White Hart Lane.
The England full-back told Sky Sports: "Spurs is a club which belongs to my heart and to get one over on their bitter rivals, and mine for a long time, would be a fantastic feeling. But it's a game of football and anything can happen in 90 minutes.
"They've made some excellent signings in January which we need to be careful of, and we need to just say: 'Let the best team win'."
Walker's decision to leave Spurs, for what was then a world-record fee for a defender, did not sit well with some of the club's fanbase and still doesn't - but it is hard to deny what the 27-year-old admits was a "gamble" was the right decision, for the player at least.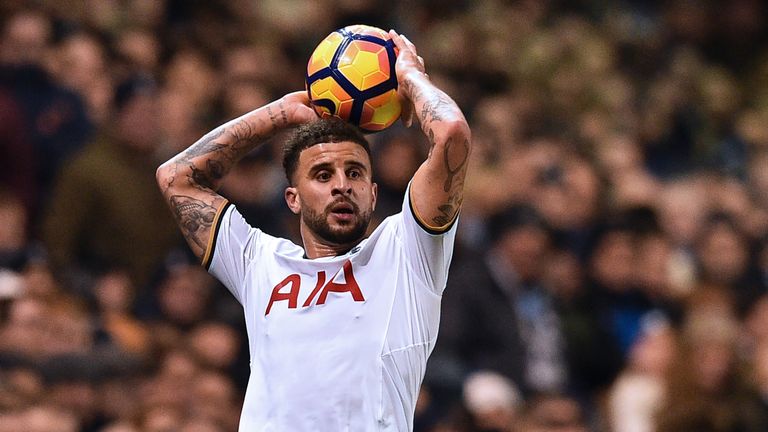 He said: "Spurs will always have a place in my heart, they gave me a chance to play Premier League football and I'll be forever indebted to them.
"But it was something I needed to do for myself, the manager told me of his plans for the season and I wanted to be a part of it. Working under Pep Guardiola, a chance like that doesn't come along too often. That's no disrespect to Mauricio Pochettino, but the people that Pep has worked with grow as players.
"Every game I see something and think 'how have you done that?' Playing behind Kevin De Bruyne you wonder what he's seen when he makes a pass and it just comes off but it's not only him, there's a number of special players here. I think that's put us where we are in the league, and coming into the cup final too.
"Tottenham were in a fantastic position when I left, they'd finished second twice, and people might ask why I left then and it was kind of a gamble, but it has paid off now.
"I gambled when I left QPR to go to Aston Villa half-way through the season when we were winning every Championship game, and that paid off. You just get a sense inside you and you have to go."
The anger of Monday's FA Cup defeat at Wigan will still be fresh in the mind of Walker in particular among the Manchester City ranks on Sunday, because it was his mistake which allowed Will Grigg through for the only goal of the game.
That defeat scuppered any chance of an FA Cup in his debut season at the Etihad, but City are still fighting on three fronts to offer Walker his first taste of silverware by the end of the campaign.
"For me, I want to win stuff," he said. "I hate losing, and to be with Tottenham for the number of years I was and not pick up anything was disappointing. We were very close for two seasons, with Leicester and Chelsea, but we just fell short and I don't want that to happen here at City.
"I think I'm a wiser player [than a year ago]. I've learned a lot more about the game, in the six or seven months I've been here.
"The use of the ball, as well. The gaffer is a big believer in keeping the ball and playing in triangles, as everyone's aware of. It's just educated me really.
"Saving my energy has been a big thing. At Tottenham we played a different system, and getting up and down the right flank, but sometimes you come up against world class players and they'll take you the other way, and you need to be acute.
"And if you're running up and down the pitch for 80 minutes, and in one moment they get a run at you, they could put it in the back of the net and that's it, game over."
England aside, Wembley has not proven a happy hunting ground for Walker down the years, even back in his Sheffield United days.
Kyle Walker's Wembley heartache
| Date | Competition | Teams | Result |
| --- | --- | --- | --- |
| May 2009 | Championship play-off final | Sheffield United v Burnley | L 1-0 |
| April 2012 | FA Cup semi-final | Tottenham v Chelsea | L 5-1 |
| March 2015 | League Cup final | Tottenham v Chelsea | L 2-0 |
| September 2016 | Champions League group stage | Tottenham v Monaco | L 2-1 |
| November 2016 | Champions League group stage | Tottenham v Bayer Leverkusen | L 1-0 |
| December 2016 | Champions League group stage | Tottenham v CSKA Moscow | W 3-1 |
| April 2017 | FA Cup semi-final | Tottenham v Chelsea | L 4-2 |
As a fresh-faced 18-year-old, the Blades were beaten by Burnley in the Championship play-off final in 2009 in what was just his sixth start for the club, and things have got little better since.
"That was probably the worst defeat I've had at Wembley," he said. "Growing up with my boyhood club and getting beat by Burnley by a wonder goal - but if I hadn't lost that game would I be sat here now?
"I'm a big believer in fate, and if that's what the big man upstairs has got planned you just dust yourself down and move on.
"Losing to Chelsea with Spurs in the League Cup in 2015 was horrible. Being a London derby, it left a bitter taste in my mouth. I thought that year was our year, but it wasn't meant to be.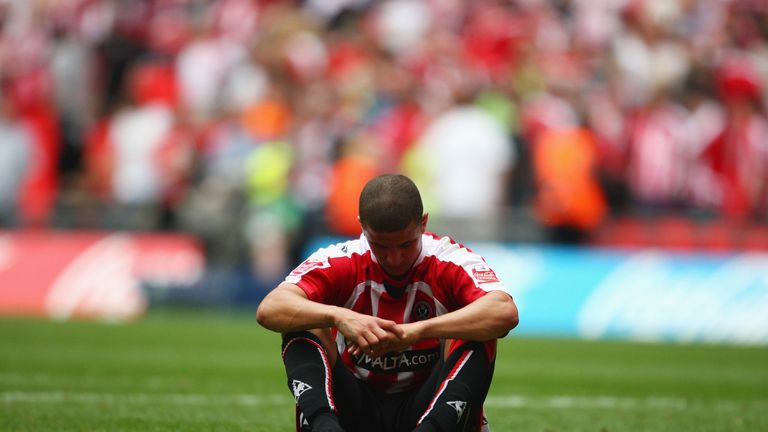 "It'd be emotional if we win.I'll probably have a minute to myself before I go and find my family and tell them I've finally done it. After 27 years of working hard to try to lift this kind of thing, hopefully I can do it then."