Danny Mills
Football expert and columnist
Danny Mills examines key moments of Manchester City's Premier League season
Last Updated: 05/04/18 1:41pm
Manchester City may have suffered a shock 3-0 Champions League quarter-final first-leg defeat at Liverpool on Wednesday, but they can claim the domestic title against Manchester United on Saturday.
What has been behind their success this season? Danny Mills examines three key moments...
1) SIGNING EDERSON
Manchester City signed Ederson from Benfica for £34.7m in June.
"I think the signing of Ederson - to almost admit that he brought in Claudio Bravo and then within a season say, 'you know what, I haven't quite got this right I need to bring in somebody else.' People will say, 'you've got the money to do that, you've spent an awful amount of money on goalkeepers', but he still had to say, 'I got it wrong'. He brought another 'keeper, and it's not just his saves but the style that he plays in. His distribution from the back is absolutely superb.
Is he the greatest goalkeeper in the Premier League? Probably not. Is he the best passer? He's probably better than a lot of the defenders and a lot of midfielders. That's what he adds, even in the game [against Liverpool] on Wednesday, he was pinging the ball about 40-50 yards to people's chests and that allows Manchester City to play the way that they do."
2) VICTORY AT STAMFORD BRIDGE IN SEPTEMBER
Kevin De Bruyne's 67th-minute goal earned City the three points against Chelsea in a game heavily dominated by Pep Guardiola's side.
"It was only 1-0, but in that game City dominated and they were absolutely superb in that game. They went to the Champions on their own patch and they really gave them a torrid time from start to finish. The game should've been probably three or four nil and I think that really showed their intent and their quality that they could compete with the very very best."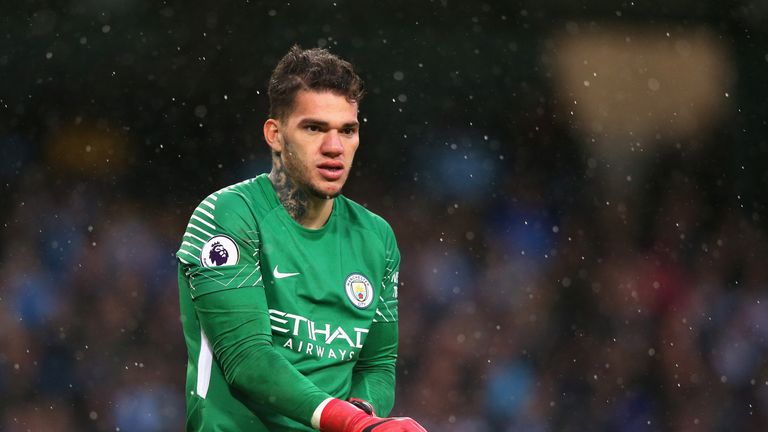 3) DRAWING AT SELHURST PARK ON NEW YEAR'S EVE
Ederson's last-minute penalty save ensured City's 20-game unbeaten run did not come to an end against Crystal Palace as the game finished 0-0.
"Ederson made a save in the last minute of that game and City kept their unbeaten run going, at that point where we know the Christmas period is very tricky - a lot of games in that short space of time. If they'd have lost at that point, perhaps other teams would've thought, 'we can go beat them', they might have drawn, they might have lost one or two games but they still managed to keep that invincibility and that aura about them that obviously made them so effective."
The only place to watch all three big derbies & Man City's first shot for the title this weekend with the Sky Sports Premier League channel, £18 a month with no contract.