Manchester City coach Manel Estiarte reveals inside view of 'unacceptable' bus attack
Last Updated: 05/04/18 2:17pm
A Manchester City coach has revealed inside footage of an "unacceptable" attack on their team bus by Liverpool fans ahead of Wednesday's Champions League quarter-final first leg at Anfield.
Manel Estiarte shared a first-hand video from inside City's bus as it was hit by missiles in a hostile reception from Reds supporters on Arkles Lane.
City's bus had at least one window smashed on the journey and the team had to travel back to Manchester by a replacement service after the game, which ended in a 3-0 defeat to Jurgen Klopp's side.
"No words. Unacceptable," Estiarte wrote alongside his Instagram post.
Liverpool apologised to Manchester City ahead of kick-off and said they "condemn in the strongest possible terms the scenes" outside the ground, in which two police officers were injured, after the bus route was changed amid safety concerns earlier on Wednesday.
Manchester City manager Pep Guardiola expressed his surprise at the pre-match events following the defeat.
"The bus is destroyed," he said. "I didn't expect that a club as prestigious as Liverpool would do these kind of things."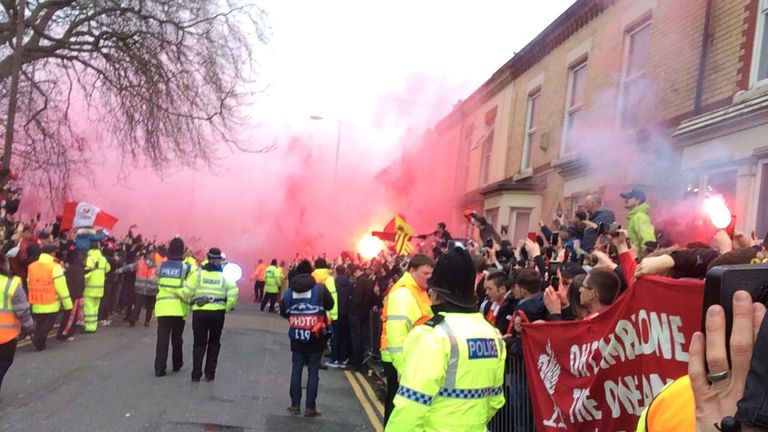 Fans had been warned earlier this week that the use of pyrotechnics outside the stadium could result in prosecution, but smoke bombs were seen gushing red clouds at around 5pm and flares emerged as the City bus arrived just after 6pm.
Merseyside Police are conducting enquiries to identify those responsible for throwing objects at the bus.
Match Commander Superintendent Paul White confirmed no one on the coach was injured and said police had worked closely with both clubs to "ensure the safety of the public and the teams themselves".
"This behaviour by a number of people who threw bottles, cans and pyrotechnics towards the bus is completely unacceptable and we will conduct enquiries to identify who was responsible and bring them to justice," he said.
Article 16 of UEFA's regulations about order and security at matches states "host clubs and national associations are responsible for order and security both inside and around the stadium before, during and after matches".
"They are liable for incidents of any kind and may be subject to disciplinary measures and directives unless they can prove that they have not been negligent in any way in the organisation of the match."