Manchester City win the title: How pundits, managers, players reacted
Last Updated: 15/04/18 11:42pm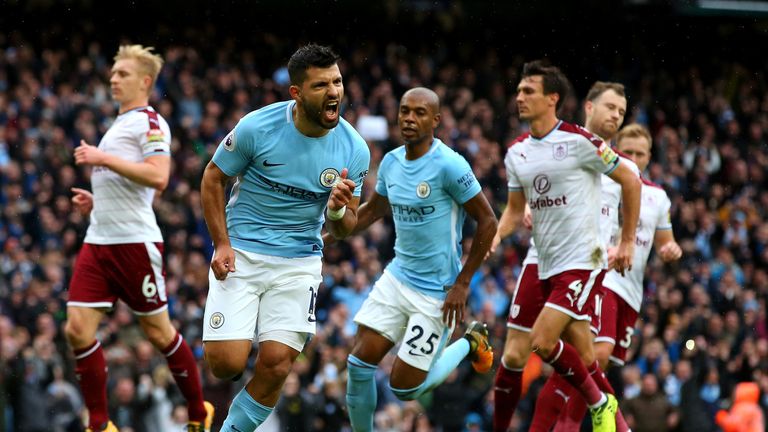 Manchester City were crowned Premier League champions after Manchester United's surprising home defeat to West Brom on Sunday.
It is the second earliest date that the Premier League title has been sealed and City could still set several records before the end of an impressive campaign.
Here's what pundits, managers and players have said after City won the league…
Former Arsenal striker Thierry Henry on Sky Sports: "They deserve to be champions, I am sure they would have liked to do it against Swansea but now they can play against Swansea with a happier smile on their face because they all know they're champions and they deserve it. They've been by far the best team in the league. "
23 titles and counting... after nine years as a manager. In three different countries. And some still doubt. Congratulations @ManCity and @PepTeam!!

— Guillem Balague (@GuillemBalague) April 15, 2018
Former Manchester United defender Nemanja Vidic on Sky Sports: "They deserve the title, they played really good football for the whole year. It is difficult to speak about Manchester City for me, but what Pep Guardiola has done is amazing; to win the title with the football he plays is great. It's good for the Premier League as well."
Former Manchester City defender Andy Hinchcliffe on Sky Sports: "They have been the dominant force this season and, with the style in which they play, they are the best side the Premier League I have seen. I was unfortunate enough to play against that quality United side that dominated in the '90s, but this side would have beaten them - that's how good they are.
"It's not just two games, it's about the course of the season and the quality football that City have played game after game. The levels that Pep Guardiola has taken City to this season, I can't see any of the other sides competing with them in the next five years if they continue playing at this level."
Manchester City captain Vincent Kompany on Sky Sports: "We were consistent the whole season and were able to play at the level we were expected to perform at. Previous times, we nearly threw it away and that was a feature of every season we won it. I have seen many teams win it as champions for the whole season, and it's the first case for us.
"Today I am happy and I suppose my team-mates might roll their eyes at this, but I want to see the reaction now. I have never been able to retain a title and I want to see if this team has got it to carry on and be even more successful."
Manchester United manager Jose Mourinho: "I knew that sooner or later they would be champions and if I was in their position I would be very upset if somebody said that they won the title because Manchester United lost against West Bromwich Albion. They won the title because they were the best team, because they won a great amount of points. They lost only two matches because they were the best team. That's the reason why they were champions.
"I don't know if I was the first or if I was the second or the third, but I congratulated them face-to-face when I had the chance to do it."
Manchester City midfielder Kevin De Bruyne on Twitter: "Unbelievable season for us. Very happy to call us champions this year."
Thierry Henry: "I am not surprised with what Pep has done in this league and last year, I was one of the people saying stop having a go at the man because that's how he plays. It is possible to win the league that way. City have elevated the level of the football."
Former England goalkeeper Peter Shilton on Twitter: "Congratulations to Man City for winning the Premier League, they are one of the best ever sides to have done that!!"