Pep Guardiola has played down reports linking Manchester City striker Sergio Aguero with a return to Atletico Madrid.
With Atleti striker Antoine Griezmann expected to join Barcelona this summer, they have been linked with a move for Aguero.
The Argentina international joined City from Atletico in 2011 but Guardiola doesn't see him returning to the Spanish capital.
"Sergio is going to stay until he decides 'my time here is over'," said Guardiola.
"I said it many times last season, this season, and today. I think it is not going to happen but in football you never know."
Guardiola also hopes to keep Raheem Sterling at the Etihad Stadium after reports the England forward is stalling over signing a new deal, saying: "The club, the chairman and myself want him to stay for a long time and sign a new contract."
When asked about if there will be any potential summer signings, the Spaniard added: "Not too much but it depends on the players. Maybe some are not happy, they want to play more and can ask to leave, but not too many.
"We made a good, high investment last year because it was an old team - 10, 11 players more than 31 years old.
"Now we are going to change some details with Yaya [Toure] leaving. One, maybe two [signings]."
'Bernardo Silva is going nowhere'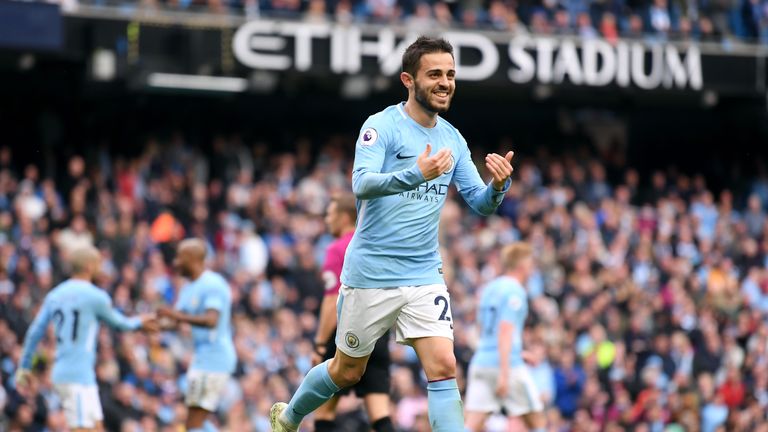 Bernardo Silva was one of the players Guardiola brought in last summer and the City boss has been delighted by the 23-year-old's impact in his debut season.
Silva has scored nine goals in 52 appearances and Guardiola expects him to get even better.
"When we sign a player we don't have the certainty that it's going to work but I think we made it right," he said. "As long as I'm a coach at Manchester City he's not going to go anywhere.
"Maybe he didn't play as much as we wanted this season but he has been an amazing part of the team and its success. He has an amazing quality, he connects perfectly the way we want to play.
"And as a person, what can I say? I always enjoy working with good people and he is one of them. He has an amazing relationship with his team-mates, coaching staff, everyone. It is difficult to find anyone in that [regard] than Bernardo Silva.
"I'm really happy for his season and hopefully next season he will be even better. I wish him the best with Portugal at the World Cup."
Meanwhile, Guardiola insists the pursuit of a host of records has enabled his Premier League title winners to "keep focus" over the last weeks.
City broke a Premier League points record by reaching 97 with the win over Brighton in midweek and the record for goals scored in a season, as they took their total to 105.
They also broke the league record for the most wins in a single season - 31.
City play Southampton at St Mary's on Sunday and Guardiola, whose side were crowned champions on April 15, is targeting a win to reach 100 points.
He said: "We will try to win the game. That is not in doubt. We have done that all season. In the last few weeks these numbers have helped us keep focus."