Vincent Kompany's Premier League title-winning blueprint
Man City's trip to Brighton is live on Sky Sports Main Event from 2.30pm, while Liverpool vs Wolves at Anfield is live on Sky Sports Premier League from 2pm on Sunday, May 12. Kick-off for both games is at 3pm
By Geoff Shreeves & Jack Wilkinson
Last Updated: 11/05/19 10:25pm
It's a position few players find themselves in, and a chance even fewer seize - the opportunity to win the Premier League on the final day of the season. With emotions running wild, champions stand tall and the runners-up fall by the way side.
But what goes through the minds of players on the cusp of glory? If there's one man in the Premier League who can answer that question, it's Vincent Kompany.
The Manchester City captain can lead his side to their fourth Premier League under his leadership, the third of which to be decided in the final game of the season.
Ahead of City's title decider at Brighton on Sunday - live on Sky Sports - Kompany sat down with Geoff Shreeves and outlined his tried and trusted blueprint for overcoming the final obstacle and ending the day as champions.
"You try to avoid putting too much context to the game, context being all the possible scenarios that can happen and the fact that it's the most important game of the season and you can win the Premier League, which is not nothing," the Belgian said.
"It feels like every time (title win) that came before. You have to think about the simple things, such as Brighton having a bunch of strengths and weaknesses and have to find a way to deal with the strengths and exploit the weaknesses.
"You need to make sure you are in good form on the day; eat well, sleep well and play."
If City are to retain the league for the first time in their history with what would be the first Premier League title defence since 2008/09, Kompany has stressed the importance of not allowing the context surrounding the game to distract his side from the task at hand.
Nothing is permitted into the thoughts of the City squad; not Kompany's stunning goal against Leicester, not their bid to win a domestic treble in English football and, particularly, the notion that they could leave the Amex Stadium without being crowned champions.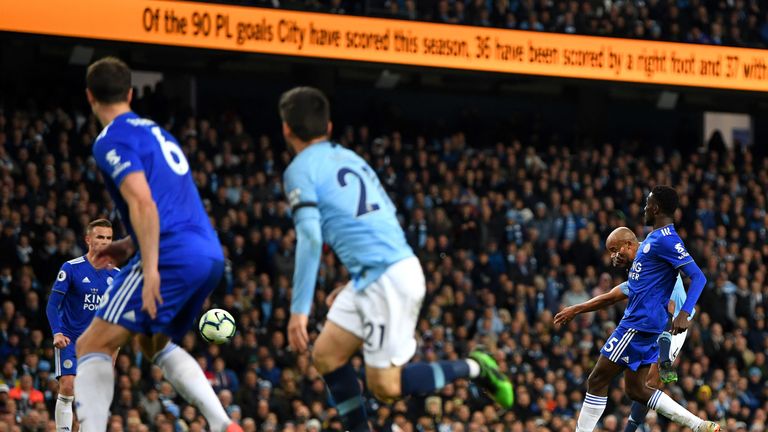 That has actually been the most annoying thing this week because for 24 hours I had to pick up all of the accolades. At this point I just want to think about Brighton. I did a great tackle in the box against Leicester, for me these are all on par. Talk to me about that goal in three weeks' time and I'm sure I'll be happy to open up about it.
Vincent Kompany on Leicester screamer
"I don't think about it one second, I just have it in my head that we will go over there and have a good game," Kompany replied when asked about a potential upset at Brighton.
"In terms of probability we are more likely to win if we play well because of the quality we have in the team. All these other scenarios are irrelevant to me at this point.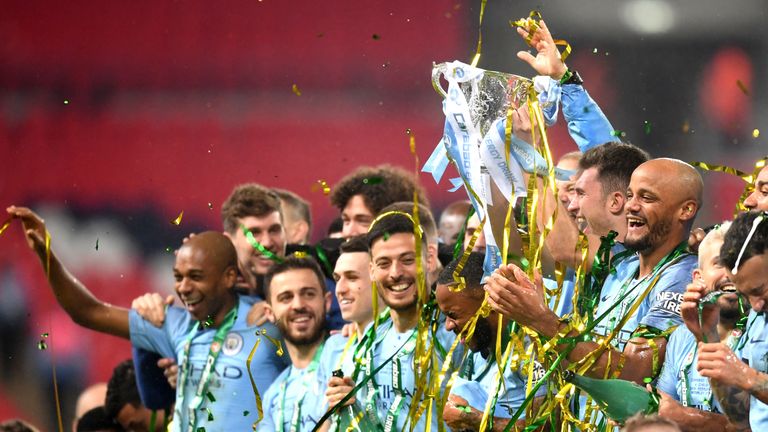 "If it's an English treble it's an English treble but first of all is the game against Brighton and that's it. Then we will deal with game against Watford and we will see again.
"I know how we've been successful for so many games, nothing will take me away from that mindset, not even being close to winning those trophies.
"It's been a mad week of football but when it all happens during the week it allows you to learn lessons before you come into the game.
"There are many boxes we need to tick before we retain this league and I want to keep everyone in that path."
'City mentality has changed'
While Liverpool have been spurred on by the unknown this season, chasing a maiden Premier League title, for City this campaign has been a voyage of discovery.
After winning the league in 2012 and 2014, City embarked on underwhelming title defences the following season. But with one game remaining of their third title defence, they looked to have finally found the right formula.
"Seasons after winning titles have always been complicated seasons for us," Kompany added.
"No matter what happens on the final day, we've had a tremendous season in the Premier League and our performances have been ever so consistent. That's a box that we've ticked.
"But, historically, we've always thrown away the season after winning the league. This year we are in contention, we are in a final until the end of the season and that's all you can hope for.
"It's a final, but that's all you can hope for, that feeling of not throwing away a season because you're resting on your laurels.
"That is how City fans have always perceived City and how City have been perceived over the years, way before I came to the club.
"But, in reality, for many years now - it started with Sergio Aguero's goal - the mentality at the club has been changing.
"I don't think anyone goes into this game wondering whether the past will haunt them. It's all about being ready, ready to perform and be the team we've been for many years now. Nothing more than that."
Title race final day live on Sky Sports
The last act of The Run In will be shown live on Sky Sports on a defining final day of the Premier League season.
Manchester City's trip to Brighton is live on Sky Sports Main Event from 2.30pm, while Liverpool vs Wolves at Anfield is live on Sky Sports Premier League from 2pm on Sunday, May 12. Kick-off for both games is at 3pm.