Manchester underwent a blue rinse as City celebrated their domestic treble
By James Cooper, Sky Sports News reporter
Last Updated: 21/05/19 10:42am
Manchester was blue for a title parade as Kevin De Bruyne was soaked by beer and bubbles. James Cooper was there for Sky Sports News.
It was 50 years ago when City won the FA Cup, jumped on a train and paraded from Wilmslow to Manchester; a distance of 13 miles, straight after beating Leicester 1-0 at Wembley.
In 2019, there are similarities to the team of 1969. Raheem Sterling has become the first City player to win the Football Writers' Award since Tony Book, but the victory parade of Pep Guardiola's players and staff was always going to be more lavish than their forerunners, if somewhat shorter in distance.
In 1999, Manchester United celebrated a treble aboard a red double decker, this time around even the sky was blue as Guardiola's men kept on their journey from Manchester town hall to the city's cathedral.
The last couple of weeks have seen history in the making for the blue hordes, who've now claimed more trophies since Sheikh Mansour's 2008 takeover than in the preceding 114 years that followed the club's formation in 1894.
A first domestic treble, the eighth double winners, 50 victories in a season and 169 goals scored across all competitions, culminating in Saturday's 6-0 FA Cup final thumping of Watford; all reasons to celebrate but this was also a chance for City fans to say thank you and goodbye to one of their greatest captains.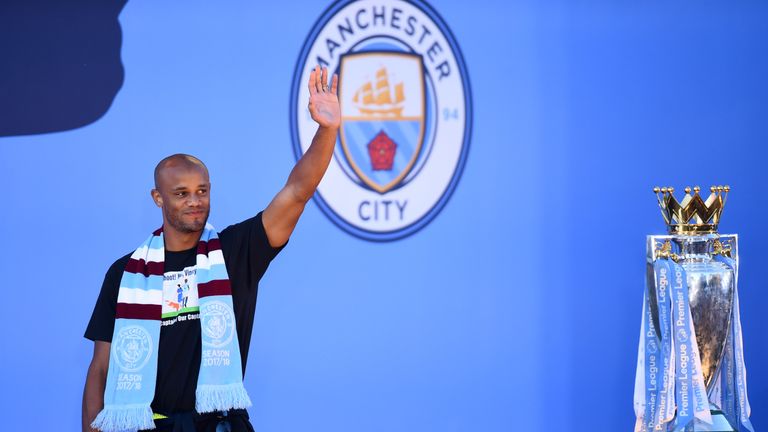 It wasn't just a parade involving one bus, there were three, as the celebrations were led by City's women's team, showing off their own domestic double and taking the silverware stash to six; surely the biggest parade of pots ever seen on these shores.
Manchester underwent a blue rinse as their heroes wended their way from the town hall to the cathedral via Peter Street and Deansgate, windows and rooftops were filled, lampposts and street furniture grabbed as Sergio Aguero helped himself to a League Cup filled with beer.
This was a full-English from the self-proclaimed 'Fourmidables', cheered through streets festooned with flags and inflatable bananas.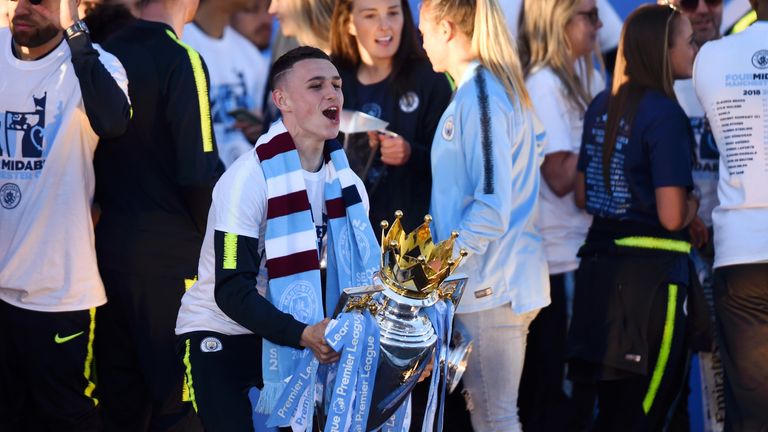 The scenes even prompted Kevin De Bruyne to turn interviewer to John Stones, both soaked by beer and bubbles.
It took around an hour for the cavalcade to arrive on the banks of the Irwell, with City fans primed and ready, heroes of the past and present introduced to them as anticipation soared.
Even those on stage couldn't help but wonder where we'd all have been if 1999 Legend Paul Dickov hadn't scored that goal against Gillingham almost two decades ago.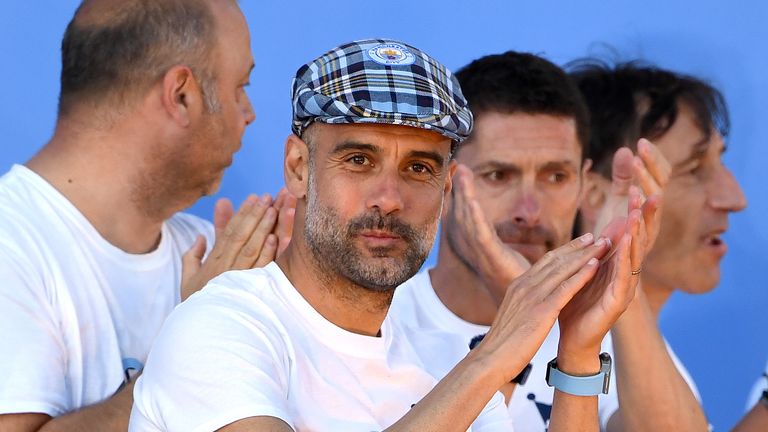 The title chase and pursuit of glory put Guardiola front and centre, this time in front of those who hang on his every word, he was keen for the spotlight to shine on others.
But his choice of headwear wasn't lost on the Blue faithful, a flat-cap tribute to a City legend, former president Bernard Halford, who passed away earlier this year.
Yes we heard from the players, but their mischief and glee was a prelude to the moment of the night, the goodbye Manchester's blue corner has craved with their captain and leader Vincent Kompany finally bidding farewell after 11 year's service.
Kompany proclaimed City the "greatest club in the world" regardless of silverware, resisting tears as Noel Gallagher serenaded him with 'Wonderwall' from a concert in Australia and revelling once again in one of the great City goals; his dramatic and sublime strike that delivered three priceless points against Leicester.
The Belgian's final flourish was a microphone-drop, but he's been granted a golden goodbye courtesy of a September Testimonial with all proceeds going to help Manchester's homeless.
Fireworks, streamers and balloons are all part and parcel of such footballing celebrations but history will deliver the final verdict on just how great City's 2019 vintage.
The fans might well sing "we're not really here", but as they walked home through Manchester, the club's glittering reality is finally sinking in.
The team of 1969 followed up their FA Cup win by lifting City's first European trophy the season after.
Guardiola knows his history too, and after carving out huge chunks of the stuff in his second and third seasons in charge, will be aiming to follow in those footsteps all the way to a Champions League final in a year's time.
Vincent Kompany says he made the decision to leave Manchester City after scoring his wonder goal against Leicester that played a key role in securing the Premier League title.