Vincent Kompany says he made the decision to leave Manchester City after scoring his wonder goal against Leicester that played a key role in securing the Premier League title.
City needed to beat Leicester at the Etihad Stadium in the penultimate game of the season to retain the initiative in the title race, but were struggling to break their opponents down.
That was until Kompany stepped out of defence and smashed the ball into the top corner from well outside the area in the 70th minute.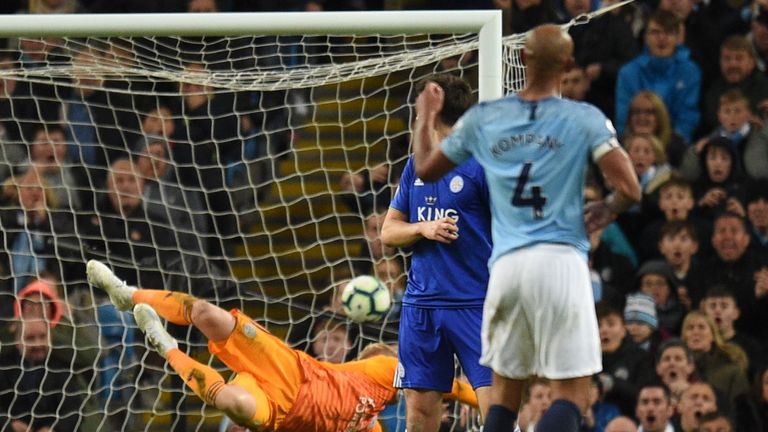 City went on to win the Premier League title, and added the FA Cup to the Carabao Cup they won in February to wrap up the first-ever domestic treble by a men's team in English football.
Kompany revealed on Sunday he will return to boyhood club Anderlecht as player-manager next season, and addressing fans at City's open-top bus parade to celebrate their record-breaking season, he said: "The moment that ball against Leicester went 'top bins', I knew I was done.
"I couldn't do anything better. That goal went in and it felt right.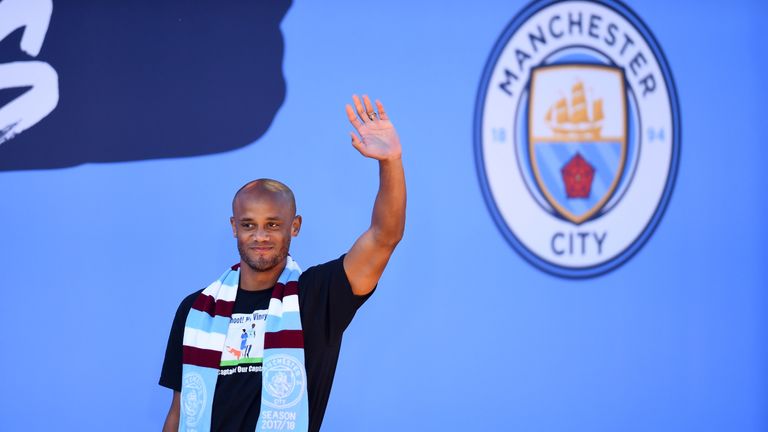 "This team is ready to achieve so much more. I've done everything I could, I've given everything I had; I've got nothing left. I'm proud of that.
"You are the best club in the world. I do not care whether you win the Champions League or not; you are the best club in the world.
"I want to say thank you. I love you all. I'm out."
WATCH: Kompany's goal from all angles
Pep: Kompany will return in the future
Pep Guardiola said he will take time to celebrate this season's success before turning attentions to the next campaign, but believes Kompany will return to the club in the future.
"Now is time for good dinners and good wine. We will think about it in one month's time, and enjoy it now," Guardiola said.
"I think we will miss Vincent a lot. He is coming back in the future in some way. It is an incredible way to finish the season."
The only trophy City could not win this season was the Champions League after they were knocked out by Tottenham in a dramatic quarter-final, and Bernardo Silva has urged the club's supporters to demand European success.
"To be honest, we are tired; we are very tired," Silva admitted. "A long season, a fabulous season with four trophies.
"We want to do better, we want to go for the European trophies. That is the only one that is missing for us and we need the fans to demand more from us. We want the European trophy."
Houghton proud of City Women
City's men's team were joined on the parade by the women's side, who won the FA Cup and League Cup this season, but were pipped to the Women's Super League title despite losing just one match.
City and England captain Steph Houghton said: "Wow. What an incredible feeling. It's unbelievable. We have never been a part of something like this. Some of the girls are only 18, 19, so it pushes us to do well next season.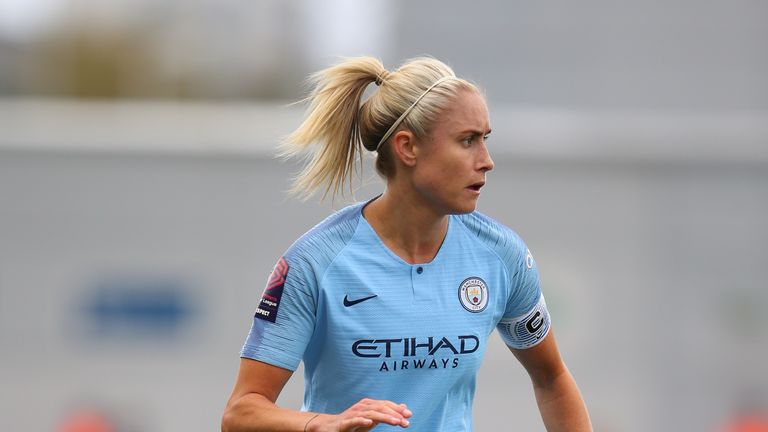 "I'm very proud of us. The girls have been so good all season and nearly (finished) unbeaten and two trophies. Hopefully next season we can be back with three or four trophies."
Organisers say 100,000 people were in attendance to witness City's parade, which went through the city centre and ended at the cathedral.
"Manchester underwent a blue rinse as their heroes wended their way from the town hall to the cathedral via Peter Street and Deansgate, windows and rooftops were filled, lampposts and street furniture grabbed as Sergio Aguero helped himself to a League Cup filled with beer."
James Cooper reports from Manchester as City parade their titles.
"In a game where it is now customary for ex-pros to bemoan that leadership is a lost trait, nobody could level that accusation at the Belgian. He was City's rock. The one who set the tone. The one who set the standards."