Manchester City boss Roberto Mancini warns Samir Nasri and Joe Hart
Roberto Mancini has accused Samir Nasri of resting on his laurels at Man City and warned Joe Hart he could be dropped.
Last Updated: 23/02/13 11:01am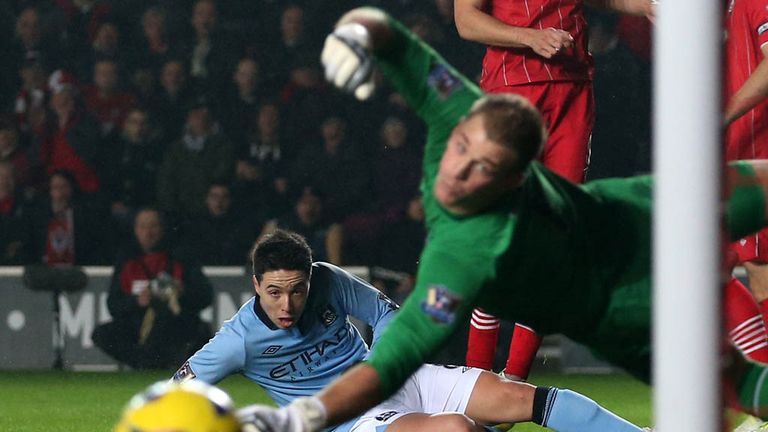 City's Premier League title defence is fading fast and they could find themselves 15 points adrift of leaders Manchester United when they kick off against Chelsea on Sunday.
The Etihad Stadium side have taken just two points from their last three matches, with their 3-1 defeat at Southampton last time out particularly damaging.
Hart was culpable for Southampton's second goal on a shambolic day for City, while Nasri came in for stinging criticism from Sky Sports pundit Gary Neville in the wake of the derby defeat by Manchester United back in December.
Mancini feels the France international has been performing well below his top form and fears that the former Arsenal midfielder's work ethic has dipped in the wake of last season's dramatic title triumph.
"I think Samir has fantastic qualities," he told The Guardian. "With his quality, he should always play well. Every game he could be the difference. A player of this quality could be one of the best players in Europe. But it's not happening.
"Sometimes a player thinks it's enough what they did the year before and doesn't understand that every day they should improve.
"If you are a top player you know you can improve until the last day of your career but sometimes you get players who think it is not important to work and this is their worst mistake. Samir can do better than this year. He is a top player but he has not been playing at his level."
And Mancini has told Hart that he must also focus all his attention on football, otherwise the England No.1 will find himself on the bench at the Etihad Stadium.
"I believed in Joe when nobody else did," Mancini added. "I put him in the goal when everybody thought it was impossible that he could play ahead of Shay Given, who at that time was one of the best goalkeepers in Europe. I love Joe. If not, I wouldn't have put him in the team two years ago.
"But it's simple. If Joe continues to make mistakes, he goes on the bench.
"I've done it with Samir, (David) Silva and (Carlos) Tevez this season and it can happen with Joe. The problem is the goalkeeper makes a mistake, we have lost the game.
"Joe has the quality to be the best goalkeeper anywhere. He is the best goalkeeper in England but in the situation Manchester City are in, if you want to stay at the top, you need to work hard and think only about football. He needs to think only of his job and that is being a goalkeeper."