Manchester City boss Roberto Mancini 'angry' after 2-0 defeat at Everton
David Platt revealed Roberto Mancini was too angry to talk after Manchester City suffered a 2-0 defeat by Everton.
Last Updated: 17/03/13 9:03am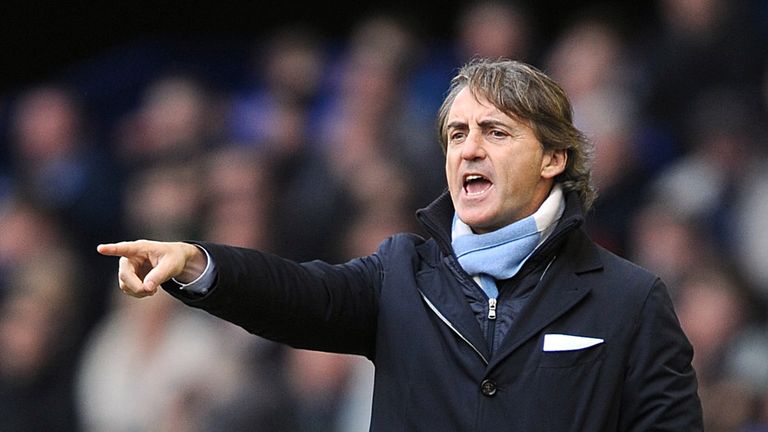 Goals from Leon Osman and Nikica Jelavic gave 10-man Everton the points, but City should have been awarded a penalty when the score was 1-0 after Marouane Fellaini handled in the box.
A free-kick was given instead by referee Lee Probert and first-team coach Platt said City boss Mancini did not want to land himself in trouble with the Football Association.
"He's angry, as you can imagine," Platt told Sky Sports when asked why Mancini had not appeared. "He's just taking stock of the situation and calming himself down.
"He doesn't want to come out and say things that might get him in trouble."
When asked what Mancini was angry about, Platt replied: "One, our performance as I don't think we were really at it throughout the game. We got outworked by Everton.
"And two, even when we do have moments where we can get back into it, it doesn't go for you.
"From where I was live, he's given the handball and I don't know if it's inside the area or not, but you've just replayed it and it's not even on the line of the area, he's three yards off it.
"We didn't get it and perhaps our performance didn't deserve it, but we could have got a little more out of the game had the decisions gone for us."
City could now end the day 15 points adrift of leaders Manchester United, who face Reading at home in the evening, but Platt is adamant the reigning champions will stay focused.
Platt added: "I think nobody was shouting from the rooftops saying we were chasing Man Utd down.
"They would still have had a significant points advantage over us even if we had won today. It would probably have still been 12 points as you'd expect them to win at home.
"We have an obligation to win matches between now and the end of the season regardless of the points advantage and regardless of if it's mathematically impossible, which it isn't, but even when it is, we have still got to be professional and go out and win football matches."