Spokesman: Manchester City supporters floored by decision to sack Roberto Mancini
Manchester City Supporters Club spokesman Kevin Parker says Roberto Mancini's sacking is his "lowest point" as a fan.
Last Updated: 14/05/13 1:07pm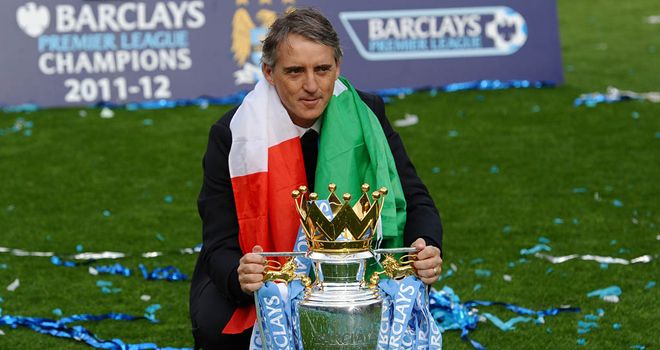 The Italian's departure was confirmed late on Monday evening a year to the day since he delivered City's first league title in 44 years.
The previous year had seen the club end a 35-year trophy drought with victory in the FA Cup final and, according to Parker, Mancini will be sorely missed by City fans.
He told Sky Sports News: "It's no great surprise but I'm still massively disappointed.
"May 13 should be a very special day in the memory of City fans after that Sergio Aguero goal a year ago. but this has tarnished that date.
"My phone has gone crazy with messages from members of the supporters' club and friends who are all just very, very disappointed about what has happened.
"He's been a massive success. I've been a season ticket holder for 40 years - we've waited all our lives to win trophies like the Premier League, the FA Cup and the Community Shield.
"In the late 1960s and early 70s when Joe Mercer won the Second Division, the First Division, the FA Cup, the League Cup and the European Cup Winners' Cup somebody in a higher authority decided the club needed to take a new direction.
"Joe Mercer was replaced and we had 35 barren years apart from one trophy. I'm not saying that will happen this time, but sometimes people make strange decisions.
"I do accept that as fans we don't know what goes on behind the scenes, but we have a dream our team can win trophies and - with 'Bobby Manc' - we managed to achieve that.
"This is probably my lowest point as a City fan and I've seen them relegated numerous times. It's just so disappointing."
Malaga boss Manuel Pellegrini is favourite to succeed Mancini, and Parker said: "The last thing we want is for another manager to come in and not be successful.
"But there's one thing for sure, and this is not just emotion talking. We as City fans will never ever forget the contribution Roberto Mancini has made to this football club."
Former City striker David White said there is no doubt Mancini will be missed at the Etihad, but thinks it won't take long for the Italian to be forgotten.
"I think overall they (the fans) were definitely behind the manager," he said. "They have had success with him not seen over the past couple of years.
"The new manager comes in and if he starts well then you know things are quickly forgotten - it depends how the new manager starts next season."