Premier League: Manchester City can win the title in style, insists manager Manuel Pellegrini
Last Updated: 02/02/15 8:05am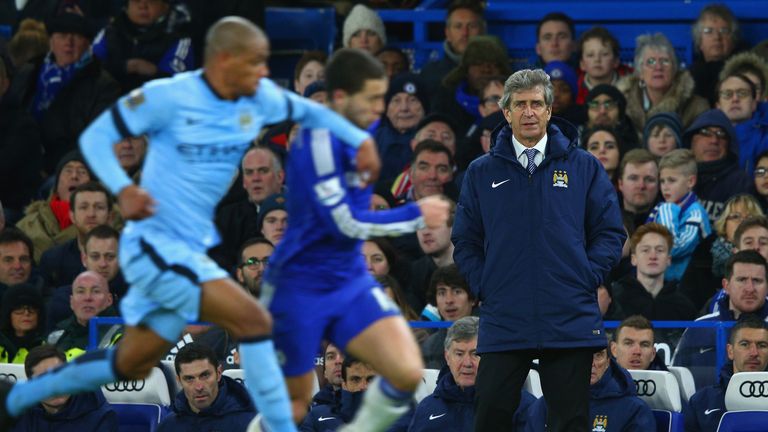 Manchester City are capable of winning the Premier League in style, insists Manuel Pellegrini.
The City boss made a veiled criticism of Jose Mourinho's Chelsea after a 1-1 draw at Stamford Bridge which left the visitors five points behind with 15 games to go.
Mourinho said Liverpool lost the 2013-14 title due to Steven Gerrard's slip in defeat to Chelsea, but Pellegrini insists his side's triumph was due to their performances as they aim for a third title in four years.
"I like that style, that's why I said last year that we deserved it," Pellegrini said.
"It was not just because Gerrard slipped. It was because we were the best team of the year. We scored a lot of goals in every competition. I'm very proud to continue in the same way."
Pellegrini called Chelsea a "small team" following the corresponding draw in September and was less than impressed by the defensive tactics employed by Mourinho in Saturday's draw, which suited the Blues more than City.
"I am proud about the way we played," Pellegrini added. "To come here to Stamford Bridge, against the leader of the Premier League, against a team who normally win their games here, to have possession of the ball and try to win from the first minute until the end.
"We have a clear style and we don't change it because the rival is a strong rival."
Pellegrini believes it may take more than 90 points to be champions this term.
He added: "It's difficult to know. Chelsea finished with 45 for the first round (first 19 games) - 45 and 45 is 90.
"It depends also on the other teams. It's very important to try not to drop more points.
"(The) more points we drop, (the) more difficult it will be because we have to close a gap of five points."