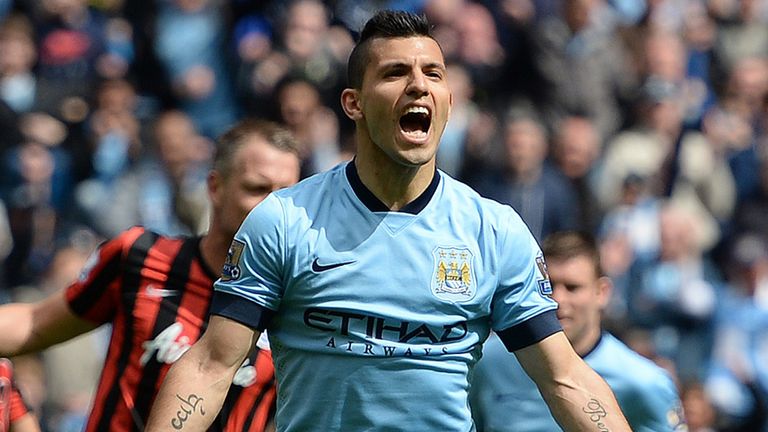 Sergio Aguero is confident Manchester City will bounce back next season and fight to reclaim the Premier League title.
Manuel Pellegrini's team are battling it out with Arsenal for a distant second-place finish after meekly surrendering their crown to Chelsea this season.
However City are finishing the campaign strongly and notched their fourth successive win on Sunday when Aguero netted a hat-trick in the 6-0 demolition of QPR.
Aguero, who has scored 31 goals in 40 games this season, is hopeful the team can take that form into next season and mount a strong title challenge once again.
"We lost a lot of points this season and now we are in good form, having won four games in a row, so we must continue like this for the two remaining games," he said.
"We want to finish the best we can and start next season fighting for every title.
"This season wasn't as we expected but we will face new challenges next season and there is always revenge in football."
There has been plenty of speculation about possible changes at the Etihad Stadium this summer, with rumours of a squad clear-out and some uncertainty over Pellegrini's future as manager.
Aguero - who is highly unlikely to be part of any such changes as the club's most prized asset - is not concerning himself with those matters and focusing only on success.
"The club will decide what players they bring in but our mind has to be the same and go for the title from the beginning," Aguero said.
City are now mathematically assured of a top-four place but need to finish in the top three to ensure automatic qualification for the Champions League group stages.
Aguero is hopeful City can secure a second-place finish and also wants to finish the season as the Premier League's top scorer – he is currently five goals ahead of Harry Kane in the standings with 25.
He said: "I'm happy with my hat-trick and now we have two games left so hopefully I can win the award, but the most important thing is to qualify (outright) for the Champions League.
"To be second or third is the same in terms of Champions League qualification but we would like to finish second because we always want to finish as high as we can in the table."
Manchester City travel to face Swansea at the Liberty Stadium on Sunday and you can watch it live on Sky Sports 1 HD, with coverage from 12.30pm.