Ryan Sessegnon is leading Fulham's promotion charge and has even been mooted as a potential World Cup wildcard for England. But what makes the 17-year-old such a special talent? Nick Wright finds out from some of those who know him best...
Mark Schwarzer knows Fulham as well as anyone. The former goalkeeper spent five seasons at Craven Cottage, making over 200 appearances, and his affiliation with the club runs even deeper than that. For the last seven years he has watched his son, Julian, bidding to follow in his footsteps. It has given him a front-row seat to the rise of another young talent.
"Ryan Sessegnon is in the same age group as my son so I've seen him play since he was 10 years old," Schwarzer tells Sky Sports. "From that team there are nine or 10 players who have carried through to the U18s and been given scholarships. There were high hopes for quite a few of them but of course Ryan has made the progression a lot quicker than anyone else."


While his old academy team-mates continue to dream of a first-team future, Sessegnon is blazing a trail. Having made his breakthrough last season, becoming the Championship's youngest ever goalscorer when he netted against Cardiff at the age of just 16 years and 94 days old, the teenager's remarkable progression has accelerated in the new campaign.
Sessegnon top scored for England's triumphant U19s at the European Championship in June, and he has not missed a single Championship game since. In fact, he has played more minutes than any other Fulham player this season, contributing 14 goals and four assists. The Premier League's big six are queuing up for his signature and he is on Gareth Southgate's radar too.
Sessegnon came through the ranks as a left-back, but it is in a more advanced role that he has shone most brightly. In November against Sheffield United, he became the first 17-year-old in England's top four tiers to score a hat-trick since Dele Alli. Since the turn of the year, he has hit more goals than any other Championship player.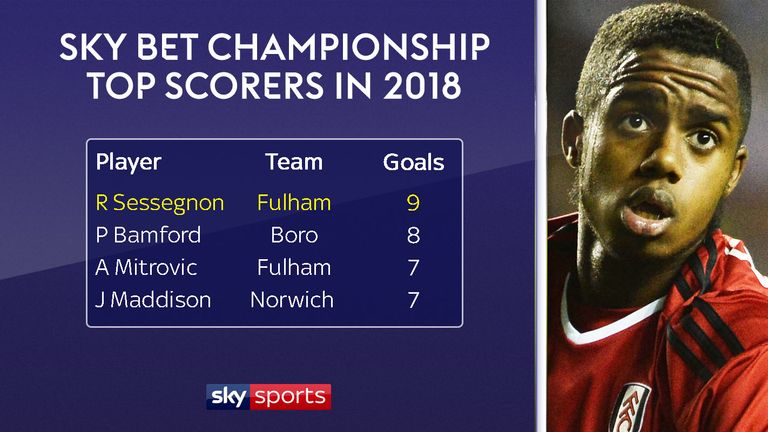 "He was always very quick, very attacking and very skilful on the ball," says Schwarzer. "What you see of him today is what he was like as a kid growing up. He would use that pace and that skill on the ball to get down the line and either cut in and shoot or get crosses into the box. He's transferred a lot of those skills into the first team."
Sessegnon, who grew up in Roehampton in south west London, and whose twin brother, Steven, also plays for Fulham, has been regarded as a special talent by the club for the best part of decade. For manager Slavisa Jokanovic, the temptation was to throw him into the team right from the start of last season. Instead, his development was carefully managed.
"They have managed him really well," says Schwarzer. "Last season the manager was conscious of not playing him every week and burning him out. He managed expectation levels and this season he has really come on strong. It's quite easy to be chucked into the mix and either sink or swim, but Sessegnon has been eased in and he's really benefited from that."
Sessegnon's pace and skill make him a nightmare for defenders and his finishing ability sets him apart too. He has a knack for arriving in the box at the right time and he rarely wastes chances. His shot conversion rate of 30.4 per cent is second only to Aston Villa's Albert Adomah in the Championship this season. Five of his 14 goals have been scored with his weaker foot.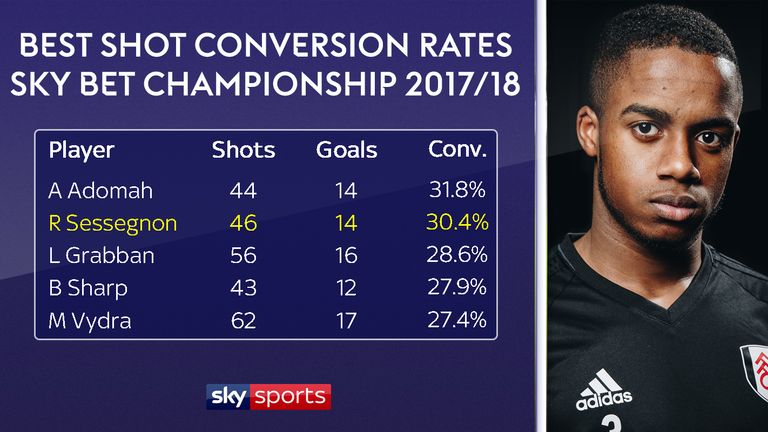 "When I was there he was more of a left-back, but he's playing further up now," Richard Stearman, who spent the 2015/16 season at Fulham, tells Sky Sports. "One of the most impressive things about him is his anticipation. The ball just seems to land at his feet in the box. He has scored a lot of goals because of his movement. You can't really teach that, getting on the end of things."
Such quality and maturity in front of goal would be extraordinary in any other teenage left-back, but it is typical of Sessegnon. "He plays the game like he's been playing for six or seven years in the Championship," his former team-mate Scott Malone told Sky Sports last year. "It's quite frightening to think how good he'll be even at 18, 19."
Sessegnon is a generational talent but he is level-headed too. Through all the buzz that has followed him from such a young age, he has kept his focus. Last summer he rejected Tottenham to sign his first professional contract at Fulham. It was a testament to his loyalty but it was also sensible. When he turns 18 in May, he will have already played nearly 80 senior games.
"A lot of teams were looking at him when I was there, I think possibly one or two might have even bid for him already," says Stearman. "I think you need level-headedness and he has that. You've got to be mentally strong and be able to handle it all. He was quiet when he broke through, but he was never overawed by being around the older lads in the first-team environment."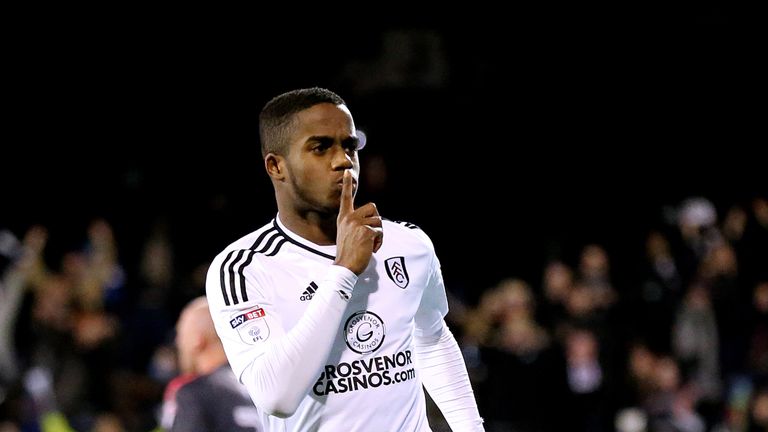 His current team-mates have watched him continue in the same vein this season. "I've been asked what makes him special quite a lot lately, and I think his mind-set is it," midfielder Tom Cairney tells Sky Sports. "I remember his first game at Leeds. I thought the gaffer had made a mistake putting his name on the team sheet but he was the best player on the pitch.
"Since then he's got better and better. To deal with what he has at his age… Obviously he'll still have loads of school friends and it's crazy when he's in the spotlight, but he never changes when he comes in. He's always the same person and that's his best asset."
"He's an extremely humble boy," adds Matt Smith, another former Fulham team-mate who now plays for Saturday's opponents QPR. "It's easy to get caught up in the hysteria of the spotlight but he's such a grounded individual and last year he was so down-to-earth and level-headed. He never got ahead of his station."
I think he's got to be one of the best young players in the world for his age.
Sessegnon has work-ethic to match his temperament. Jokanovic described him as a "werewolf for working" in a recent newspaper interview. His stamina helps him bomb up and down Fulham's left flank ceaselessly, and, despite his tender years, it has also allowed him to complete the 90 minutes in 27 of his 32 Championship starts this season.
"He's a flying machine, physically beyond his years and his game understanding for his age is ridiculous," says Cairney. "What an athlete," added left-back Malone, whose move to Huddersfield in July gave Sessegnon a clear path to the first-team. "On the training pitch, the running tests we do in pre-season and through the season, he's pretty much top of all of them."
Malone has managed to avoid facing Sessegnon this season but Stearman has not been so lucky at Sheffield United. He was injured for Fulham's 5-4 win at Bramall Lane - when the youngster smashed that first hat-trick - but he played the full 90 minutes when Sessegnon helped Fulham beat them again at Craven Cottage earlier this month.
"His confidence and his ability have just continued to progress," he says. "He's playing at a level far beyond his years. I think he's got to be one of the best youngsters in the world for his age. I'd rather he didn't show it against my team, but he's a fantastic talent and he's impressive to watch."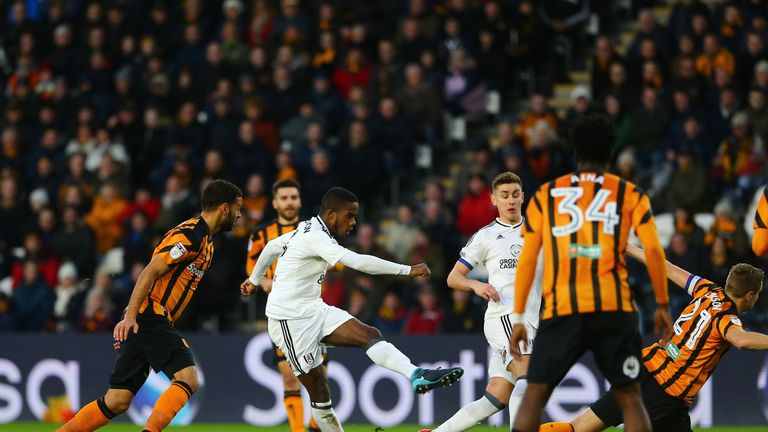 What comes next is uncertain. Sessegnon is sure to attract more interest in the summer, but he is in no rush to leave Fulham and their recent form - Jokanovic's side are fourth in the Championship table and on an 11-game unbeaten run - suggests he may not have to depart in order to make the step up to the Premier League.
"He's at a good club at the moment, they are giving him a lot of game-time, he's getting good coaching and he's got good players around him," says Stearman. "Fulham is a good place for him to be right now, but beyond that the sky is the limit with his potential."
"I've heard people compare him to Ashley Cole, which is a massive statement as he was an incredible player, but if he carries on how he's going I don't see why he can't end up as one of England's best left-backs," says Cairney.
Schwarzer, who played with Cole at Chelsea at the same time as watching Sessegnon in Fulham's academy, sees the same potential. "The only thing that's surprised me is how quickly it's happened," he says. "I didn't expect him to get his chance at 16, but from the minute he played you could see he deserved it. He doesn't look out of place at all."
Watch Fulham v QPR live on Sky Sports Football HD from 12pm on Saturday