Motherwell's Shaun Hutchinson urged to sign new deal by Stuart McCall
Motherwell manager Stuart McCall is eager for Shaun Hutchinson to sign a new deal at Fir Park.
Last Updated: 27/10/13 11:04pm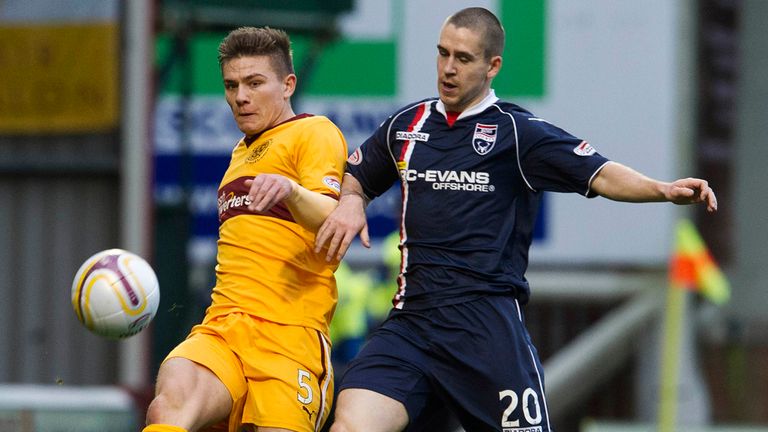 Hutchinson has earned rave reviews for his performances over the past couple of years and will be out of contract at the end of the season.
A number of clubs are reportedly keeping tabs on the 22-year-old and McCall accepts that he may eventually lose one of the key members of his squad.
However, he feels there is still room for improvement in Hutchinson's game and believes he should sign an extension at Motherwell rather than risk going somewhere else before he is ready.
"I know he is enjoying himself here and he needs to look at the bigger picture too. His agent will be saying it's time to move on but I don't think it is yet," McCall said, quoted in the Sunday Mail.
"I spoke to Shaun in the close season and told him I felt there is still some development in him.
"Obviously I want to keep him but Motherwell is a selling club and if he keeps improving there will come a stage when he is sold on.
"But we want him to sign this extended deal.
"If he signs it, he can just focus on things. Otherwise, coming into January the club would be trying to sell him. They've got to do that. That can play with your head.
"But if we get him tied up he could still go at the end of the season. It just gives us that security."
McCall insists there are plenty of examples of players who have moved on because they thought the grass was greener in English football.
The manager explained: "He also has to look at the bigger picture, though. For example, Jamie Murphy has gone to Sheffield United and is not playing at the moment.
"Tom Hateley was three or four months without a club.
"Steve Jennings has only just signed for Tranmere.
"Mark Reynolds is another one. He went to Sheffield Wednesday. Obviously he is now doing well at Aberdeen but he never played at Wednesday.
"There are a lot of things for Shaun to take into consideration. But I genuinely believe he should be looking to extend things here. It would be better for his development to extend his stay here than the club trying to shuttle him out in January."