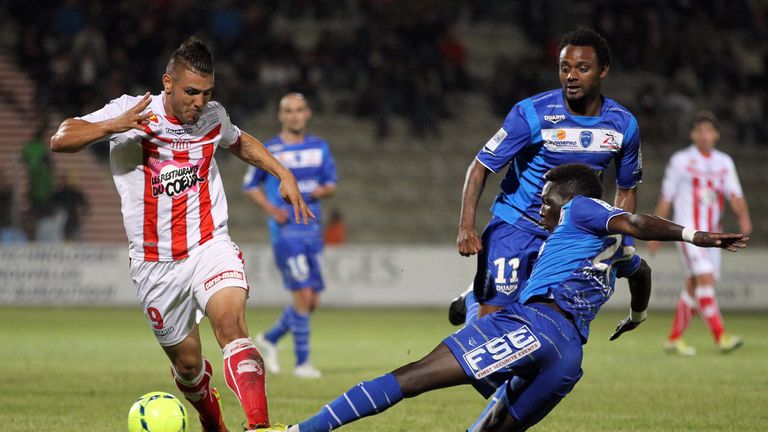 Tours have reached an agreement over the transfer of Andy Delort to Wigan, the French club have confirmed.
The 22-year-old striker, who scored 24 goals in 36 Ligue 2 games last season, was presented to Latics fans ahead of Saturday's win over Birmingham with the Sky Bet Championship side hopeful of ironing out the finer details on Monday.
And, despite issuing a statement on Saturday afternoon stressing a deal had not been reached, Tours have now confirmed Delort will follow former players such as Olivier Giroud and Laurent Koscielny in moving to England.
"After long and painful months of discussions and negotiations with a dozen clubs in Europe, Wigan Athletic and Tours have reached an agreement today on the transfer of Andy Delort," said a statement on their official website.
"Above all, president Jean-Marc Ettori and the club would like to thank Andy for everything he has brought to the club last season.
"After Olivier Giroud and Laurent Koscielny, Andy Delort goes to England where he is destined for a successful career in one of the best leagues in the world, and with a prestigious club.
"The transfer allows the club to see the future in a better light, and implement a sound and efficient management, absent for too long."
Wigan boss Uwe Rosler claimed QPR, Lille, Wolves and Brentford - who Adam Forshaw left on Monday - were also keen on the striker.
"Andy is such an exciting player," Rosler said on Wigan's official website.
"He lives to score and from the moment that Tony Coton first spotted him last season playing for Tours, there was a real desire to bring him to our club.
"We have managed to bring in a proven goal scorer at the right age for under B£3million and that is a testament to our club but especially to the player, his family and his agent.
"Despite huge pressure from outside during these last few days, he has never wavered in his desire to join us.
"He looked at the club's track record of developing talent from abroad over the past 10 years or so and, after we discussed and met up, he identified us as the right choice for him to progress his career.
"We had an immediate connection from the start, he shook my hand and both him and his father Eric gave me their word they wanted to sign here. They are the sort of people I want to work with.
"I also need to pay tribute to his agent Roger Henrotay, who, despite higher offers from Wolves, Brentford, QPR and Lille, wanted to do what was in the best interest of his player.
"He is a player who wants to play in the English Premier League and he wants to do that here in Wigan so we are delighted to sign him."
Delort has been highly coveted this summer with both Charlton and Leeds reportedly keen, and Tours gave an indication as to why his move to Wigan took so long to complete.
Their statement added: "One regret was that no French club could not present an acceptable offer for such a player.
"Andy and myself would have been happy to see him in Lens. But the economic situation of French clubs is such that survival is a permanent achievement."