Arsenal midfielder Emmanuel Frimpong has been cleared to play for Ghana
Arsenal's Emmanuel Frimpong is eligible to play for Ghana after his nationality switch from England was ratified.
Last Updated: 28/11/12 12:25pm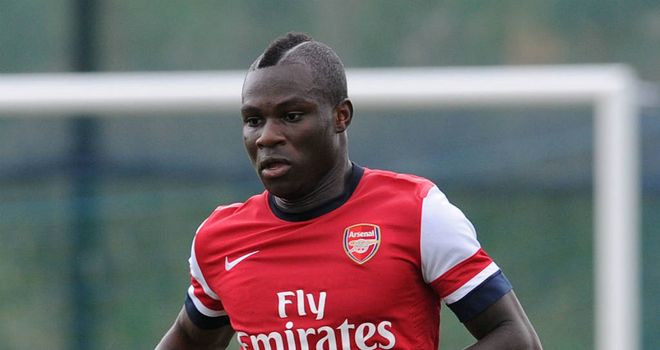 The 20-year old, currently on loan at Charlton, has been given the go ahead by FIFA to play for the country of his birth after the Scottish FA confirmed the midfielder had not played for them at competitive level.
Frimpong, who has featured for the U16 and U17 England teams, can now be selected for Ghana's 2013 Africa Cup of Nations campaign in South Africa next year.
He committed to Ghana last year but could not play for the Black Stars until officials sent necessary documents to the sport's world governing body.
It will be a huge relief for Frimpong who has fought hard to play for the country of his birth. Two years ago he said: "I have always said that, no matter what, I will always play for Ghana because I believe I am a Ghanaian.
"England has done a lot for me and my family but at the end of the day I can't see myself playing for England because I am not English - I am from Ghana."
Ghana resume their 2014 World Cup qualifying campaign in March at home to Sudan. They trail group leader Zambia by three points after two matches.