West Ham boss Slaven Bilic is still raging with record signing Marko Arnautovic for his red card against Southampton.
The £25m summer signing will miss the next three games after being sent off during the 3-2 defeat for an elbow on Saints defender Jack Stephens.
The Austrian apologised to fans, team-mates, and his manager for his actions but Bilic was still fuming at a press conference ahead of the Carabao Cup game at League Two Cheltenham on Wednesday, live on Sky Sports.
The West Ham manager banged the table when asked how he felt about the incident saying: "You can't do those kind of things."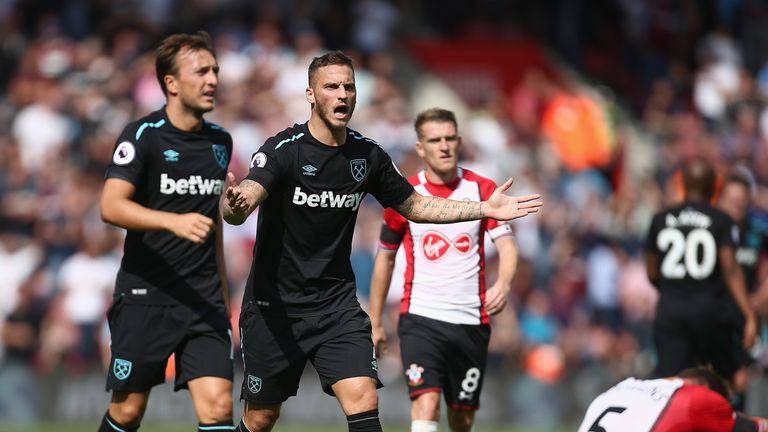 "I am fuming, still now - you can feel. I am fuming, but it happened. But no more. Not him, not anybody else. I am confident the message got through.
"The players they know and they can't let the team down and also of course him. And whoever does those kind of things will get the fine, of course. He will get fined.
"He was angry at himself. He still is. He regrets it, so he is angry at himself. But he can't do it any more.
"We had a chat. He said he is sorry, and he apologised, I don't know, three or four times - on social media, here, in front of the whole team, on the bus, in the dressing room, everywhere.
"I said, 'Yes, it is nice.' Of course it is nice, but you can't do that. That's it.
"How can he explain that? You can't explain that. You can't say I was late or whatever.
"He didn't want to elbow him and he didn't elbow him like this, with a swinging arm. He wanted to probably get him somewhere here, in the side, to push him a bit because he was elbowed a few minutes before.
"But his problem is their player went a bit down so he got him here, in the neck which is already nasty. It doesn't look good.
"And second, Arnautovic is big. He is big [6ft 2in]. He is not [5ft 6in team-mate Manuel Lanzini]. He is big, massive - so it gives an extra dimension to it. But we can talk about this and that but you can't do that.
"That is the point.
"So let's not talk about how it happened. It is irrelevant.
"Let's not waste time because the more you talk about how it happened the more normal it becomes, when you are analysing the things you shouldn't be analysing."
Watch Cheltenham v West Ham in the second round of the Carabao Cup on Wednesday. Coverage begins on Sky Sports Main Event and Sky Sports Football at 7:30pm.