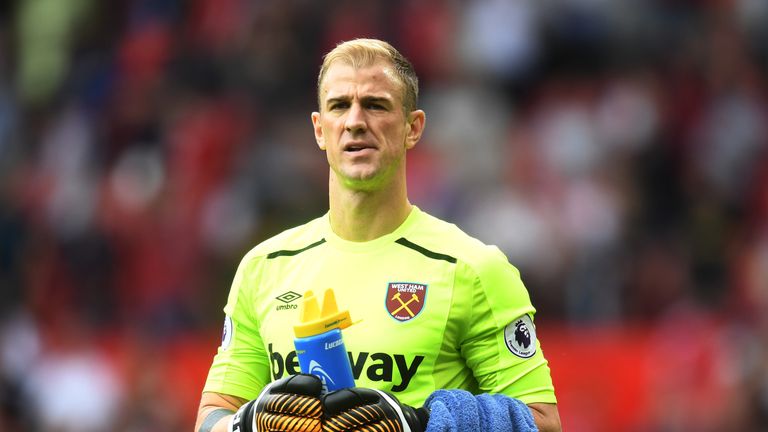 Joe Hart believes West Ham have become a "really dangerous team" with Javier Hernandez and Marko Arnautovic at the forefront of their resurgence.
The Hammers go into next Monday's home match against Stoke, live on Sky Sports, after a confidence-boosting 1-1 draw at Chelsea last weekend.
Hernandez scored the equaliser at Stamford Bridge, after combining with Arnautovic, and Hart believes it was quite a statement.
"We're definitely a really dangerous team," Hart told the club's website.
"Chicha (Hernandez) is a top, top professional... he's a goalscorer. Marko is in absolutely fantastic form after a difficult start to his West Ham career, but since then he's been our standout player," Hart added.
West Ham, who are 14th in the table with 34 points, have a potentially tough climax to the season with matches against Arsenal, Manchester City and Manchester United still to come, but Hart believes a win against Stoke is the priority.
"I feel like we have a huge, huge game next Monday," he said. "It's such an important match for us and for all the good that came out of (last) Sunday, we only got one point and we want three points. We're really looking forward to Stoke."
Hart is keen to maintain his own good form from last week and improve his chances of making England's World Cup squad ahead of the finals in Russia this year.
The 30-year-old is England manager Gareth Southgate's most experienced option but is in danger of losing his spot to Everton's Jordan Pickford or Stoke's Jack Butland.
"I know who I am and what I am," he said. "I have had medals around my neck for years and years and got England caps.
"I play for my team, my family and my friends and anyone else who wants to comment, that's up to them and I don't care."