Manuel Pellegrini won't blame West Ham results on off-field problems
West Ham's honours board yet to be reinstalled
By James Dale
Last Updated: 23/08/18 9:44pm
Manuel Pellegrini refused to blame West Ham's losing start on off-field problems regarding the London Stadium.
West Ham are locked in a dispute with London Legacy Development Corporation, which says the club are still yet to pay some outstanding fees from last season on their new home.
The LLDC is refusing to enter into another advertising deal before these are settled, meaning a London Stadium branded board stating "This is for Everyone" was displayed in place of the Hammers' honours board for the home defeat to Bournemouth.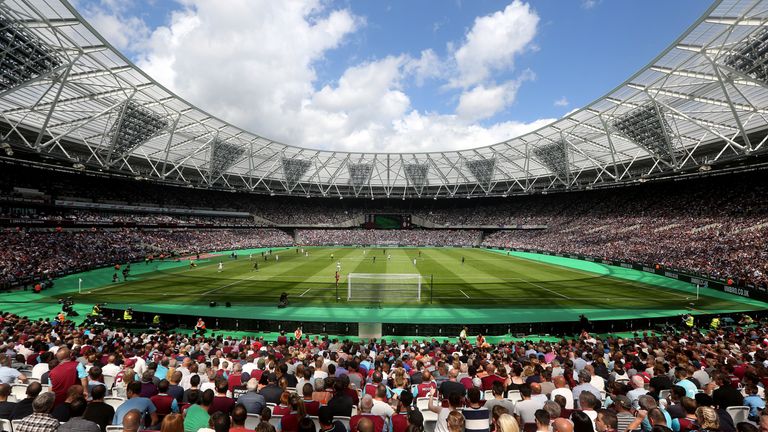 West Ham vice-chairman Karren Brady says the club "will do everything" to have the honours board - displaying their three FA Cup wins and European Cup Winners' Cup triumph - reinstalled, while the Baroness has publicly called for a claret and blue compromise to their track-cover dispute.
The two sides want different colours to replace the current, clashing green around the pitch.
West Ham's troubles have continued on the field, with new manager Manuel Pellegrini losing both of his opening Premier League games in charge heading into their trip to the Emirates to face Unai Emery's Arsenal this weekend.
Noble a doubt
Mark Noble has a back problem which prevented him training this week ahead of their trip to Arsenal.
Pellegrini pointed out his poor start at Manchester City, where he lost four games before the end of November before going on to win the title with the club in 2013-14, and would not blame West Ham's start on off-pitch distractions.
"What I don't want is to have as a team, manager, player - is excuses because we have some problems with the track," he said.
"We need to have the solution inside the pitch, not out. I don't want to link both things."
Last weekend Pellegrini mentioned that many fans had left the London Stadium early during the 2-1 defeat by Bournemouth, and he moved to clarify his comments at his pre-match press conference on Thursday.
He said: "It's not a criticism of the fans, it's how much the team needs them.
"I perfectly understand if you are losing four or 5-1 then you might leave early to go to your house but at 2-1, we need all of us to be together. Everyone."
Pellegrini has won six of his 12 encounters with new Arsenal manager Emery, with the pair having locked horns during their time in La Liga and the Champions League.
West Ham midfielder Jack Wilshere admitted he wants to "prove a point" against the Gunners, having left on a free this summer, but Pellegrini says only a collective effort will see results turn around.
"For me the difference we must make as a team," he said. "We need to improve lots of things - defending, attacking, the mentality - against big and important teams like Arsenal."