Sam Allardyce feels Andy Carroll should be in England's World Cup squad
West Ham boss Sam Allardyce is backing striker Andy Carroll to play his way into England's World Cup squad.
Last Updated: 06/04/14 3:46pm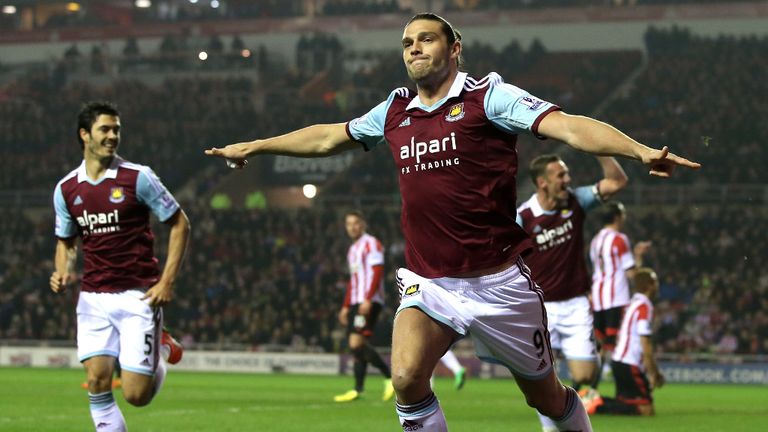 Carroll headed the Hammers into a first-half lead at Sunderland on Monday night and went on to put up a fine individual display in the 2-1 win that took them to the brink of Premier League safety.
Although there are only six games left for Carroll to impress, Allardyce feels he has enough time to prove to Roy Hodgson he is worthy of a place on the plane to Brazil, most likely in preference to Southampton's Rickie Lambert.
Allardyce said: "There are six games to go and I think if he continues to score, if he scores anything like he did last season - he scored eight in the last 12, I think - if he gets another two or three or four goals, I think it will hopefully be difficult for Roy to ignore him.
"There are not a lot of them today, unfortunately. I used to play against them every week, Andy Carrolls, when I played many years ago. There used to be one in every side.
"But there's a quality with the size and the stature of the man. It's not just a heading ability, it's an all-round quality that he has.
"He's quicker than he looks, some good hold-up play off the chest at times, takes the ball with his feet, he's got a terrific shot on him.
"He's superb in the air and he's young, so hopefully he keeps on not growing stature-wise, but growing in terms of his experience and his ability to stay fit and becomes an even better player than he already is.
"It's a bit scary to think where we might be if we'd had Andy all season. We didn't have him all season last season and finished 10th; we have had him even less this season.
"We are now 11th, we are one point behind our last year total, so we have 37 points and this time last year, we had 38, we have had our best run of results since we have been back in the Premier League.
"Since Andy and the other players got fit - and I always said coming on the back of January, 'Once our players are all fit, watch out, we will be okay, we will win football matches'.
"The form we are showing at the moment is proving that. It's been an outstanding run from the players and an outstanding achievement."