Jermain Defoe has Robbie Fowler's Premier League record in sight
By James Dale
Last Updated: 22/11/16 7:20pm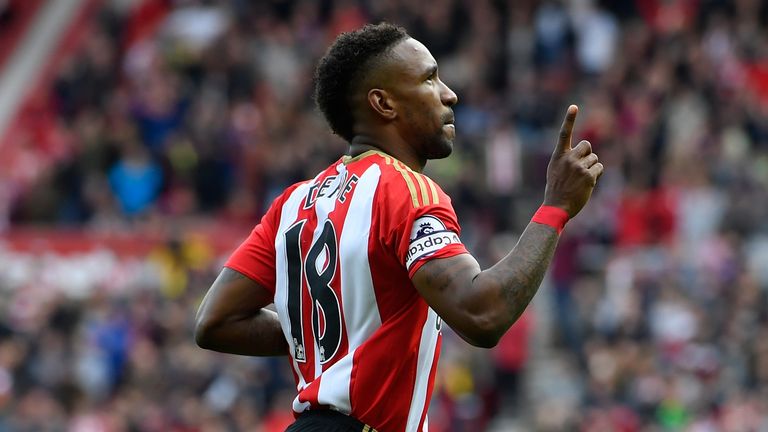 Jermain Defoe says surpassing former Liverpool striker Robbie Fowler's goalscoring record would be "special".
Defoe, 34, scored his seventh league goal of the season in Sunderland's 3-0 win over Hull City on Saturday, moving him onto 150 top-flights goals - now needing just 13 to move above Fowler on the all-time Premier League list.
Former Tottenham Hotspur striker Defoe managed 15 league goals last season, but admits he has eyes on Fowler's landmark already, with Sunderland set to play Liverpool on Saturday. 
"It would be nice," Defoe told Sky Sports News HQ. "Someone like Robbie Fowler, in my opinion one of the most natural finishers that this country has produced. I remember his goals, nice clean finisher, not much backlift.
"If I can go above him it would be special.
"It's a long way to go but I'll just take them as they come. I always believe that each game I play I'll get a chance or half-chance and it's just down to me to take it."
Defoe's time in the Premier League looked to be coming to an end when he moved to Toronto FC in 2014 on a four-year deal, but the forward returned to Spurs briefly on loan before joining Sunderland in 2015. 
The former West Ham and England striker has not put a date on how long he will continue playing, but believes his dedication to training means he is still "flying". 
"We'll see," said Defoe, when asked how long he would continue playing. "I've always enjoyed scoring goals, training. I've still got that same buzz. Even when I score in training I've got that same buzz.
"I've always looked after myself, I've always given myself the best opportunity of going out on a weekend and performing. I've always watched my diet, set the right times.
"As I've got older I understand what my body needs, when to train hard, when to sort of back off, and how to prepare myself so that on a weekend I'm flying. It's been great." 
Upgrade to Sky Sports now and get 12 months half price. Hurry, offer ends December 4!