West Bromwich Albion manager Tony Pulis admitted midfielder Claudio Yacob was fortunate not to have been dismissed in his side's 2-2 draw at Chelsea on Wednesday night.
The Argentina international had already been booked for pulling back Willian after 25 minutes of the Premier League clash at Stamford Bridge when he then brought down Oscar eight minutes before half-time.
And the home side were even more incensed when referee Anthony Taylor also failed to hand Yacob a second yellow card after a clash with Diego Costa just before the hour-mark.
"I thought he was lucky on the second one, the one where Anthony has given a free-kick, although there was definitely a coming together, so we were a little bit fortunate then and I just did not want to take a risk," Pulis said.
"If you have a look at the stats, I think in the first half of the season we have had more decisions go against us than any other club in the Premier League, so it is nice to get one that goes for us.
"Chelsea should not complain - the amount of quality they have got on their side, and the infrastructure at this football club - it's a great advert for the Premier League that we can come here and have a go."
Overall, though, Pulis was delighted with his side's display at Stamford Bridge as James McClean's 86th-minute equaliser made it seven points from their last three league games, with West Brom sitting 13th in the table, three points above their opponents.
"Obviously we are pleased as coming to Chelsea is always going to be a tough game," Pulis said. "And it was a tough game. They have excellent players and you have to ride your luck and work really hard at times. And we did both of that and I always thought we were a threat as well.
"It has never been that lucky a ground for me, most probably because of the quality of players we are playing against, but I thought it was a good game, end to end, a great advert for Premier League football.
"But like I said, it is a great advert for the Premier League that we can come here and have a go and come away with something.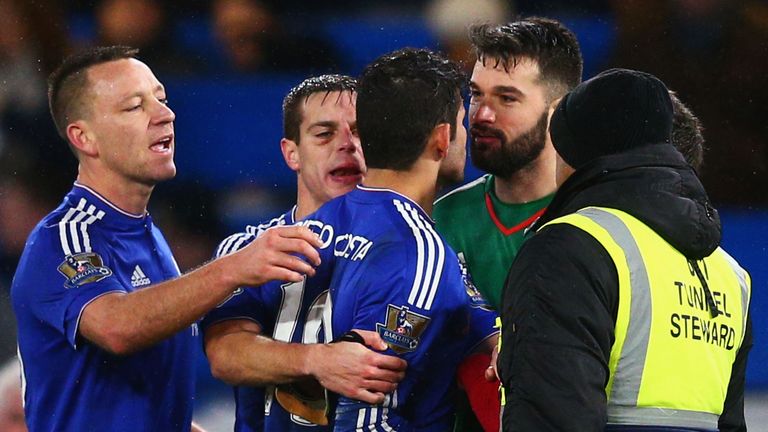 "Both of them were smashing goals and as I said to the players after, if we had come off losing, I would have been really disappointed for them because of the effort they put in.
"All it is is an extra point; we need to get to 40 points. The league is very difficult this year and very strong with so many teams fighting for that safety and survival. And we have to get to 40 points as quickly as we can, and then hopefully we can relax a little bit.
"But until then, you have got to be relentless and every game we play in this league is a tough game. And you've seen tonight that we have come here and not given Chelsea an inch when they have the ball and we've worked really, really hard when we have had the ball to try and create opportunities."