Leo Bonatini interview: Wolves striker on his new life at Molineux
Last Updated: 11/10/17 11:52am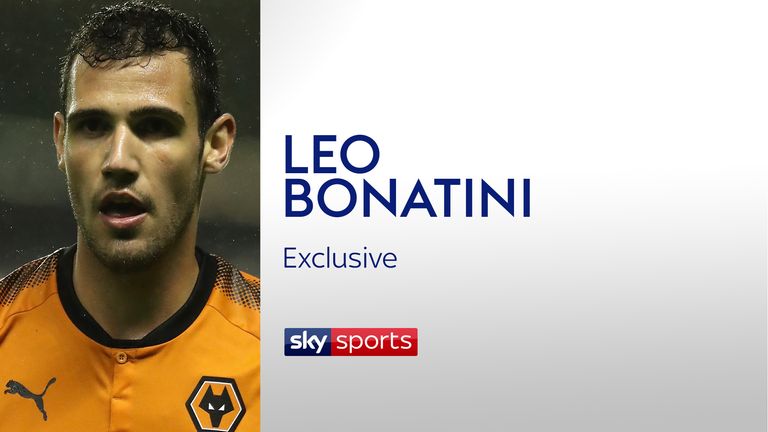 Brazilian striker Leo Bonatini arrived in England after moves to Italy, Portugal and Saudi Arabia. Adam Bate caught up with him to hear his story and find out more about the Wolves project ahead of the big local derby against Aston Villa at Molineux on Saturday.
Wolverhampton is an unlikely setting for a revolution but that's how it has felt since Chinese investors Fosun arrived at Molineux. With the appointment of Nuno Espirito Santo as the club's new coach and a further influx of foreign players, the changes gathered pace this summer. So far it has been a success with Wolves now favourites for the Championship title.
Record signing Ruben Neves has adapted to the pace of the game in midfield, while Diogo Jota has made the transition particularly well, scoring six goals and being named the Championship's player of the month for September. Last season's star man Helder Costa is fit again too. But perhaps it is not such a surprise that Leo Bonatini has settled quickly.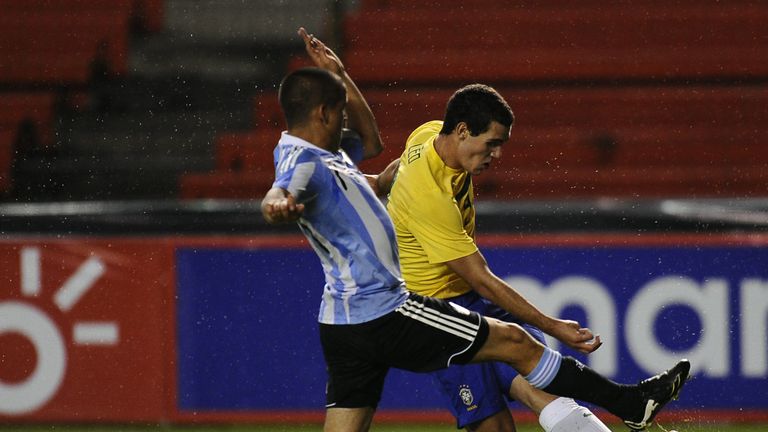 The 23-year-old striker has considerable pedigree. Although his father wanted him to be a doctor, his football ability was obvious at an early age. He was top scorer in the Brazil team that won the 2011 South American Under-17 Championships. "The fans didn't care that we were 17," Bonatini tells Sky Sports. "It was the first time I felt like a professional."
He later scored twice at the subsequent Under-17 World Cup and it was enough to earn Bonatini a move to Italian giants Juventus. He might still love his Brazilian food and talks wistfully about spending his summers back home with friends, but subsequent spells at Estoril in Portugal and Saudi Arabian side Al-Hilal mark him out as a man not afraid to travel.
Now it is Wolverhampton and he is enjoying life in leafy Tettenhall, a short drive from the club training ground. Bonatini's father spent the last month with him but has since returned to Brazil to run the family cosmetics business so the player is now alone again, relishing his space and "the quiet life" that is a far cry from bustling Belo Horizonte where he grew up.
By his own admission, he has not always loved life away from home. "Juventus was good but it was difficult because I was very young," he explains. "I tried to go and live in another country but the culture, the weather and the language, it was all different for me. I was very sad there because I felt alone and I wanted to go back home. But it helped me a lot.
"It was the first time in my life that I had to do some things that I had never done before. I had to rent an apartment, get a car and learn to resolve my own problems. This made me grow up. When you get through these things, you become more mature. So it was very good for me. When I got the chance to go to Portugal, that's when I felt ready."
Despite being 6'2", there were doubts he would be ready for the demands of leading the line in the Championship. He acknowledges that the standard in Saudi Arabia was not so high, although he did win the title and competed in the Asian Champions League. Even so, he is proud that he "arrived ready to play" and has embraced the division's unique charms.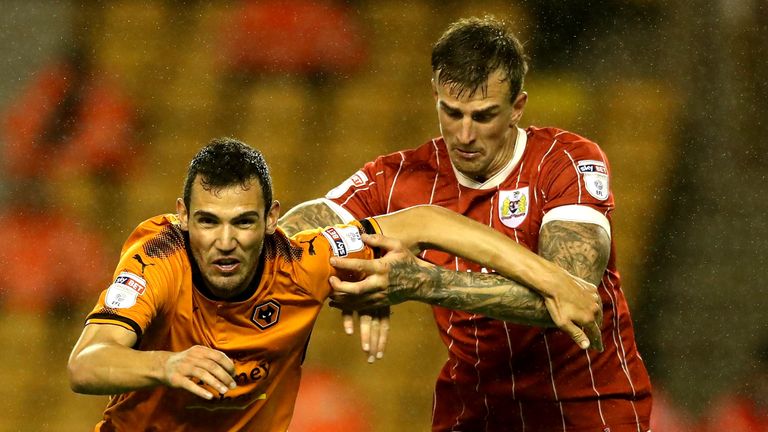 "It is a different game," says Bonatini. "Here, it is so fast. The pitches are different because of the weather. In Saudi Arabia, it is very hot and so the pitches are slower. Here, they kick more, they press more and they don't let us play. It is different. Not every contact is a foul. They let the game flow, which is nice, and it is as if the fans are playing with us. We feel it."
He certainly felt the crunching challenge from Matt Mills that took him out in the build-up to Jota's winner at Nottingham Forest, the sort of foul that would receive a red card rather than a yellow in many other leagues. But it was also an example of Bonatini's ability to bring others into the game - something that has been so important for Wolves this season.
As well as this burgeoning relationship with Jota - "we know how to find each other on the pitch" - Bonatini ranks second in the Championship for big chances created, the most by any striker in the top two divisions of English football. Nobody in the Championship, regardless of position, can top his combined tally of goals and assists - four of each so far.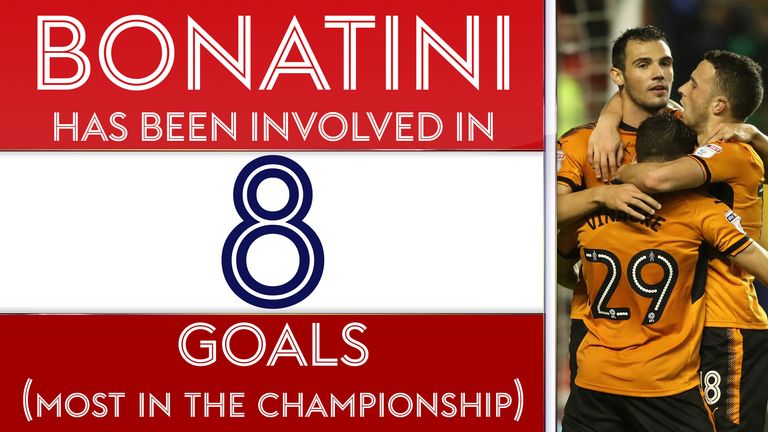 "It is going well," he says. "We have a young team and it is good because we want to help each other. I am trying to help my team-mates to score. For me, I would change all my goals to three points. Even if we win 1-0 with an own goal, this is fine. I don't put in my mind that I have to score, score and score. We just want to go to the Premier League.
"Of course, I would like to score every game but winning is much more important. If we keep playing well and helping each other then this will happen because winning is a consequence. It is not about who has to score and who has to do this or that. Everyone has to attack and everyone has to defend. I am very happy if the other guys are scoring."
Such selflessness feels significant. Given the speed of change at the club, divisions within the squad were possible. The bookies rated the prospect of relegation as likely as a title win. Although Bonatini rooms with Portuguese defender Roderick Miranda, it is telling that he is keen to emphasise the bonds he has forged with the longer-serving English players too.
"The guys from England are very nice and help us with everything," he says. "Danny Batth, Jack Price, Conor Coady, all of them. We are family. We don't feel like someone is taking the space of someone else. We are together and training is great. It feels like home. You do not wake up and think, 'Oh no, I have to get up and go to training.' We want to go there."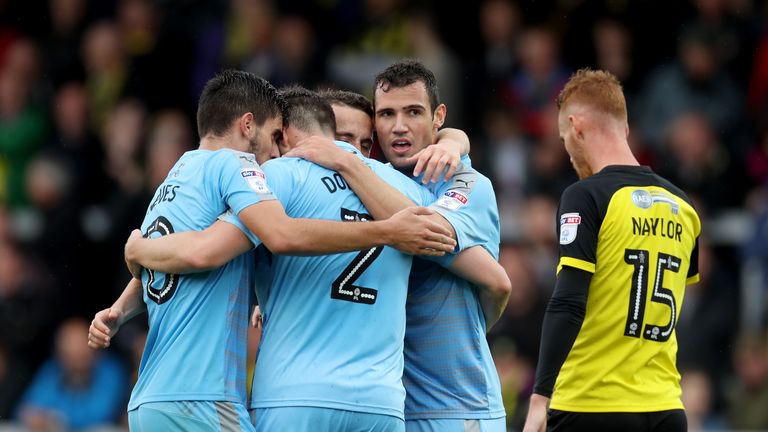 Uniting the dressing room was perhaps the biggest challenge that Nuno faced, but the manager has impressed in other ways too. Any fear that this would be a disparate group, thrown onto the pitch and expected to be perform, has been dispelled. Eight clean sheets in 14 games is an indication that the coach has worked hard to organise his team.
"Nuno is a very good coach," says Bonatini. "He knows us and he knows what to say to us. He gives us lots of information about the other team every week. He knows everything. He is a guy who studies and wants to know everything about the opponent. For every match, we change which defender we have to press, how we press and what we have to do.
"The people behind us are very good too. The guys who check the GPS, the guys who scout the opposition ahead of the next game. Nobody sees the job they do but they make everything really easy for us. Instead of having to watch a full game of the opponent, we can watch a five-minute video and we know exactly what they are going to do in the match."
Aston Villa are the next team to get the Nuno treatment and it will be a big test against in-form local rivals - and promotion rivals too. Bonatini does not want to think too far ahead but makes no secret that the Premier League is the target and with Wolves having an option to make his loan deal permanent at the end of the season he is hoping to stay at the club.
"Villa will be difficult," he says. "It will be a great game and we will need the support of our fans. When you want to win promotion you need to take as many points at home as you can. We have to take it game by game and not think too far ahead. But we want to be in the Premier League and if we can win the Championship, of course, we will try to do that too."
And will he be sticking around to experience it? "I do not want to move back to Hilal," he adds. "I want to stay here. For sure, I want to stay and play for Wolves next season in the Premier League and then to stay in the Premier League. That is what we are all doing here. That is our target." Perhaps it is finally time for Leo Bonatini to settle down.
Don't miss the Sky Bet Championship clash between Wolves and Aston Villa, live on Sky Sports Football from 5.15pm on Saturday