Kevin McDonald admits his future may be away from Wolves
By Mark Benstead
Last Updated: 06/07/15 9:22pm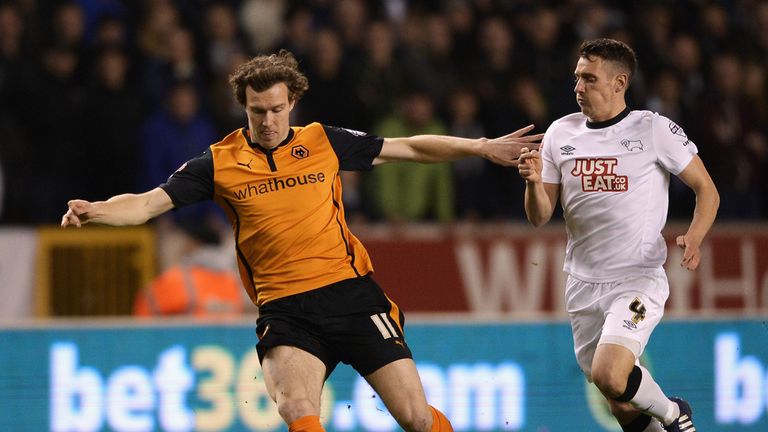 Kevin McDonald tells Sky Sports about his at ongoing contract talks at Wolves and admits his future may lie elsewhere.
What's the situation regarding your current contract? Are you entering your final year?
Coming into the last year of my contract just now, Wolves offered me a contract which didn't really indicate to me they wanted to keep me, it was just like a basic increase, it wasn't like they were pushing to keep me, fighting to keep me, that's the way it felt. That's gone now. We said we wouldn't be signing that contract. Negotiations are hopefully going to be ongoing.
What are your thoughts on possibly staying at Wolves – if they make you an improved offer?
Yeah of course, I've said to the manager, if the offer is right I'll sign the offer but that offer has not been put down, and there's no indication that offer is going to be put down. So it is obviously a bit unsettling not knowing where you are going to be.
Fulham made two bids, were you told about the offers by the club?
No, I never really got told by the club, which is not the best. I thought someone from the club would come and say something to me, but I don't think the manager knew about the bids either. When I spoke to him he didn't really seem like he knew too much about it. But yes, two bids got put in and were rejected.
What were your thoughts when you heard Fulham were interested?
Fulham are a huge club, and obviously I knew the interest was there, but I didn't think much was going to come of it until the bids came in. At the end of the day when you are coming into the last year you have to weigh up all your options. You don't want to be going into your last year - it's very unsettling, you don't know exactly what's going on, to be honest with you.
Ultimately you've got a good relationship with your manager at Wolves. If everything was right would you be open to continuing with things there?
Of course - me and the manager have got a good connection. We have done since he brought me to the club, he put his faith in me and I've repaid him with my performances over the last two years. I've spoken to him about it and he realises I'm a bit unsettled at the club just now, and unfortunately that's not the best of feelings. [We are] ... still trying to get something sorted and take things from there and get settled, and get back to the main thing which is obviously playing football.
How frustrated would you be if the season came round and a new contract hadn't been agreed or a move hadn't been sanctioned?
That's not really an option I want to think about. I want to get a contract sorted first and foremost at Wolves, or if they're not willing to offer me a contract then you try and look elsewhere. I'm like any other player, we all want that bit of security. We don't want to be in the final year of our contract, and I'm the same as any other player would be. Ideally I'd like to get something sorted in the next week or two weeks. Contract talks are ongoing so we will see what happens from there."