Mark Hughes impressed by Danny Ings' Southampton performances
By Dev Trehan
Last Updated: 20/09/18 10:05pm
Mark Hughes says Danny Ings has surpassed his expectations since moving to Southampton on an initial loan deal from Liverpool over the summer.
Ings made a Deadline Day temporary switch to St Mary's ahead of a permanent move next summer, and has made an instant impact at Southampton, scoring three goals in four starts.
Due to the terms of his move, Ings is unavailable to play in his side's visit to Anfield on Saturday, but Hughes admits he is thrilled with the Liverpool loanee's instant impact at Southampton.
"He has come in and I think I have already said in previous weeks that my impression of him as a player was always a good one," Hughes said of Ings.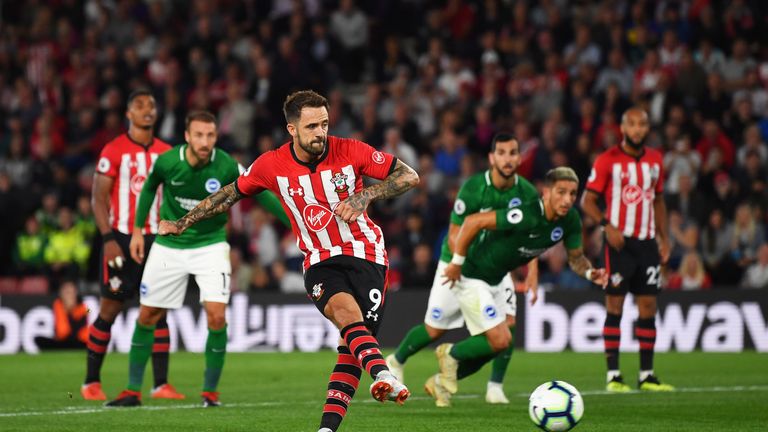 "I always had a high regard for his abilities but when you work with them close-hand on a day-to-day basis you understand exactly the type of player they are and he has certainly surpassed my feelings in terms of his ability.
"He is a better player than I gave him credit for I have to say, so we've been really pleased. And that's with the caveat that actually he is not as fit as we know he can be as yet.
"He had a little bit of a fragmented pre-season with an injury before he joined us and had a really bad blister on his foot which has been curtailing his training time.
"So he really hasn't had solid weeks of training leading into games at this point but that will come and he's okay to play. Okay, this week ideally we would have liked him to play but it means that we can get good work into him during the time he is not available and this time next week he'll be raring to go again."
Liverpool's victory over Paris Saint-Germain in midweek means the Reds have opened the season with six straight wins - their best start to a campaign in 57 years.
Hughes is under no illusion of the scale of the task his side faces against Jurgen Klopp's team this weekend, and is certain Liverpool are in the mix to challenge for the Premier League title this season.
"Without a shadow of a doubt [Liverpool are the biggest challenge we have faced so far this season]," he said.
"I think they are at a point in their development where they clearly need to go for the Premier League title now. They probably don't want to say that publicly but I'd imagine - given they haven't won it for 28 years - that would be one thing that they would like to put to bed and win if they can.
"They have travelled a long way down the road in terms of developing into what they want to be. They've thrown a lot of money at it - all the top teams have to otherwise you get passed by everybody else - so at the moment they are as good as they have been for many, many years.
"You have to say their first XI is very, very strong, as strong as any team in the league but now their squad - which will sustain them throughout the season - that now looks really strong as well, so that could be the difference for them this year."