Southampton boss Ralph Hasenhuttl impressed by Ole Gunnar Solskjaer at Manchester United
Last Updated: 01/03/19 12:33pm
Southampton manager Ralph Hasenhuttl thinks Ole Gunnar Solskjaer has been an "outrageous" success at Manchester United and is likely to get the job on a permanent basis.
But Hasenhuttl believes his team do have the potential to end Solskjaer's unbeaten Premier League run on Saturday, despite their lowly placing in the table.
Since Solskjaer replaced Jose Mourinho in charge at Old Trafford on an interim basis, United have won nine and drawn two in the Premier League, and reached the FA Cup quarter-finals, with their sole loss coming to Paris Saint-Germain in Europe.
Solskjaer's men now turn their attentions to a visit from the relegation-threatened Saints.
When asked if he thinks United will give Solskjaer the job on a permanent basis at some stage, Hasenhuttl replied: "I think they will.
"To be unbeaten [in the league] since he took the job is amazing, it is outrageous.
"I think, with his history of being a player at Manchester United and now doing it as a manager in a very good way, I think you can't have better science to be the next manager."
Southampton are just one place and two points above the drop zone but gave their survival hopes a boost with Wednesday's defeat of Fulham, and Hasenhuttl is in good heart.
He said: "During the time of Alex Ferguson, no one wants to go to Old Trafford, because they knew there is nothing to get.
"The years after, one or other team could take points there.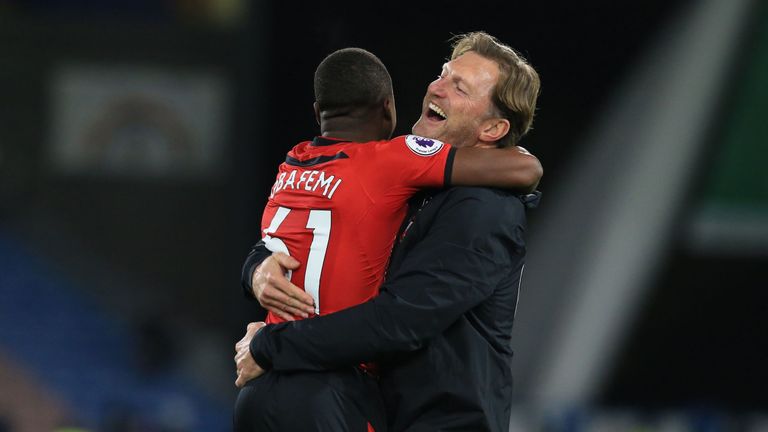 "In the moment it seems that it is going back to this situation, that it is very hard to take points at Old Trafford.
"But my team does not think in that way - we know we can be a good opponent in every stadium for every team, if we are very organised, as we showed against Chelsea (a 0-0 draw) for example, where it is not easy to take a point.
"I am positive - we had a very important win on Wednesday and now we go with not much pressure, because nobody expects something from us."