Pierre-Emile Hojbjerg interview: Ralph Hasenhuttl bringing ambition back to Southampton
Ahead of Southampton's clash with Bournemouth, live on Sky Sports on Friday Night Football, Pierre-Emile Hojbjerg explains how Ralph Hasenhuttl has reinvigorated the club.
Last Updated: 20/09/19 8:23pm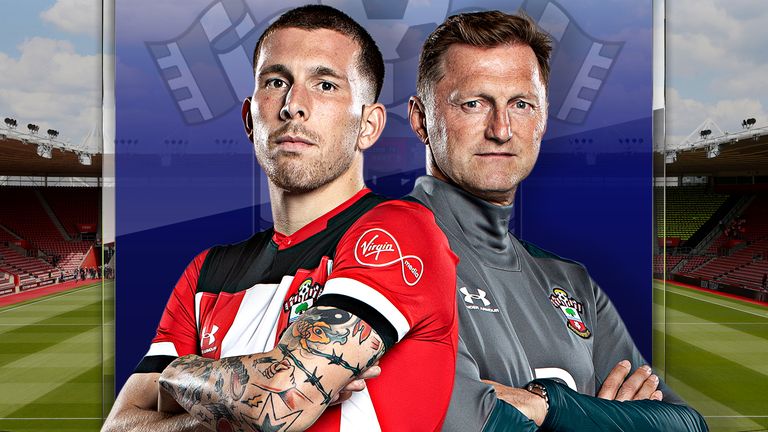 A few weeks after Ralph Hasenhuttl's appointment in December last year, Pierre-Emile Hojbjerg was summoned to the new manager's office at Southampton's Staplewood training ground for a meeting.
Hojbjerg's first impressions had been positive. Hasenhuttl had already handed him the captain's armband, steering Southampton to two wins from his first three games and ending a dismal run under Mark Hughes.
But the meeting, on Boxing Day before Southampton's game against West Ham, confirmed what he already suspected: Hasenhuttl was the right manager for him - and the right man to take Southampton forward.
"It was mostly about some technical things, some positional details and some things about the team, with his assistant Danny Rohl as well," Hojbjerg tells Sky Sports. "But that, for me, was more or less the moment where I said, 'Okay, here now I have a coach who has the same mentality as me and who has the same ambitions for the club as me'."
It was, Hojbjerg says, a "big relief". The previous 18 months had not been easy. Since Southampton's eighth-placed finish under Claude Puel in 2016/17 - Hojbjerg's first season at St Mary's - they had been sucked into the relegation mire, only avoiding the drop on the final day of the 2017/18 campaign and starting the subsequent one in much the same way.
Mauricio Pellegrino had been and gone and Hughes was unable to turn their fortunes around either. It felt like Southampton, widely regarded as one of the Premier League's best-run clubs, were in danger of losing their identity. For Hojbjerg, a former Bayern Munich midfielder and player of considerable pedigree, the circumstances were especially unfamiliar.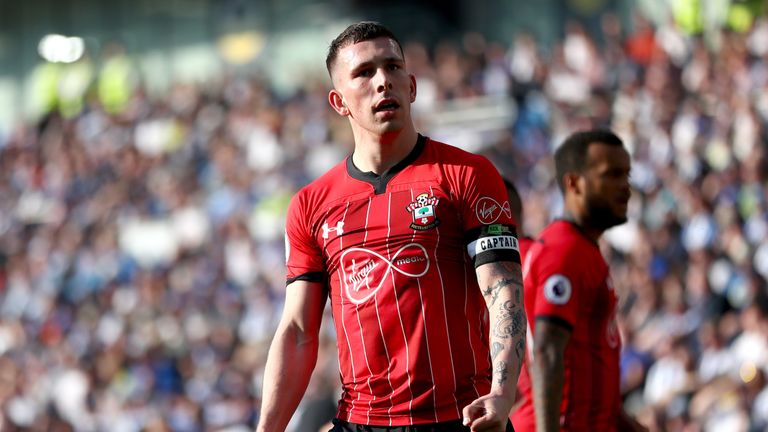 "True, true, true," he says. "But again, it was also the best learning experience of my career because it gives you a new way of thinking, a new perspective and a new way of seeing the football world.
"Sometimes a fight against relegation can be more nerve-wracking than fighting for the league or the European spots because if you get relegated, you might lose your job, you might lose what you have around you, so that's even bigger pressure.
"Of course, I didn't love the situation, but I loved the pressure and I grew a lot with it. A lot of things in my career became even clearer: Who I want to be, what I want to give to the team, and, for the future, where I want to compete. It was very eye-opening and I am very proud and happy that we came out of it - and that I came out of it - with Southampton on top."
Hojbjerg's attitude typifies the maturity that convinced Hasenhuttl to make him club captain. The Dane only turned 24 last month, but he speaks more like a coach than a player and he is thankful that Hasenhuttl sees the game in the same way as him.
"It was very motivating to know we had a coach who was leading the team and trusting us to go out and perform to his way of thinking and play in a very ambitious way," says Hojbjerg. "As a player, that's what you want when you engage yourself with coaches and with people around the team.
"You want people who are very ambitious, people who have a high work-rate and are honest, dedicated and passionate. Especially passionate - and Ralph is very passionate. For me, first of all as a player but mostly as a human being, it was great to feel that level of ambition."
The ambition can be seen in the way in which the former RB Leipzig and Ingolstadt boss is transforming Southampton's style of play. There were teething problems after their initial improvement last season, but the man known as the 'Alpine Klopp' has put his stamp on the side now.
Southampton are very lucky to have a manager who is so determined and passionate about having success here and taking us guys to the next level.
Pierre-Emile Hojbjerg on Ralph Hasenhuttl
Southampton have won three of their last four games in all competitions ahead of their Friday Night Football clash with Bournemouth, the other ending in a 1-1 draw against Manchester United. With Hojbjerg partnering Oriol Romeu in central midfield, they are defending resolutely at one end and attacking with greater adventure at the other.
The biggest difference, though, can be seen in their off-the-ball work.
Like his friend Klopp at Liverpool, Hasenhuttl has increased the intensity at Southampton and put the emphasis on pressing from the front.
According to Opta, Southampton rank highly among Premier League sides in all the key pressing metrics this season. Only Manchester City, Everton and Liverpool have provoked more high turnovers. Only five sides have registered more pressed sequences.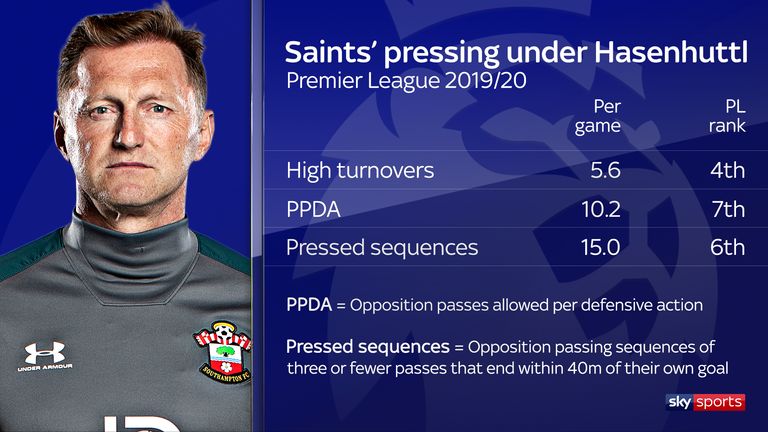 Hasenhuttl has modernised their approach. His training sessions can be gruelling, but Southampton are feeling the benefits of his methods and so too is Hojbjerg. Instead of sitting back and awaiting their fate, Saints are playing on the front foot again.
"He is always looking forward and he is always looking for the next step," says Hojbjerg. "Sometimes it can be tiring, but in the bigger picture it helps you make progress. It makes you stay hungry and stay humble.
"Southampton are very lucky to have a manager who is so determined and passionate about having success here and taking us guys to the next level.
"He is more focused on playing quicker forwards. He doesn't want you to gamble but he wants you to take a chance. There is a difference between those things. He says, 'Yes, grab the chance, maybe you will create an opportunity'. The glass is not half-empty to him, it is half-full.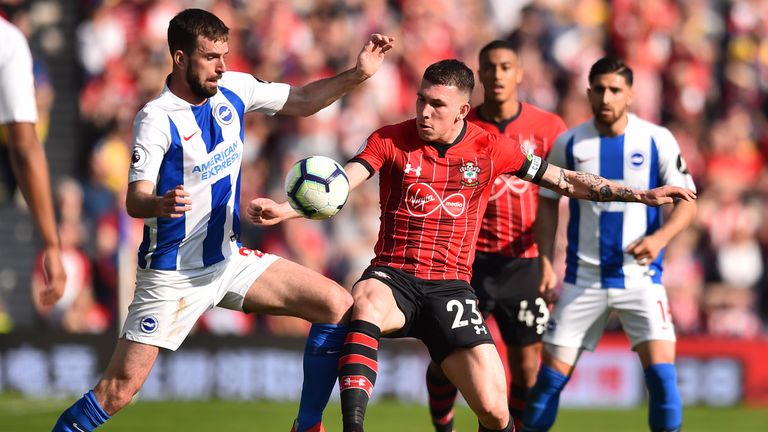 "He wants his midfielders to be flexible, to make long runs and short runs, to come into the box, to be dynamic and then to also have the tactical focus to be able to switch formation during a game or read an opponent and understand how they play. It's just awareness. The awareness to always make it difficult for the opponent.
"I have a whole list of things I could say," Hojbjerg laughs. "He works on the small details and that gives you a big boost as a player."
Does he see any similarities, then, between Hasenhuttl and Pep Guardiola, the man who mentored him during his teenage years at Bayern Munich?
"I cannot compare anyone to Ralph and I cannot compare anyone to Pep," says Hojbjerg.
"The only thing I can say is that I am very sure that, one day in the future, Ralph will coach the best teams in the world. We are all very focused on Southampton and we have a lot to achieve here yet, but I think that is definitely possible for him."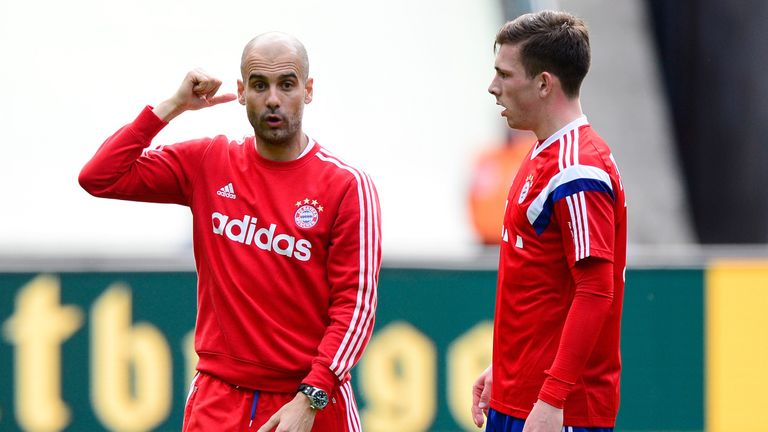 Hojbjerg's future has been the subject of discussion recently too, with his current contract due to expire in 2021, but he certainly does not sound like a player in a hurry to move on. He describes himself as "humbled" and "proud" to have been named Southampton captain. He is clearly relishing the responsibility that comes with it.
"It's a very big honour," he says. "Sometimes it goes well and sometimes it goes badly, but best of all is that I learn so much. That's what I am forever grateful for, to be able to learn so much every single day and every single week and also in the coming years in such a great league.
"I am proud to have proved myself here, but I still have a lot to learn and a lot of progress to make. I feel fit, I feel focused, I feel humble and I feel very, very hungry. I'm prepared to do whatever it takes to achieve my goals, but if it takes two, or five or 10 years, that's not a problem for me. It's just about staying focused and doing the right things, week in, week out."
Watch Southampton vs Bournemouth live on Sky Sports Premier League HD from 7pm on Friday; Kick-off 8pm