Ryan Shawcross commits his long-term future to Stoke City
Stoke City defender Ryan Shawcross has agreed terms on a new five-and-a-half-year deal.
Last Updated: 03/01/13 8:06pm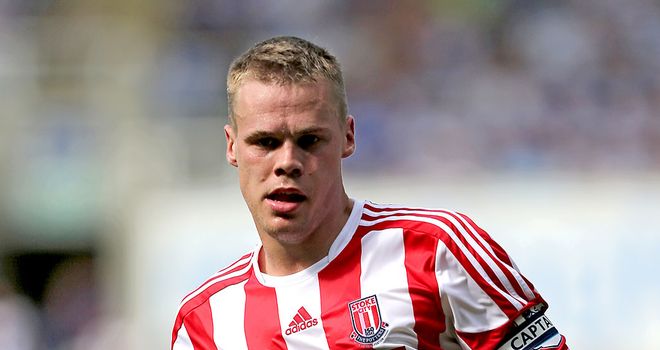 Shawcross had been linked with a number of teams, including Premier League champions Manchester City, but he has instead committed his long-term future to the Britannia Stadium club.
The 25-year-old has been with Stoke since 2007, when he first joined on loan from Manchester United, eventually signing a permanent deal in the January 2008 transfer window.
He has made more than 200 appearances in all competitions for the Potters and is now in his third season as club captain, performing at a high enough level to earn a first England cap in the friendly defeat by Sweden in November.
Stoke boss Tony Pulis said: "It's fantastic for us as a football club. We're really, really pleased to have him.
"He's been the bedrock of what we've been trying to do over the past five or six years and we're really pleased that he's finally agreed.
"It's a long contract, Ryan has to get it right, the football club has to get it right and they've managed to come to an agreement, which is great news for everybody.
"I think the world of Ryan. I think he's a great lad.
"We've signed Asmir (Begovic), we've signed Marc Wilson and now Ryan, Steven Nzonzi's on a long-term contract, so that's four top young players.
"And that's what we want to do - keep improving it, keep getting younger players and players who will grow together at the football club.
"We're not going to do what Manchester City have done, we're not going to do a Chelsea, we have to build gradually and steadily, and that's what we've done over the last five years.
"We'll do it our way, in our fashion. A lot of people don't like it but who cares."
Shawcross revealed the influence of Pulis and the ambition shown by the club were the key reasons behind his decision to sign such a long-term deal.
Speaking to the club's official site, he said: "I wouldn't have signed the contract if I didn't think the club was moving forward.
"The manager is probably the main reason why I'm where I am today. I've been here for five years now and he's been great throughout that time.
"I came here because I felt the manager could get the best out of me, and I just want to continue what I've been doing so far - keep on improving."