Stoke defender Geoff Cameron delighted with attacking contribution
Geoff Cameron is relishing his role in defence as well as contributing to Stoke's attacking play.
Last Updated: 24/12/13 3:25pm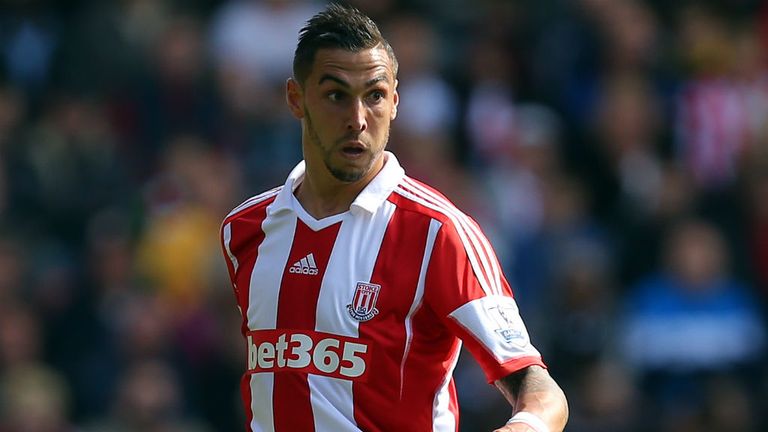 The 28-year-old full-back has been one of the Potters' most impressive players in his second season in the Premier League having joined 19 months ago from Houston Dynamo.
His attacking prowess has come to the fore in the current campaign and he played a major part in both of Stoke's goals in last week's 2-1 win over Aston Villa.
The American said: "I'm trying to get forward and playing almost like a wing-back. They want me to get involved in the attacks.
"I like that and I think I have stuff to offer in that aspect. I'll keep running up and down - don't forget my job defensively, but offensively as well."
Cameron can play across the defence or in midfield, and manager Mark Hughes was mulling over whether to move him to centre-back on Saturday had Ryan Shawcross not recovered from a groin problem.
Speaking ahead of their Boxing Day visit to Newcastle, Hughes said: "Geoff's done really well. I think he's shown everybody that he's an accomplished football player, first and foremost, and he has the ability to play in different positions.
"Obviously he's played mostly for me at full-back and done that very well. He's a real part of our attacking threat as well with his ability to join in high up the field.
"His versatility is great from my point of view because I can move him around and you know you're not going to lessen the side because he can make an impact wherever you pick him."
After a run of eight Premier League games without a win, Stoke have impressed with three victories in their last six league games lifting them to 10th in the table.
Cameron is happy with the approach of Hughes and added: "I'm enjoying his style of play. He's a good coach, a player coach. Everybody gets along and he's positive and I think everyone's feeling the vibes off him. We've just got to keep it going."
It will be a tough week for Hughes and his players, with a visit to Tottenham following the trip to Newcastle and do not return to the Britannia Stadium until New Year's Day when they host high-flying Everton.
Cameron said: "It's a busy schedule the next two weeks, it's going to be hard on the legs, but you've got to take advantage of the time off, rest as much as you can and prepare yourself for the next game.
"When I played in the MLS this time would be the off-season but you're playing in the Premier League and this is where you want to play. Christmas time is always busy and I'm enjoying it."