Championship: Owner Vincent Tan hoping to appoint Russell Slade as Cardiff's new boss this week
Last Updated: 29/09/14 7:43pm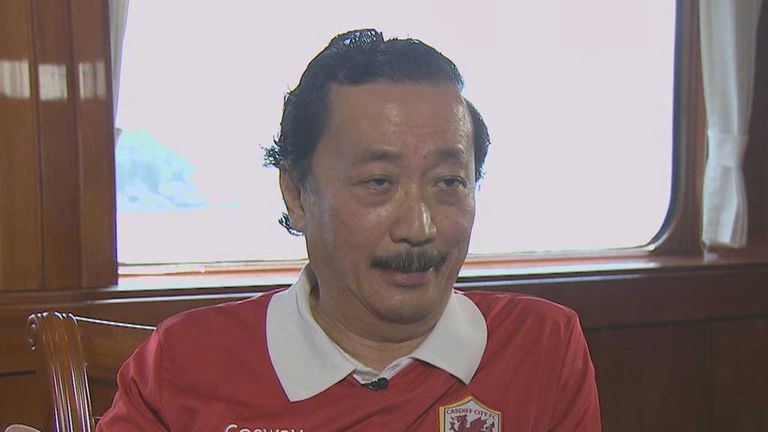 Cardiff's billionaire owner Vincent Tan is hoping to appoint Russell Slade as the club's new manager this week.
The Malaysian businessman also revealed he could sell up at the Bluebirds and buy another club in the United Kingdom as well as branching out his football portfolio worldwide.
In an exclusive interview, Tan told Sky Sports News HQ that Slade had been personally chosen by him to take over at the Championship club.
He said: "Yes, he was indentified by me. Dave Jones wasn't recruited by me, Malky Mackay wasn't recruited by me, in a way Ole (Gunnar Solskjaer) wasn't recruited by me but I said now the next manager, I must select him and I think he will make a good manager for us.
"All I can say to the Cardiff fans is give him a chance, give him a break. Russell is the fourth longest serving manager in British football. Arsene Wenger is the longest and I hope if Russell can join us he can beat Arsene Wenger's record."
Tan insisted that the acrimonious departure of Malky Mackay, ahead of Solskjaer's split, had not been personal and said: "(There was) nothing personal. There is no personal vendetta, I hardly know him. I didn't recruit him."
The City owner also revealed that he would let Slade get on with the job of managing.
He added: "No I won't get involved. Sometimes I do make a suggestion - when you've paid so much to recruit a player isn't it logical? Russell Slade, frankly, we can trust him. And trust is the most important ingredient because we let them make big decisions."
Solksjaer's appointment in January was prompted by Mackay's untimely departure, and the Scot later found himself embroiled in a scandal over unsavoury text messages.
He received the backing of the League Managers' Association in a hastily withdrawn statement which prompted the Welsh club to demand the resignation of chief executive Richard Bevan.
However, Tan has since mellowed on the issue.
He said: "I would say that maybe sounds bit harsh, but sometimes when we are angry, we can say harsh words, so if you ask me do I want him to resign, I don't really want him to resign.
"Now I would say Mr Bevan, I don't really want you to resign, but you should take this most seriously."
There has also been rumours that Tan is hoping the new boss can guide Cardiff back into the Premier League at the first attempt and that he would then be open to offers to buy the club.
He said: "If I sell Cardiff, I would buy another club in the UK. I love football now. I've got a club in Sarajevo. The fans are fantastic, the people who run the club are incredible, honest people. They really motivate me.
"I'm looking to buy another club in Europe and then I may invest in a club in the US, the MLS. Maybe about $1billion. I got lucky, I've got around $700m to $800m, God is kind to me."