Ipswich boss Paul Lambert unfazed by his Norwich history
Ipswich face West Brom on Friday night, live on Sky Sports Football from 7pm
Last Updated: 22/11/18 3:46pm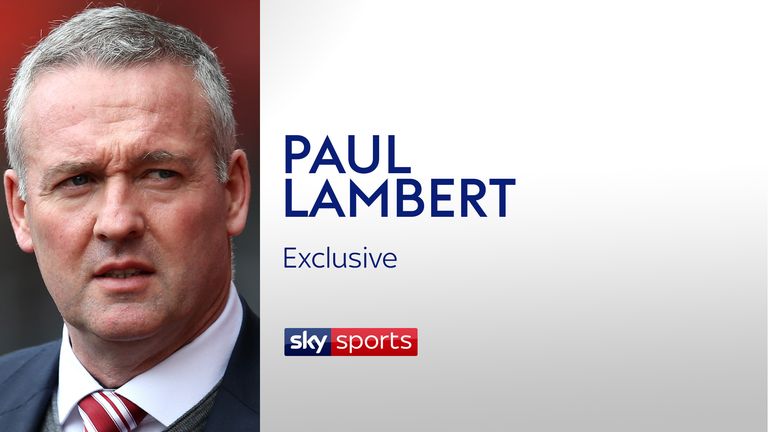 Paul Lambert was unsure of the reaction he would get on his arrival at Ipswich, having led fierce rivals Norwich into the Premier League less than a decade ago.
Lambert admits the thought of it crossed his mind, but time moves on and he knew he needed to as well.
"I'm a football manager and I was out of work," he told Sky Sports. "You have moments where you think long and hard about what you want to do, but I met [owner Marcus Evans] and got on really well with him from the beginning.
"I knew the history of the club was huge and I spoke to a few people here about the area, how fans would react and whether they would hold it against me. All those things went through my head, but I'm really happy to be here.
"Maybe some people aren't happy I am here but no-one can take away what we did there. Time moves on and Norwich was seven or eight years ago now. It's a long time but we gave them some great moments and I want to give this club the same."
History is a big word at Ipswich, and it is something that can often weigh managers down at Portman Road. It isn't easy to follow in the footsteps of two Knights after all, even if it has been decades since either Sir Alf Ramsey or Sir Bobby Robson took charge of the club.
It is something that Lambert is more than willing to embrace, though, and the walls of his office are now adorned with pictures of the legendary pair.
"It was my idea to bring a lot of that stuff," Lambert said. "I know the great managers that have been here and their legacy. Even George Burley's time here was really successful.
"You have to respect and embrace a club with this kind of history, but you can't keep looking back to it and you need to go and make your own.
"Are we going to emulate them? Probably not, because of the way the game has changed here and in Europe, but we have to start somewhere. They have to give us a chance and if we get that we will have a good time here."
Norwich aside, it would be fair to say that Lambert's own managerial career has been a mixed bag. There have been good times and bad, but his two most recent Premier League spells with Aston Villa and Stoke ended in disappointment.
The Glaswegian always tries to learn and progress, though, spending plenty of time on the continent to try and improve his managerial skills.
"I was quite downbeat when I left Aston Villa, but then you have to think: 'What am I going to do now?' he said.
"So I went to Real Madrid when Carlo Ancelotti was manager and then over to Germany to visit Bayern Munich and Borussia Dortmund when Pep Guardiola and Jurgen Klopp were there.
"I went to a lot of European teams to watch them train and to speak with the managers. Every trip I went on I came away with a book full of stuff to learn from."
Portman Road is a world away from the Bernabeu and the Allianz Arena nowadays, though. And West Brom visit on Friday night with Ipswich bottom of the Championship table and five points adrift of safety.
Lambert knows a stern challenge awaits, but is confident a positive result could trigger an upturn in fortunes.
"We are up against a good team who have just been relegated and kept most of their players, but we have to try and win," he said.
"Darren Moore has done a really good job there and we respect them, but we are a different team to five or six weeks ago. We know we will need a break now and again but we'll have to play well.
"We will give it a right good go and hopefully a good performance will result in a win."