Burnley boss Sean Dyche frustrated with refereeing decisions after Southampton draw
By Ron Walker
Last Updated: 24/02/18 7:36pm
Burnley boss Sean Dyche was frustrated with several of the refereeing decisions after watching his side draw 1-1 with Southampton on Saturday.
Dyche insisted a foul by Southampton's Manolo Gabbiadini was missed in the build-up to his goal and his mood was not helped by referee Bobby Madley inadvertently blocking off Ashley Westwood in the build-up to the 90th-minute leveller.
Those two decisions were the last of several that angered Dyche as his side's winless league run was extended to 11 games.
"We've created enough with a goal, there was a penalty before that on Barnes, there was a handball outside their box by the goalkeeper, counter-attack laid on by the referee and then no foul for the goal. Apart from that, I was pleased with everything," he said.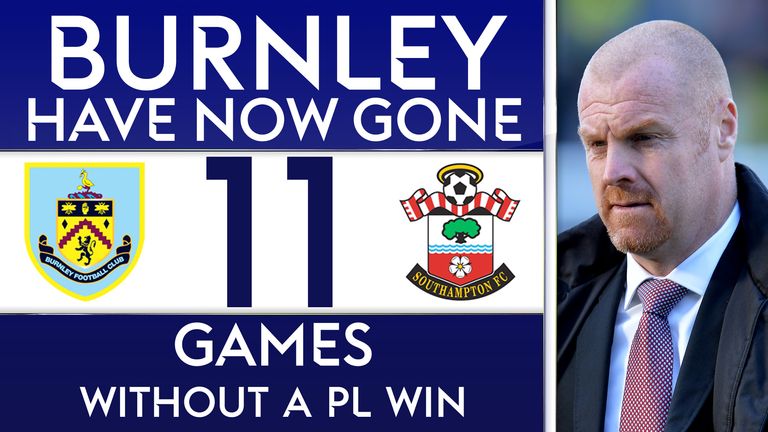 "We all know what this division's about. If you lay your hands on anyone in the top half everyone goes on the floor. Ironically our centre-half gets pulled and goes on the floor and it's no foul. Everyone will have to work that out for themselves.
"We can only control what's in our control, when it goes into the officials there's nothing we can do. I thought the performance overall was good, enough to take three points and the game was petering out into a win for us, but then we all know what happened."
Dyche denied his side's recent run of form was having an effect on his players' confidence, but admitted they were having to go back to basics in their search for a first league win in more than two months.
"It's another point on the table after a solid performance," he said. "We're having to work things out at the moment, we've done enough to win the game and I think everyone knew that.
"Our goalkeeper's made a fantastic save, one of the best of the season actually, but they've huffed and puffed a bit but not created too much.
"There's nothing we could do about the rest of it today. That was a winning performance. We just need a bit of luck, and control things we can control as we have done all season."