Daniel Farke: Norwich are greedy for success and we will get what we deserve
By Alice Piper
Last Updated: 18/04/19 3:40pm
Norwich head coach Daniel Farke says the Championship leaders will let the table do the talking in their Premier League promotion bid, insisting his side will "get the benefit we deserve."
The Canaries sit four points clear of second-place Leeds with four games remaining and will secure automatic promotion if they beat Sheffield Wednesday and Sheffield United lose to Nottingham Forest on Friday.
The German says his players are placing little focus on the table as they prepare to welcome Steve Bruce's side at Carrow Road, in Farke's 100th game in charge.
"I'm not looking too far ahead. It's more like we let the table take care of itself," said Farke, whose side have drawn their last two games.
"We want to go out on the pitch and play game after game, with this attitude we have got right now and with this group of players.
"With four more games, we will go into each game in order to win the game without regarding the situation in the table.
"The table will take care of itself, and in the end we will get the benefit we deserve."
After finishing 14th in the Championship last season, this campaign has seen Farke lead Norwich to 25 wins from 42 games and the boss says the winning feeling is a contagious one.
"Of course we are greedy to go back into the dressing room with that winning feeling," he said.
"We know we are in a good shape but we will stay greedy because this feeling you can't replace, and for that we must be greedy to be successful tomorrow.
"We want to have this attitude without losing the ground under our feet or getting too self-confident or enjoying ourselves too much, but also with a healthy self-confidence to go into these games is always important."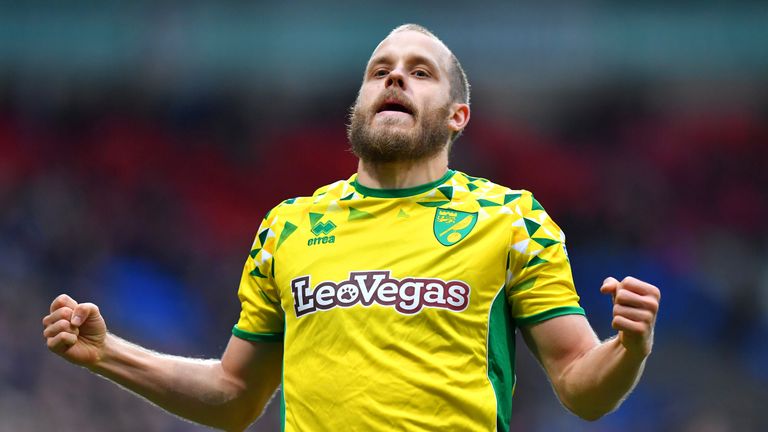 Farke praised the unity shown by Canaries fans and says he has "no words left" to describe their support.
"It is amazing...You can label it as 'outstanding, fantastic, world class' - whatever you like, and it is like this," he added.
"It is not like the support during the games but it is more the feeling that you have at and around Carrow Road; in the whole city, in the whole region, within the club but also the people outside the club.
"It is really one unit here at the moment and this is crucial."