Coventry set to leave Ricoh Arena after twist on eve of High Court hearing
Coventry are ready to finish the season away from the Ricoh Arena after writing off their debt to the stadium's owners.
Last Updated: 22/03/13 5:26pm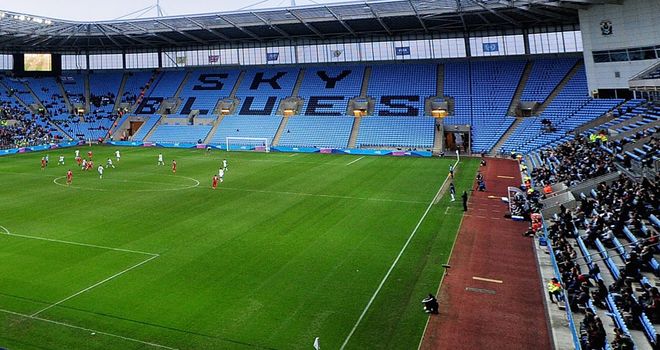 The League One club's owners SISU are in talks over relocating to an alternative home venue in the West Midlands after taking action they believe will prevent the football business entering administration at the High Court on Friday.
Arena Coventry Limited (ACL), who manage the Ricoh Arena, claim £1.3m is owed in unpaid rent and want the football club placed in administration - a penalty which usually carries a 10-point deduction under Football League rules.
But on the eve of the hearing a statement on behalf of Coventry City Football Club (Holdings) Ltd appeared on the club's official website announcing a "property subsidiary" was already in the hands of administrators.
And, according to Sky sources, City believe their pre-emptive action wipes out their debt to ACL while also putting them in breach of contract with their landlords.
That means ACL can now prevent Coventry from playing future home games at the Ricoh Arena, an outcome SISU have been preparing for.
In the meantime, Sky sources say SISU believe Friday's administration hearing will go their way and are confident of avoiding a points deduction which would effectively finish off City's chances of winning promotion this season.
Steven Pressley's side are currently three points off the play-off places and are due to play Doncaster on 30 March in their next scheduled home fixture.
The full statement from Coventry City Football Club (Holdings) Ltd:
"It is important to stress that the football club itself is not under threat.
"This is merely a property subsidiary which owns no material assets and has no employees, on or off the pitch.
"The Club can confirm that all staff wages, PAYE and all other creditor commitments will continue to be met as before by Coventry City Football Club Holdings.
"Unlike other instances of clubs being taken either wholly or partially into administration, there are no HMRC or VAT implications and the Football Club will continue to trade as normal without interruption.
"Our main objective now is to remain competitive on the pitch and give Steven Pressley and the playing staff our full backing and commitment."