Harry Redknapp reflects on Queens Park Rangers' relegation to Championship
Harry Redknapp says Queens Park Rangers will have to work 'very hard' to secure a quick return to the Premier League.
Last Updated: 29/04/13 5:05pm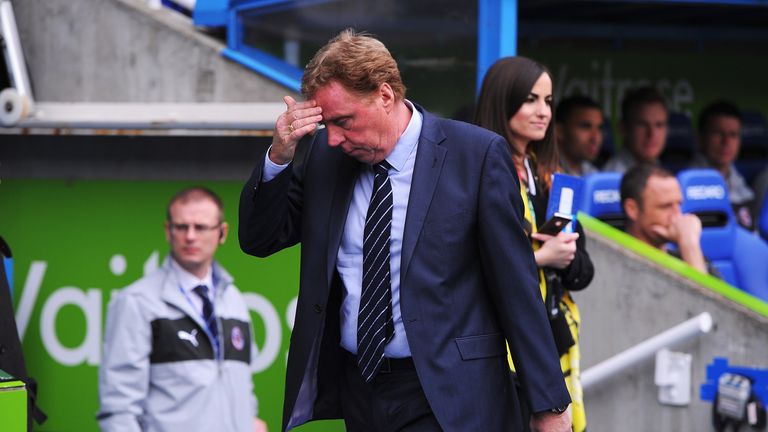 QPR needed to win at the Madejski Stadium to stand any chance of climbing out of the bottom three, but rarely looked likely to fulfil that objective.
The Championship now beckons for an expensively-assembled squad and Redknapp has warned his players what will be required to return to the top flight.
"There's a lot of work to be done next year and it will be very difficult to get promoted," Redknapp told Sky Sports. "There are some good teams in the Championship.
"The first thing I said to them is we have to come back in pre-season and get super fit because the Championship is Saturday-midweek, Saturday-midweek and if you're not fit enough to go the pace, you won't survive and you won't get out of that league.
"That's the key. Whoever the players we have here, they've got to be worked on in pre-season and they've got to be willing to want to get super fit to compete at that level.
"It will be a big challenge. There are lots of good teams and massive clubs. There are big clubs who have all been in the Premier League before and we are just one of them.
"We will do our best next year to try to get up, but we are going to have to work very, very, very hard in the summer, during pre-season and certainly during next season to try to achieve that.
"It's a real good challenge. It's possible but it ain't going to be easy."
Reflecting on the game against Reading, Redknapp said: "I thought we got into some good positions, but our finishing was poor today.
"We had good opportunities to hit the target, but we didn't do it. There were some positives to take from the game."
QPR chairman Tony Fernandes, who is also chairman of the Caterham Formula One team, later Tweeted: "Sorry to all QPR fans. But the plan goes on. Now more than ever. We owe it to you. Took 3 years to get Caterham right. No quitting."