QPR manager Harry Redknapp has rubbished claims Loic Remy's move to Liverpool broke down over a failed medical.
The France striker, 27, was nearing an £8.5million switch to Anfield before the Merseyside club pulled out - amid suggestions there were concerns over his fitness - but Redknapp admitted he is baffled by the news and suggested there were ulterior motives for Liverpool calling off the deal.
Redknapp, who is pleased at the prospect of having the former Marseille forward back with Rangers, told a press conference: "He'll come back here. I only know what I've seen and heard and I don't really know how he's failed a medical.
"He had a stringent medical here, one at Newcastle, one with the French team before the World Cup. He's never had a problem with his fitness - you couldn't meet a fitter lad.
"I don't see there could be any issue with his fitness. Their loss is our gain. I've got a fantastic striker.
More games that matter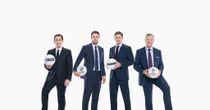 Click here to see Sky Sports' unrivalled schedule of live Premier League fixtures
"I said last year he's a striker capable of getting 20 goals in the Premier League and that's what we want him to do. I think he's one of the best strikers in the division.
"It can't be a medical one because he's never been unfit. It's not possible. It certainly didn't make any sense - there has to be another reason. It can't be a medical issue.
"There must have been some kind of breakdown or they've decided to move in another direction.
"I'm sorry for the boy that his move to Liverpool didn't happen but from my point of view, I've got a great striker back here. In my opinion, he's one of the best strikers at the Premier League. He's a good lad and a good professional.
"Liverpool is a football club that usually handle everything fantastically. I've never dealt with anybody better than them over the years.
"However, all the talk of the medical doesn't make any sense to me."
QPR had been rumoured to be targeting Watford striker Troy Deeney but Redknapp played down the speculation.
He added when asked about the 26-year-old: "He was a player we enquired about and you make lots of enquiries but at the moment, there's nothing happening."