Harry Redknapp says QPR's lack of activity in the transfer market was 'not any factor' in his decision to resign as manager of the club.
QPR announced on Tuesday that Redknapp had decided to stand down and that Head of Football Operations Les Ferdinand and Academy boss Chris Ramsey would be taking temporary charge.
Redknapp said he was resigning due to the need for an operation on his knees but other observers pointed out that he was departing straight after QPR had failed to add to their squad on transfer deadline day.
The London side are second-bottom of the Premier League table and were expected to be active in the market, with Redknapp believed to be particularly keen to acquire another forward.
However, the 67-year-old told Sky Sports News HQ on Tuesday that frustration at the club's inability to sign any new players played no part in his decision to quit.
"I have had a problem with my knee and it has been getting worse," said Redknapp.
"My right knee, I had an operation a year or so ago, and I was on crutches at the training ground for about 10 weeks.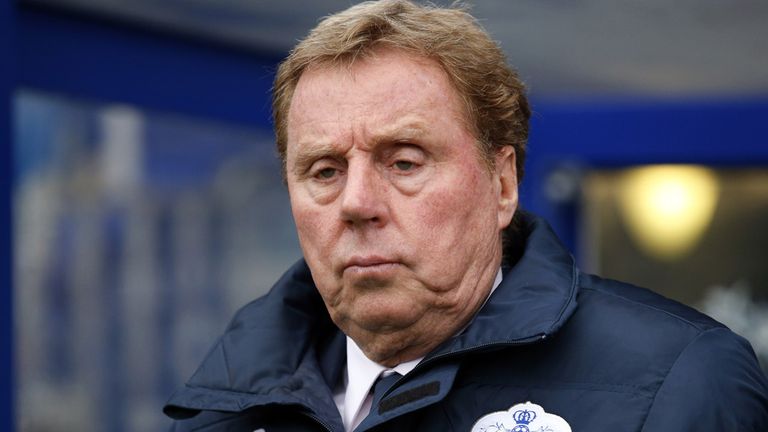 Last weekend I went to watch the grandkids play football and, after 10 minutes, I have had to go and sit in the car. It is no fun and I need to get it sorted out.
"It has gradually deteriorated again, my right knee, and my left knee has gone exactly the same, so I definitely need one knee replacement and maybe two.
"I just could not get out on to the pitch and do what I wanted to do.
"I love getting out coaching but now I can't wait for training to finish because I'm struggling.
"Last weekend I went to watch the grandkids play football and, after 10 minutes, I have had to go and sit in the car.
"It is no fun and I need to get it sorted out.
"Last night I had a bad night's sleep with my knee, so I rang Tony (Fernandes, QPR owner) early this morning and said 'Tony, I'm struggling. Maybe give someone else a go'.
"I think people could see in me that I'm not happy and didn't feel good, and I have decided to give someone else a go.
"It is a good club, fantastic people. I love the people I work for, and I want them to stay in the Premier League.
"I had a good relationship with the players, a fantastic relationship with the owners and the fans.
"It is all positives, I have got no regrets. I have had a great time here.
"When I get my knees sorted, I would love to get back into football again."
Redknapp denies he was hell-bent on acquiring new players on Monday and says a possible loan move for Tottenham forward Emmanuel Adebayor would have been too costly.
Asked if he had wanted some additions, he said: "We tried but I could not say I was over-mad to. We could not find anybody.
"Tony was keener than I was, the chairman. He was trying for his life, he was non-stop on the phone to me.
"We tried one or two but there was nothing we were close to doing and I did not push Tony to do any deals.
"It was too expensive, I said that to Tony. You are not going to start chasing when people have got you in the position that they know you are desperate, because the price goes up.
"Tottenham were fine to deal with (regarding Adebayor) but the deal was not one we could afford really. So we scrubbed that one and there was not too much else about."
Regarding the state of the QPR squad, Redknapp pointed out that he has players returning from injury and that there are alternative options up front.
"(Midfielder) Sandro's back this week, Yun (Suk-young) is back at left-back," said Redknapp.
"We are short of a front man to help Bobby (Zamora) and Charlie (Austin), but (Eduardo) Vargas can play there.
"It was not a case of taking someone in.
"When I took over, there were an awful lot of players who they had to get rid of, who were very expensive. I did not want to see them get in that position again.
"I did not push Tony to do any deals and that was certainly not any factor in me deciding to call it a day. I could hardly walk this morning."
Ferdinand will now take charge at Loftus Road alongside Ramsey on a temporary basis but Redknapp says there is no reason the former QPR and England forward could not become the permanent boss.
"It's up to Tony and the shareholders who they decide to pick," he said.
"Les is taking over and I am sure Les can do the job without a problem. He is a football man, knows the game, has been a top player.
"I think the players are there and, with one or two coming back this week, I think that will make a massive difference to the team."