Jeffrey Schlupp insists it is the team spirit fostered over two years that has been the cornerstone of Leicester's astonishing rise to the Premier League summit.
Claudio Ranieri's men have lost just once in 16 games and are two points clear at the top after beating ailing Chelsea 2-1 on Monday night at a fervid King Power stadium.
While acknowledging the importance of their twin talismen - Jamie Vardy and Riyad Mahrez - it is the unity in a side that won the Championship just two years ago that has been the catalyst for their barnstorming run to the top, according to Schlupp.   
He told Sky Sports News HQ: "It's a special bond in the team and we all get on so well.
"I've said it before but we have kept the same team from when we got promoted two years ago and the new additions have fitted in really well and we are a really tight bunch.
"It's fair to say we struggled last season for quite a while and if anything that brought us closer together. It's definitely one of the key factors in our success. 
"We just show everyone what we are actually capable of but we definitely don't want to get carried away and the manager is always saying about getting to that 40-point mark. I think we are proving what we are actually capable of in this league.
"We have played against the champions last night and we deserved to win and we have been like that the whole season. We have lost once and we have had some great results. We are just going to keep that going for as long as we can and then you never know."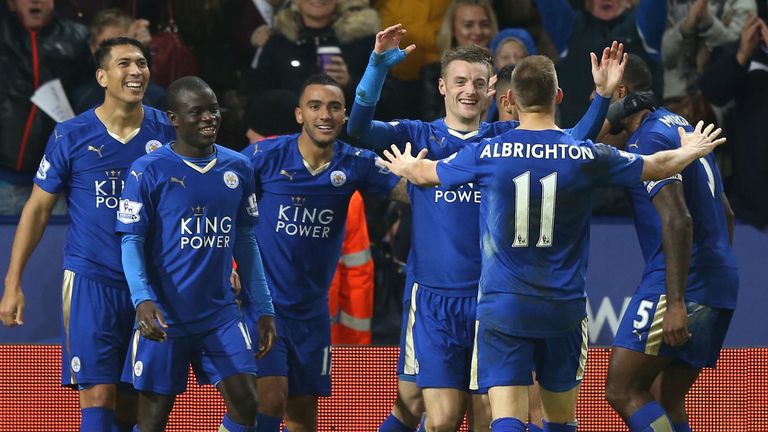 Regarding Mahrez and Vardy, who were both scored against Chelsea, Schlupp is desperate for the in-form pairing to stay in the East Midlands.
He added: "The two of them are on fire and it is clear to see that. It's such a big bonus having those two on form as they have been all season. You say it is a team game but we when you have those kind of gems in your team it certainly helps. They are match winners they are just proving to everyone how good they really are.
"Every team has got their special players and they definitely are the ones for us and they are proving that week in week out with goals and assists. It is important to keep them of course."
Schlupp was speaking after the Leicester players had been using a cryotherapy chamber at their training ground. The chambers use liquid nitrogen so that the players are exposed to extremely cold temperatures. The treatment is believed to aid recovery times after intense physical exercise.