Why Jamie Vardy's goalscoring record in big games is world class
Last Updated: 23/12/17 7:29pm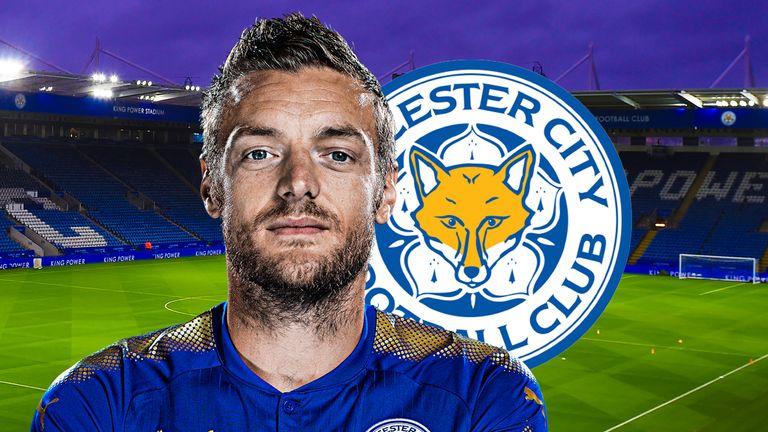 Adam Bate examines Jamie Vardy's extraordinary goalscoring record against the Premier League's strongest sides, how it compares to other strikers, and why Jose Mourinho's Manchester United are the team best placed to foil his efforts.
Leicester City versus Manchester United. It is the fixture that saw Jamie Vardy announce himself to the wider world. The Foxes' 5-3 win in September 2014, the first Premier League game that United had ever lost after leading by two goals, included two penalties won by Vardy as well as the striker's first ever goal in the competition.
The man himself might have even warmer memories of his second clash with United at the King Power Stadium. His opening goal in a 1-1 draw in November 2015 was a record breaker as Vardy became the first man ever to score in 11 consecutive Premier League matches. It is easy to see why he will be looking forward to Saturday night.
But Vardy has not just saved his best for Manchester United. The other big clubs have been on the receiving end too. His most recent Premier League goal came in Leicester's win over Tottenham and he has also scored against Arsenal, Chelsea and Liverpool this season. It took a cynical foul from Vincent Kompany to stop him finding the net against Manchester City.
While his opposite number on Saturday, Romelu Lukaku, continues to face criticism for his record against the very best, Vardy thrives in these matches. The contrast is stark. Vardy has scored 20 Premier League goals in 39 games against the big six. During that same period, Lukaku has scored only five goals in 40 appearances.
Lukaku's one-in-eight record is particularly poor but there is nothing unusual about struggling to score as many against stronger opponents. Compare Vardy's record to the other 10 players to have scored the most Premier League goals since the summer of 2014 and it is clear that it is the Leicester forward who is atypical.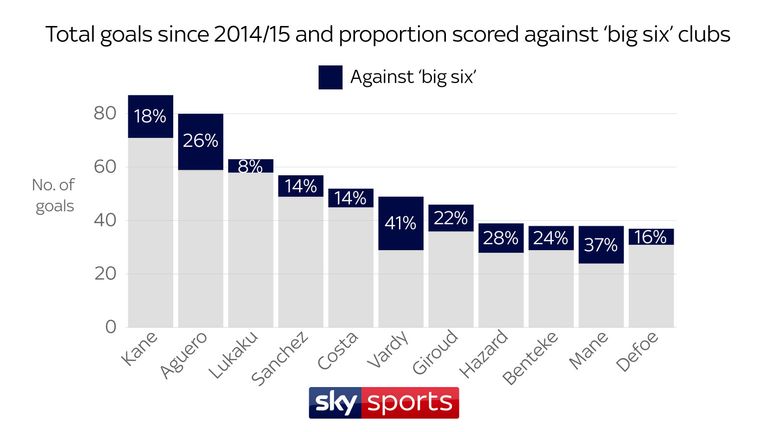 Eden Hazard has a one-in-three record against the big six. So did Diego Costa and so does Olivier Giroud. Alexis Sanchez's record in these games for Arsenal is one in four. Jermain Defoe has a one-in-five record against these clubs during this period. Harry Kane's record is similar to Vardy's but only Sergio Aguero has outscored him - and only by a single goal.
The curious aspect to Vardy's goalscoring record is that while every single one of the aforementioned players scores with greater regularity against weaker teams, he does not. Vardy has 29 goals in 84 Premier League appearances against opponents who are outside of the big six. Leicester team-mate Riyad Mahrez has scored that many himself.
Christian Benteke has scored the same amount of goals in fewer games. Not only have Aguero, Kane, Lukaku and Costa outscored Vardy in these matches but so have Giroud and Defoe. Last season, the much-maligned Islam Slimani matched Vardy's tally of seven goals against teams outside the big six in 761 fewer minutes than his strike partner.
Vardy's curious scoring habits were at their most apparent during the bleakest days of last season. After scoring at Liverpool in September 2016, he went 16 games in all competitions without a goal before netting a hat-trick against Manchester City. Vardy then went seven further Premier League games without a goal before scoring two against Liverpool.
So what are the reasons for this trend? The simplest explanation is perhaps the best - stronger sides are more likely to dominate possession and play with a high defensive line. This plays to Vardy's strengths, while weaker sides who place greater emphasis on nullifying the danger that he can pose on the counter-attack are more inclined to defend deep.
The only goal that Vardy has scored at the King Power Stadium this season against a side outside of the big six came against Everton. Gary Neville could not believe what he was watching. "It's ridiculous," he told Sky Sports. "To leave the gaps behind the defence, to leave Jamie Vardy space to run into… have they not watched Jamie Vardy for three years?"
Perhaps this explains why Jose Mourinho has fared better than any other coach of a major club when it comes to neutralising Vardy's strengths. Mourinho's teams have conceded only once to Vardy in 376 minutes of football across five matches. That goal came in Mourinho's final game in charge of Chelsea in December 2015 and he was absolutely livid about it.
"I feel my work was betrayed," he said. "I worked four days on this match, I prepared everything related to the opponent, I identified four movements where they score almost every one of their goals. My players got all that information in training in the last three days and in four types of situations that I identified, they conceded the first and second goals."
Chelsea were in turmoil at that time. Vardy cannot expect the Manchester United players to ignore their manager's instructions and Mourinho's reactive approach means that the striker can be certain he will be in their coach's thoughts at the weekend.
Given Vardy's extraordinary scoring record against the Premier League big boys, why wouldn't he be?