Daniel Stendel admits he is learning something new every week, but Barnsley's German head coach is clear on one point - his high-pressing style can be implemented in Sky Bet League One.
His compatriot Jurgen Klopp has employed similar principles at Liverpool, while German-born David Wagner has shown with Huddersfield it can be successful in the Championship, but Stendel does not see this attacking brand of football as uniquely German and feels it can be played in England's third tier.
"I don't know if it is a German style - the national team play very different to this," he tells Sky Sports ahead of Barnsley's clash with Luton on Saturday, which is live on Sky Sports Football. "I like the style, it is very similar to my personality. I like to be active in situations, not passive."
Pressing the point
Stendel's vision, honed in Hannover as a player and youth coach and perfected when handed first-team duties, is demanding on both the opposition and his own players, who must buy into it.
"We want to press very high and be very active," he says. "When we lose the ball, we need to win it again with the counter-press. When we win the ball, we want to play very quickly to create chances. Most of the games, we play like this - but we need to play like this for 90 minutes. That's the development. That's the goal."


Stendel is aware Barnsley have not yet perfected this despite being fourth, two points off the automatic spots with a game in hand. Certainly, being held at home last week by then-winless Plymouth ("We were very disappointed. We did not play how we wanted.") will not have been in Stendel's summer plans.
However, that was followed by a 4-0 dismantling of high-flying Peterborough away from home ("It was the best reaction that they could have showed … They can play so good when the attitude is right. It is important that we learn every week."). Faith restored.
So does he have the squad to implement his vision?
"Yes, we have very good players! Most of our players do not know this style, but we trained very hard in pre-season. It is not easy to implement in two or three months. It takes time," says the 44-year-old.
"It is important we learn step by step. League One is a good place to play this style. The press is difficult because most teams do not play out from the back. But we learn every week and every week, I learn new things. In the end, I think the style can be successful."
Big plans, big pressure
Success is exactly what will be expected of Stendel by the club's owners, a consortium led by Chinese-American investor Chien Lee, who took over in December 2017 and are already on their third manager.
The club were praised in August for reaching out to a fan who had highlighted his mental health issues. It was a touching gesture from owners intent on cementing the club's place in the community. They also, though, have big targets for the future and Stendel knows the main one - promotion.
His appointment was not a case of new owners just adding continental glamour to their new acquisition. CEO Gauthier Ganaye was quite clear they knew what they were buying into when Stendel was unveiled in July: "We've identified that the counter-press has been used by the most successful teams in the world and Daniel is one of the best coaches at doing that."
Big plans, big pressure. But Ganaye was clear how best to achieve this - and wild spending was not it. A "disciplined" approach, they said, is key. "As well as the style," Ganaye explained, "Daniel has the philosophy of using and developing younger players which fits perfectly in our model too."
Faith in youth
The focus on youth is perhaps down to the intense training and fitness demanded by Stendel. "The goal is for youth teams to play like this," he says. "First, we get the first team to play like this successfully. The next step, we play like this in the academy.
"When you look at our squad, you will see it is very young. The plan is to sign only players under 25. It is easier to learn our style that way and our chances of success improve. We discuss players who can play our style."
One of those players is Mike-Steven Bahre, borrowed from Hannover in August on a season-long loan. The midfielder's importance was made clear by the manager.
"There's a philosophy here. It comes down from the first team – it's very high energy, a lot of pressing, an aggressive way of playing and attacking style of football, which is always pleasing to coach and the players are really thriving in this environment."
"I have known him for five years, we worked together and were very successful in the youth teams," explains Stendel. "He can be an example for the mentality we need to play this style and be successful." First the mentality. Then the style. Then the success.
Bahre, for his part, was clear when he moved to Oakwell that the belief in ability went both ways.
"I think [Stendel] can take this team back into the Championship," the midfielder said when he signed. "He likes offensive play and to attack early. We want to play football while many teams just want to defend and play long balls and don't play with any risk."
Honed in Hannover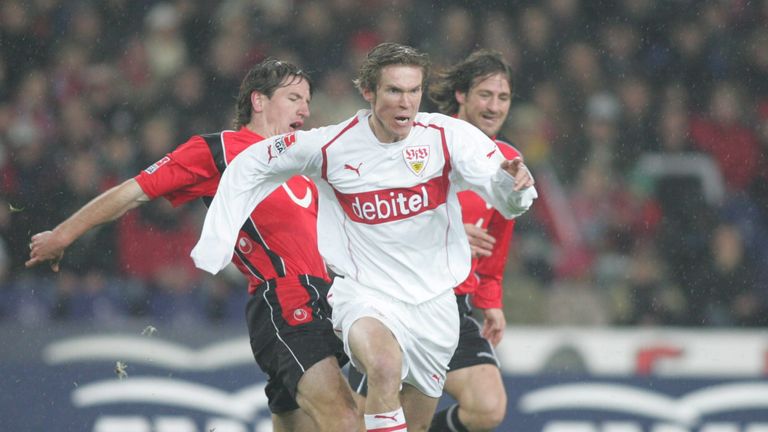 The seeds of this risk-taking, open football were sown during Stendel's formative years in Hannover while playing alongside Thomas Christiansen and Per Mertesacker. Both also made the move to England and were consulted by their former team-mate before he joined Barnsley.
Last season, as Mertesacker prepared to move from Arsenal's first-team to running their academy, he invited Stendel to view training at the north London club.
Barnsley may be a long way off the set-up at the Emirates, but Stendel got a glimpse of what English football would bring.
"I went to Arsenal for a week and saw Arsene Wenger and the squad," Stendel says. "It was a good experience for me. Per told me English football is very powerful and it is a very active style. From the bottom team up, both teams can win the games." He knew what he was getting into.
With Mertesacker focusing on youth, Stendel is confident in his former team-mate succeeding. "What Per is doing is very good because he is professional," he says. "Last season, he would train with the first-team and then visit the youth team to talk with the coaches. His personality is the reason he can be a very good head of academy at Arsenal."
'Fans have seen enough to be excited'
Back at Barnsley, when judging the new boss, those who follow the club are generally positive, verging on expectant. "The start to the season has only reinforced that most fans will be hoping for a play-off place at least," says Barnsley Chronicle sports editor Doug O'Kane.
"Brad Potts took to the style straight away - his game is perfectly suited to pressing and pacy counter-attacks. Ryan Hedges, Mamadou Thiam, George Moncur and Mike Bahre all have the ability to thrive, but Stendel is yet to find the perfect combination. Kenny Dougall and Alex Mowatt have been excellent in central midfield."
"There have been 4-0 wins over Oxford, Rochdale and Peterborough, who just couldn't deal with Barnsley's style of play. It hasn't worked quite as well in other games, but inconsistency is to be expected with the players getting used to a new manager and style while Stendel is also adapting to English football.
"But the fans have seen enough good moments to be excited. They have seen what David Wagner did down the road at Huddersfield and are hoping for something similar in Barnsley."
Quite an act to follow.
Though Stendel has little more than a year's experience of first-team management, he has confidence in his Barnsley project and feels he can bring everyone along for the ride.
"The squad want to learn the style. It is not easy, for the club, the players, the fans," he admits. "But it is a good chance for me to show that my style can be successful. I have to show that it will work at Barnsley."
Watch Stendel's Barnsley host Luton in Sky Bet League One, live on Sky Sports Football on Saturday from 11.30am