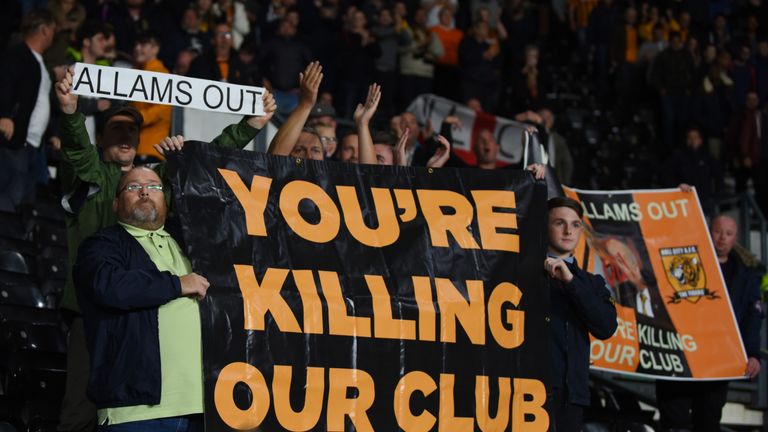 Hull City's owners claim they share a common goal with the fans who want them to sell the Sky Bet Championship club.
A group of Tigers fans protesting against the Allam family disrupted the recent home defeat to Nottingham Forest by throwing tennis balls onto the pitch.
Vice-chairman Ehab Allam said his family and those fans wanted the same thing - for them to leave - but has pleaded for all protests to be put on hold during matches.
"I was saddened to see the reaction of some fans at the Nottingham Forest game and the impact that this had on our players and the performance that followed," Ehab Allam said in a statement.
"Unfortunately, these are lasting effects that play on the minds of players, not knowing what to expect next at each game.
"I do feel this behaviour is totally unacceptable as it doesn't change the position between some fans and the owners, it just disrupts the enjoyment of the game for neutral fans.
"The players, head coach and his staff who have worked tirelessly during the week, need everyone's support during these crucial 90 minutes.
"There must therefore be a reaction from the club to avoid such further incidents spilling out on to the pitch, especially considering the common ground that we share with these same fans - namely ALLAM OUT!
"Until such time, we kindly request an amnesty from fans reacting during the match, this is a sign of support to the team, not the ownership!
"I am extending this request to all fan group leaders, whom we will engage with over the next week or so to seek a temporary resolution to these matters until our departure."
The Allam family have made no secret of their desire to sell the Tigers and officially put the club on the market in April 2014 after chairman Assem Allam's bid to rename them Hull Tigers was blocked by the Football Association.
Two separate consortiums have failed with takeover bids in the last 18 months.
A Chinese group led by Dai Yongge and Dai Xiu Li failed the Premier League's fit and proper persons test and have since bought Reading, while another consortium, fronted by Nice owner Chien Lee and businessmen Peter Grieve, failed to push through a deal.
The Tigers were relegated from the top flight last season and have struggled under Russian head coach Leonid Slutsky in the Championship.
They currently lie 20th in the table, four points above the relegation zone after 16 matches.