Four months in jail for fan who attacked Chris Kirkland
A football fan who admitted attacking Sheffield Wednesday keeper Chris Kirkland has been jailed for four months.
Last Updated: 22/10/12 8:38pm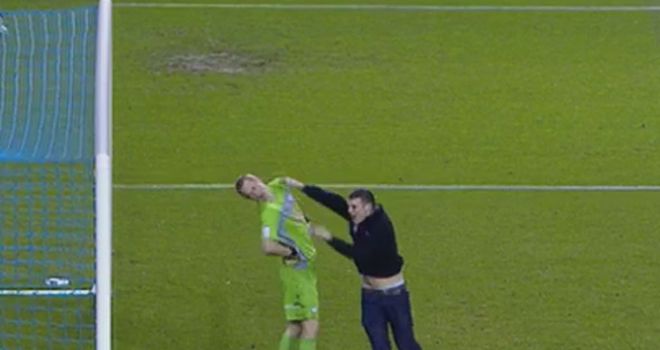 Aaron Cawley, 21, from Cheltenham, Gloucestershire, pleaded guilty to assault and entering the field at Hillsborough on Friday night during the 1-1 draw between Sheffield Wednesday and Leeds.
Cawley, who appeared at Sheffield Magistrates' Court, admitted shoving Wednesday keeper Kirkland in the face just after Leeds' equaliser.
The incident was one of a number of ugly scenes at the Yorkshire derby, which was televised live on Sky Sports.
The court heard that Cawley had been the subject of two football banning orders in the past, which he had breached four times.
Prosecutor Paul Macaulay said Cawley told police he was so drunk he could not remember the incident, which has been seen by millions of TV viewers.
Mr Macaulay said Cawley told officers he had drunk a number of cans of lager on Friday morning, followed by three-quarters of a litre of vodka - all before he got to Sheffield by train.
Once in Sheffield, he had a further seven to 10 pints of cider, the court heard.
"This was not the most difficult police investigation," Mr Macaulay said.
He added that Cawley was fully co-operative with the police but told them he did not remember what happened after half-time because of his drunken state.
"He accepted it was clearly him on TV," Macauley continued. "He made email contact with South Yorkshire Police and Sky TV."
The court heard that in the emails Cawley wrote: "It was a disgrace and I'm embarrassed by my actions."
He said he had "brought shame on Leeds United Football Club".
Jailing Cawley for 16 weeks, District judge Naomi Redhouse said a huge effort had been made to "make football an event where there's no violence and where families are happy to attend with children".
She also noted that, while she had heard all the evidence about how much Cawley had to drink, she did not see any evidence of his drunkenness on the TV footage she had been shown.