Championship: Leeds goalkeeper Jamie Ashdown launches business
Leeds' injured goalkeeper Jamie Ashdown has launched his own business in a bid to safeguard his future.
Last Updated: 21/11/13 3:20pm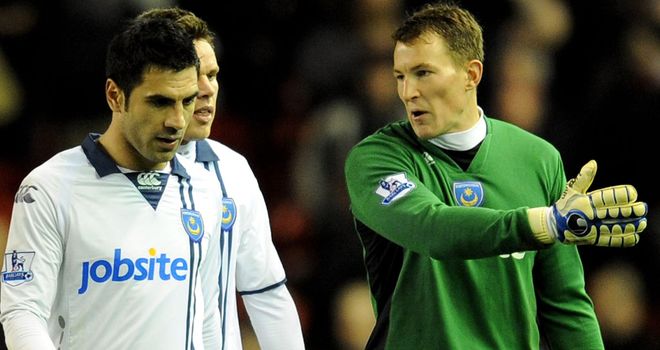 The 32-year-old, who recently had surgery on a toe injury that has kept him out of action this season, has recognised a gap in the sports supplements industry and through his new online business wants to help athletes avoid taking banned or harmful substances.
Ashdown, who has set up new website Trusted Pro Supplements, hopes both the Professional Players' Association and Rugby Football Union will endorse his company, which already supplies supplements to Leeds and several other players.
The former Reading and Portsmouth keeper said: "Every football player has a shelf life. Be it due to injury, age or circumstance, it is a very short-lived career.
"It is a very fulfilling career and I'm lucky enough to be able to experience life in a football team every day.
"But we all have our interests outside of football and I have been fascinated by the minefield that is supplements for a while now.
"So when I realised there was a need, a gap in the market for this very precise subject, I wanted to use the platform I have to try to make people aware of the dangers.
"I have had a number of experiences in my time with various agents, 'advisers' and other interested parties, who turned out to be out only in it for themselves.
"As a youngster, like so many young players, I was intimidated into believing what they said.
"This business is designed to run alongside my football career, which I pray continues for as long as possible, but not only as a future career.
"I genuinely want to make a difference and make life easier for all players, especially those youth-team players, who like me, may be easily led to believe something is a good idea when it isn't.
"I think the people who need the most information are grass-roots athletes, people who may be tested for drugs and may not have access to a sports scientist or an advisor to help guide them."
Ashdown has provided back-up for Paddy Kenny since arriving at Leeds from Portsmouth in the summer of 2012, but has not been on the bench since the end of last season due to his latest injury.
He featured regularly in the cup competitions for Leeds last season - his last appearance was in the FA Cup defeat at Manchester City in February - and has made eight first-team appearances in total.