Consortium looks to re-open Leeds takeover talks as Cellino closes on deal
A consortium bidding to take control of Leeds United has urged the club's owners to step up talks with them.
By Chris Harvey
Last Updated: 31/01/14 4:34pm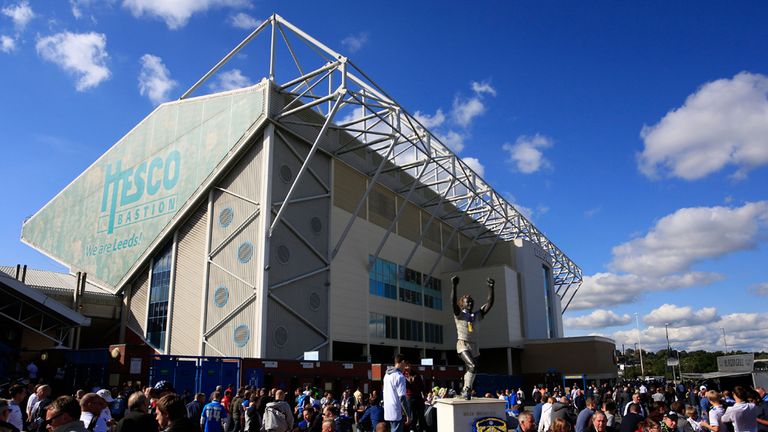 There are reports Cellino is close to finalising a deal to take over the Sky Bet Championship club following the collapse of the approach by managing director David Haigh's Sport Capital group.
The deal's collapse led to speculation the club may be unable to pay their players but captain Ross McCormack - the subject of a failed bid by West Ham earlier this month - confirmed via Twitter that he had received his salary.
But Mike Farnan's British and Irish group - which includes former Hull City chairman Adam Pearson - now wants GFH to accept their proposal rather than allow the Italians to take over at Elland Road.
In a statement issued via the Leeds United Supporters Trust, Farnan said: "TogetherLeeds, led by Mike Farnan, issued an offer for the share capital of Leeds United on November 14, 2013. The value offered was significantly in excess of the amount publicly reported.
"Our bid remains fully funded, and our strategy involves credible Yorkshire and football people, with Leeds and the community at their heart, rebuilding this great club. We think that our consortium is the best future custodian of the club and represents the best way forward.
"In recent days, before and since the collapse of the Sport Capital bid, we have re-engaged with GFH, and offered significant investment into the club.
"We are hopeful of those discussions being allowed to progress to a successful conclusion"
The Farnan-fronted group will be hopeful of taking things further than Sports Capital who accused GFH Capital of reneging on a deal to sell 75% of their shares to them, suggesting that "a number of things have come to light which were not as originally described".
One of the key members of the consortium, Andrew Flowers, was also critical of GFH's "11th-hour decision" to open talks with Cellino.
A delegation representing Cellino has been at Elland Road several times over recent days, to the extent where it is understood it asked for former Middlesbrough defender Gianluca Festa to sit in the dugout for Leeds' 1-1 draw with Ipswich on Tuesday.
Forty-four-year-old Festa is an ex-Cagliari player, coach and a long-term friend of Cellino and is thought to be his preferred candidate to replace Leeds boss Brian McDermott, who would likely be the first casualty of an Italian reign in Leeds.
McDermott was flat-batting any talk at his weekly press conference on Friday, though, saying: "I know where I am, I'll tell you where I am; we have a big game tomorrow (at home to Huddersfield), the players have trained really well and we're looking forward to the game. It's a derby and for me it's a privilege to walk out in front of that crowd. I can't wait.
"I have no idea (if it will be his last game). The only thing that matters is the game. Every time you're a manager it could be your last game; that's how it works in football, so you make the most of every game, especially when you're manager of Leeds United because it's a privilege.
"That's what I do, I'm a football man and it's about football and our supporters. You have to be professional. I am doing that and I'm really going to enjoy this game."
It is understood that Cellino's impact at Leeds has already extended beyond the dugout, with other members of his delegation having been present at the club's Thorp Arch training complex over recent days.